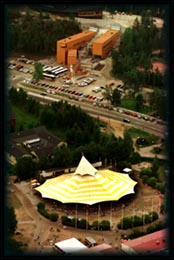 Every summer one of the most wonderful folk and roots music festivals takes place in the countryside village of Kaustinen, Finland. While the musical offerings cover the globe, from Australian folk-pop to Cajun dance music, the emphasis still stays on the people and the culture of Finland. Kaustinen is a celebration of unity and diversity in this country of 5 million people, and also a celebration of history and promise. It is that history and promise that I want to explore, through audio and images, with this special web site.
Kaustinen has a history of sharing Finland's music through its festival and through the time-honored tradition of passing the music from generation to generation. While Finland is becoming world famous for it's cutting edge new music in jazz, folk and pop, the older folk heritage is still thriving. While in Finland in 1998, I got the chance to record some of the grand masters and also a few young, yet to become famous artists. Come meet them.




For Audio: Click on the Ears!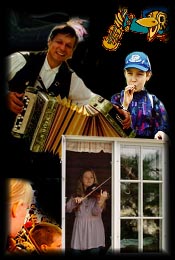 Most of the sounds in this 1998 Kaustinen feature are exclusive to RootsWorld, recorded by us in July of 1998 in Kaustinen, Finland. The songs are all traditional unless noted, and all are used with the express permission of the performers and composers. Photos are by Cliff Furnald or AkiPhoto of Finland. Our thanks to all the folks at The Folk Music Institute and Kaustinen Folk Music Festival for their energetic and friendly support, with a special thanks to Lauri and the gang in the press office, and to Jyrki and Hannu for their endless enthusiasm.
Return to: Finland or the