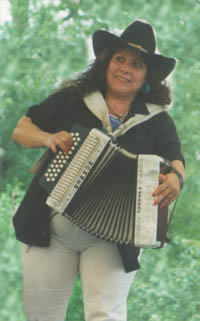 photo: Silja J.A. Talvi
She is 'la reina de acordeón,' the undisputed queen of the Tex-Mex conjunto accordion. For Eva Ybarra, an energetic San Antonio-based bandleader and accordionist, it is an honor to take seriously.
Along with her primary songwriter and vocalist, Gloria Garcia, Ybarra has used her hard-won respect and stature in conjunto music to gain an audience for Eva Ybarra y su Conjunto. A Mi San Antonio, released in 1994, was quickly followed by the beautiful Romance Inolvidable (Unforgettable Romance) in 1996. (Both on Rounder Records)
From the complex, jazzy polka rhythms on the instrumental "Perico Loco" (The Crazy Parakeet) and the fiery cumbia of "Me Provocas Sensación" (You Provoke a Sensation in Me), to "Tuxtla," the haunting, true-to-life corrido recounting Garcia's border crossing experience, Romance Inolvidable captures Ybarra's remarkable versatility on the button accordion, particularly as the twelve completely original tracks encompass rancheras, country songs, bolero tangos, huapangos, and ballads. "I appreciate them all," Ybarra explains passionately about these various music styles. "When I play the polkas, I put in a little jazz, a little rock. That's the way I like to do it, ... [without] getting away from my [musical] tradition."
Ybarra's sense of loyalty to her musical and cultural traditions is unquestionable. Starting to play instruments at the age of four, Ybarra was performing professionally in local San Antonio clubs and restaurants by the time she was six. "My parents took good care and supported me. I always wanted to play the accordion because I liked the sound." Although Ybarra's mother initially worried about the physical consequences to a young girl who was wholeheartedly pushing and pulling on the button accordion, Ybarra's father prophetically sensed that the accordion was "her key" to success.
In 1998, Ybarra's success as a female accordionist led her to a ten-month, Artist-in-Residence position in the Ethnomusicology Department of the University of Washington, where she taught accordion, bajo sexto, and the guitarron. Despite the radically different climate of the Pacific Northwest, Ybarra found herself endeared to the region and to her students (including several female accordionists), even going so far as to write a new composition, "Conjunto Space Needle," in honor of her experiences in Seattle.
With a new album tentatively planned for release in 1999, Ybarra still admits to the challenges inherent in her near-40-year-career. Fundamentally, Ybarra believes, the accordion continues to be a somewhat maligned and misunderstood instrument, particularly in the hands of women. "But we [women] don't mind," she jokes lightheartedly. "We just keep on going."
---