Väsen makes a
Big Noise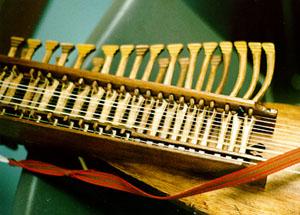 The Buttonwood Tree in Middletown, Connecticut has played host to some of the best international groups around, giving their audience access to music that not even big city folks can regularly get to. In the last few years I have had the pleasure of hearing La Musgaña from Spain, Makvirag from Hungary, Ingrid Karklins from Texas and many others. So it was with particular glee that in June I was able to see and hear one of Sweden's best roots bands, Väsen, in a homey, living room atmosphere, with no sound system or staging. They were making their first U.S. visit, to play at a dance camp and a musicians' convention. We had the good fortune to hear one of only two U.S. concert dates, right here in Middletown. The mood was relaxed, and rather than do a formal interview, we talked over dinner, and then the band gave an interview with the audience, taking questions and bandying jokes, notation information and droll pronunciation tips with a crowd of musicians, dancers and even a few Swedes.
photo: Patrice George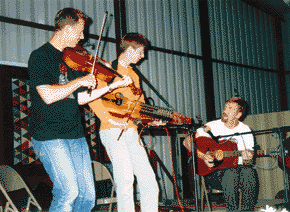 The trio Väsen is Roger Tallroth, guitar, Mikael Marin, viola, and Olov Johansson, on nyckelharpa, in the words of band spokesman Johansson, a "peculiar looking instrument." They started the program with an introduction to the instruments: "We thought we ought to explain the instruments, so Roger should give a history of the guitar." "This is a Canadian guitar, actually, and that's the history of this guitar," says Tallroth, setting the humorous tone for the rest of the evening. "And this is a nyckelharpa and this is a viola," Johansson concludes briskly and then they introduce their first set of wedding marches. "These marches are very optimistic for wedding marches." "Are there depressing ones?" someone in the crowd chimes in. "We have some, we should never use them, though. Most traditional wedding marches are very sad, really...they are slow...you can think twice," but after a somber introductory section, these two pieces prove know you're in for something other than the usual revivalist folk thing. Tallroth's playing is aggressive, leaning heavily on a finger-picked bass line and upper register counterpoint with the viola. The passing chords suggest more rock or jazz than Swedish folk. And from the first notes on the 'harpa, the strange mix of angelic sympathetic strings and reedy drones marks the music.
This is followed by a change of bows for the viola. Marin explained, "This bow has never been to America. The hairs are very... long... it has jet-lag." After changing the bow, they continued with an original tune, "Pedalpolska," "...a strange name for strange music," Tallroth explains before they barrel into what is one of their signature pieces, a dark yet energetic work that exemplifies why this group has taken European folk festivals by storm over the last few years. The strong guitar base, the droning of the keyed fiddle and the neo-classical lines of Marin's viola come together in a roar, making music that is not traditional, classical or modern, but lies somewhere in the outer reaches of each.
The band has a broad-based history that contributes to this sound. Johansson was trained in the nyckelharpa by some of the instrument's most famous players, including Erik Sahlström, to whom he refers as one of the best players ever. While Marin started off in folk music as a young man, he went on to the National College of Music in Stockholm, then on to play with orchestras and chamber groups before moving back to folk music. He and Johansson began to play together, and then found Tallroth, who was also formally trained, and did work for pop, jazz and theatrical productions. They tell a confused story of meeting in Norway. Marin and Johansson asked him to play; he wanted to bathe. Somehow, because the shower in the house they were staying in was occupied, he ended up jamming with them. Eventually he joined them, backing Johansson on a solo recording called "Väsen," for a label formed for the project. They eventually adopted the name of the album for the group, and began touring all over Europe.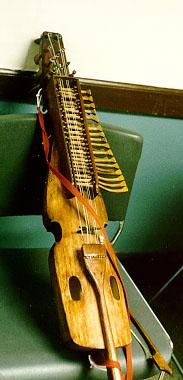 The concert continued with an ethnomusicology lesson from Johansson, tempered with a bit of grammar and pronunciation. "This peculiar looking instrument is the nyckelharpa," he says, holding up an almost prehistoric-looking backbone of an instrument. "You might say 'nickel-harp-a' (pronouncing it like the American coin) if it's easier. I found if I am speaking to English speaking people and I say nuy-kle-harp-a, [they say,] 'what?' But if I say nick-el-harp-a" (with a barely noticeable accent on the first syllable followed by a droning three more), it is much easier. This one is from 1995. It is a recent copy of one from the 1700s and this type is called contrabass harpa." Some in the room asks him to say the name again. Marin chimes in, "Con-tra-base harp-a." Johansson continues, as the crowd simmers and laughs, "These old types of nyckelharpa, they are...," he stammers a bit, and then says, "You may sleep," to someone in the audience who has lost interest in the music lesson. "These old types are only one row on the playing mechanisms." "But why is it called contrabass?" a woman asks. "Well, it is a very stupid name... I think it is because the melody strings are placed 'contra' to the bass... but it is really confusing."
The nyckelharpa has been played in Sweden since the 1300s. It is related to both the violin and the hurdy-gurdy, using a bow instead of a wheel, and adding sympathetic strings under the main playing area. The musician plays on three melodic strings and a drone, pressing mechanical "keys" against the strings instead of pressing them against a neckboard. "There are pictures in churches with angels playing nyckelharpa." "Do they still play them?" someone asks. "No, but in the churches, people, the ones who have tails and feet like goats... they play bagpipes."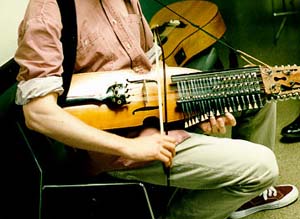 The next tune featured a modern chromatic nyckelharpa, an instrument invented in the 1930s by Swedish fiddler August Bohlin and "it was about time that something happened because it was really dying out," says Johansson. "Perhaps 20 people played it [nyckelharpa] then, but after this, people started to hear this modern one. Perhaps ten, twenty thousand people play this instrument now. It's very popular." The band was on its way to carry that tradition to the American countryside, heading next to a convention of American players put on by The American Nyckelharpa Association, a Seattle-based organization that has about 70 members. Johansson 11talked about how the popularity of the instrument is growing throughout the world, particularly here in America. "It is Swedish cultural imperialism at its worst," he smiles.
The nearly two-hour long first set of this concert went merrily on, weaving through chamber music polskas with raucous reworking ("These were very bad, but we gave it a new costume."), a few more daring originals ("Nitti Pomme Fritti" ["99 French Fries"] and a tune that loosely translated to "Captain Bottlecap" were among the highlights of these), and "Slangspolska efter Byss-Kalle," a classic, "everyone-must-play-it" tune that managed to pull in a long, slow line from "Lucy in the Sky With Diamonds" without a trace of affectation. Each song had its own character, each arrangement had a sense of unique timing, sound or humor, and each member of the band left an indelible mark of their personality on the proceedings.
There are two meanings to the name of the band. One is "essence" and they do distill the music of their home into something essential, something they can then recreate in their own image. But perhaps the other meaning of "väsen" is more appropriate to their performances. It means "hub-bub" or "big noise," a boisterous word more in keeping with what they do on stage. They are not only musicians, they are communicators, and neither the unfamiliarity of the tunes or the occasional gaps created by language could get in the way of that high spiritedness and pure joy that they convey to their audience. - Cliff Furnald
Vasen CDs are available from cdRoots
---
All photos by C.F. unless noted. Sound sample come from a live recording at The Buttonwood Tree in Middletown CT and are used with permission of the venue and the band. Copyright 1996 RootsWorld