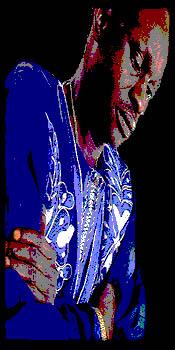 MANSOUR SECK
Yelayo
Stern's Music


I think Mansour Seck is now past the point where we always have to identify him by his famous affiliations and friendships. On Yelayo, his third album under his own name, Seck is firmly established as a master musician in his own right.

After a tour of his own through Europe, Seck and his band settled into Studio 2000 in Dakar and recorded this remarkable ensemble work. In addition to his signature guitar work and his gritty, deeply rooted vocals, he is joined by Demba Dia on hoddu (a thick-sounding lute-like instrument), Noumoukunda Cissoko on kora, Bada Seck on percussion, second guitarist Abdoulaziz Seck and Pathé Jassi on bass (the only concession to the electric cord on the album) and the chorus of Ozabel Gonzales and Cathy Renoir. Their long tour together welded them into a formidable ensemble that makes this his most fully realized sound to date.

Unlike his more famous Senegalese compatriots, Mansour Seck uses the basics of his Fouta heritage and expands but never loses them. There is no bow to technology for its own sake, no need to prove his mastery of the music in pyrotechnic flashes. His music moves slowly, gathering speed where it must, but always staying close to the ground, unrooted and willing to explore but never willing to change course. His songs honor the past, praise his brothers and sisters for their hard work, exhort his brethren to not only remember their past but to choose their future wisely. While Youssou N'Dour and Baaba Maal shout from the mountain top of the world stage, Mansour Seck is more like a wandering minstrel, the true griot who meets his people one at a time and tells them the stories they need to hear, if they will listen.