"Genre is a trap... like the fly and the honeyjar"
The innovative sean nos singer Iarla Ó Lionáird talks with Jamie O'Brien

There is a sense of history about Iarla Ó Lionáird. Quiet and friendly in manner, he has an intensity and humor that envelops the listener as he talks. And when he sings, especially when he sings, his distinctive pure and soaring vocals engulf you. Born and raised on Cuil Aodha, a Gaeltacht in County Cork, he comes from an ancient tradition and looks to a bright future.

His voice has appeared occasionally on releases in the US over the years - on compilations, as part of the Afro Celt Sound System, as a vocalist on Shawn Davey's The Pilgrim and more - but his recent release, The Seven Steps To Mercy (Real World), has brought him rightly to the fore.
"Growing up, music was part and parcel of (life). There was a high concentration of musicians in the vicinity." One such musician was composer Sean Ó Riada who, a year before Iarla's birth, formed the Coir Cuil Aodha, a male voice choir which initially performed at ceremonies in the Cuil Aodha church. Its repertoire consisted of local traditional hymns as well as Ó Riada's own compositions.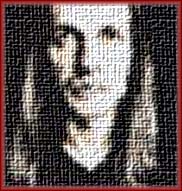 Ó Lionáird's father, who was headmaster of the local school and deeply involved in the community, knew Ó Riada. "They were good mates and my mother was very close to his wife. I remember being at my first choir practice. I must have been about five. Sean was till at the helm at that time, but he died a few years after that and his son, Peader, took over."
Under Peader Ó Riada's guidance, Ó Lionáird's musical career developed. "I think he took a special interest in my singing. I became very involved in the choir as a soloist, more or less. He was very helpful in developing the things I was good at and helping me avoid certain things as well."
Iarla has included "Aisling Gheal" on his debut album, a track produced in 1978 by Ó Riada when Iarla was 14 years old. "I included it on the album I suppose because I thought it was languishing in a back catalog and it has a kind of beauty about it. To me it's very important emotionally because it set everything going for me in a strange kind of way and it's a very beautiful strange song. I'm very glad I put it on the record and that I didn't record a contemporary version which was on the cards."

The Seven Steps defies categorization. "Genre is a trap, you know. It's like the fly and the honeyjar - it's where you want to be, but you can't get out of it." Produced by Grammy-nominated producer Michael Brook, it highlights Iarla as a bridge, a connector of the past with the future. With songs and melodies as old as the hills, sean nos steps from its ancient traditions into an ageless, dynamic form.
But Ó Lionáird has not abandoned his roots. Offered the opportunity to tour America with Faith of our Fathers, he has taken the stage again to sing "Gaelic hymns from the Sean Ó Riada repertoire, his Mass. I spent every Sunday (as a child) singing the very same hymns, albeit not with orchestra but with harmonium."
It has taken Iarla a while to gain the recognition he deserves. Whereas many a singer will submerge the old style into a group setting, he has chosen a different route. He has constantly stretched boundaries, experimenting and following his own path.
As well as working with orchestras and traditional groups, he has also taken part in the Afro Celt Sound System, a project which combines the cultures and rhythms of separate continents. Yet it is his approach to sean nos which truly sets him apart. "When I get the chance to sing on my own, unaccompanied, it is still where I feel I have most control. It's a completely selfish experience when you think of it (because) you're singing with and for the song and for yourself. You have such control over what you're doing and you have your own game plan.
"(However) I did a couple of TV shows recently in England. In one of them, I did it on my own and then, a few weeks later, I appeared with a band and that was quite a relief. I knew the focus wouldn't just be on me and I knew the song wouldn't live or die just because of me. So it's nice to take different approaches."

The Seven Steps to Mercy is an electrifying musical experience. Iarla's soulful voice weaves a magical tapestry of sound, intensely warm and beguiling, always inventive and searching. "In some ways, this album is very retrospective. I had a sort of back-catalog of songs that I had to do something with." His voice, along with thoughtful and often unexpected accompaniments, sets the album apart. "I was happy with the way the backings grew for the songs. I tried to make them not too intrusive, yet we tried to do a few little new things, nudging sean nos ahead, if you like. Or maybe, more nudging myself ahead."
Iarla Ó Lionáird constantly expands his approach to singing. Although The Seven Steps has successfully chartered new waters, he is not one to ease off. "The next (album), I think I'm going to actually strive for a different kind of perfection. I might get slated for it, but it's kind of important for me to go that way."
- James O'Brian

see also: Ireland