BAKITHI KUMALO
an interview with Christina Roden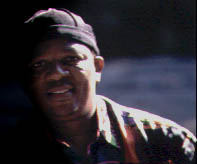 Bakithi Kumalo (Bah-gee-tee Koo-mah-low) first came to the attention of the American public following the release of Paul Simon's "Graceland" in 1986. His precise and sinuous bass lines went far beyond simply marking time and thundered out a countdown for the dismemberment of Apartheid.
Bakithi grew up in the celebrated and notorious Soweto township. "My mother was a singer and my uncle a saxophone player." he says, "My uncle used to rehearse with his musicians at home every weekend. I would see how happy they were. They drank all the time and played music and I was like - 'I love this job! When I grow up, I want to be just like these people!'" The precocious kid didn't wait that long. By the time he was seven years old, he had enough chops to fill in for his uncle's bass player. "He was drunk and couldn't do the gig and I knew the songs", recalls Bakithi. Soon the boy was performing regularly and he went on an 18 month foray into Zululand when he was ten. "We were able to play in schools and hospitals but we got stranded there. I didn't know how to play yet with my fingers, so I used my thumb. Then, I saw somebody playing in a dream. He didn't have a head, I just saw his body and his fingers. I remembered the dream the next morning and started to use my fingers."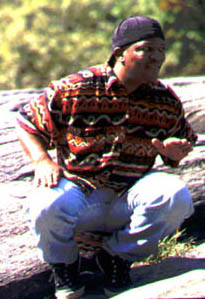 The young prodigy returned to Soweto and started to record, but the record companies were exploitative and money was very tight. He recalls, "My mother, she used to be a nanny and do some cleaning and I was selling newspapers." Even so, he was certain about his destiny. "I knew that one day I'd become a great musician and take care of her." Apartheid compounded his difficulties. "Soweto was hard, because I couldn't do sessions unless I had a piece of paper that said I was allowed to be in town, maybe 10 to 8 o'clock. After that, I'd get arrested."
In spite of these obstacles, Bakithi already had achieved a major rep by 1985 when Paul Simon came calling. "Paul Simon's people called Hendrick Lebone, one of the best guys producing in South Africa," he says, "I'd been recording with him, playing with traditional groups. Then, Paul met with him and they started to talk about musicians. At that time, I was looking for a job to fix cars or something because my mother, she's getting sick. The producer asked me, 'Hey, do you know Paul Simon?' I said 'I don't know who Paul Simon is.' He started to sing 'Mother And Child Reunion'. Everybody knew that song! So, he says, 'Paul Simon is looking for a bass player and I think you're the guy for the music.' I thought, 'This is great! Paul Simon from America! But maybe he's going to ask for some American music and I don't know American music!'."

But Simon had something else in mind. "I went to the studio and I was nervous." Bakithi reminisces, "I showed up there with my bass. I was the only one who played the fretless bass in South Africa. I met Paul and we started to play around with songs. Paul liked my playing and that made me so comfortable! He really loved the music and we started to work with some other musicians and Paul told me that we're going to New York and finish the rest of the record! This had been my dream - to go to New York! So, that's how it happened."
The trip out of South Africa and his arrival in America were wonderful and exhausting for the young man. "It was different for me, just to be at the airport! I'd never been on a plane before. My first flight was Johannesburg to New York and it was a long flight. The day I got here, I just went to sleep because I was so confused. And my English, I couldn't even talk to people, because I was, like, 'What am I going to say? They're going to laugh at me.'"

Culture shock aside, the trip proved fruitful. "Working with Paul Simon was a great thing, because I knew that this is a business. It's not Paul doing me a favor or I'm doing him a favor. He was easy, I mean, he was open. I would come up with ideas and when I would play something nice, Paul would love it." He finds the way business is done in the United States much easier to deal with in general. "At home, they give you a contract to sign before you read it. I think here the business is much better, because you can go to lawyers. They give you papers to read and time to understand."
Bakithi has little patience with critics who brand Simon a cultural plunderer or musical imperialist. "Well, I've been asked this question many times, even by my own people. To be honest, I don't see anything wrong." he says thoughtfully, " I tell people, 'Listen, this is my life. I'm a musician. Whoever calls me and says, hey, let's play South African music' - why not? Because that pays my bills, you know, that takes care of me! I mean, music is a language, that's like me learning to speak English! I don't see any problem with Paul learning and getting involved with South African music. If he didn't do it, I don't think anybody else would!"

He readily acknowledges that "Graceland" gave him the visibility that has made his current prosperity as a session player possible. He has learned how to read music, although he prefers not to rely on it too heavily. "My ear is good when it comes to listening to stuff." he says, "Actually, the paper is taking away from what I have inside, because I have to concentrate too much on the paper and then I lose the feeling." He has recorded and/or toured with Gloria Estefan, Chaka Khan, Jon Secada, Harry Belefonte, Gerald Albright, Miriam Makeba, Grover Washington Jr., Laurie Anderson ("very strange music" he says with a bemused smile) and Cyndi Lauper. Most recently, Bakithi collaborated with Mickey Hart to score Tupac Shakur's last film, "Gang Related".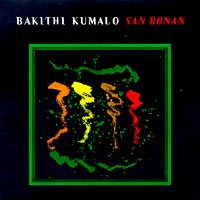 Bakithi's debut American solo recording, "San' Bonan' (Welcome)", is due to hit the stores in April, 1998. It will be the flagship release of the New York-based Siam label. The roster is impressive. There are singers hailing from South Africa , Brazil and America. Bakithi's talented wife, Robbie Hall Kumalo, sings second lead and background vocals. Among the instrumental forces are the South African penny-whistle whiz Morris Goldberg, percussionists Don Alias, Jeff Haynes and Marc Quinones, guitarists Steve Khan and Chieli Minucci, plus producer and label head Mike Landy on keyboards.
The material on "San' Bonan'" gracefully encompasses Latin, jazz, and R&B influences as well as South African melodies and ambient sounds, realized via Landy's studio wizardry. Bakithi finds it ironic that "world music", a term originally meant to convey an entire planet of musical possibilities, has become fraught with P.C. baggage and outwardly imposed rules and limitations. "'San' Bonan'' is a mixture, because I want to get away from this "World Beat" thing." says Bakithti, "I don't want to be promoted as a "World Beat" musician, because I play other stuff as well. I've worked with a lot of different people. Everybody should hear 'San' Bonan'' - they should play it on jazz stations, R&B stations and Latin stations," he grins impishly, "- with my Zulu singing!" He plays several instruments and sings lead on "San' Bonan'", but would love to do a record some day on which the bass is the primary focus.

He loves to perform for a live audience and is delighted by the generous turnouts for his shows." I try to be different every time," he says, "When I play on stage , I make sure I don't play the same thing I played yesterday. I try to update my playing and come up with some new things." Asked if he'd like to say anything to the people he sees from behind the bass on the bandstand, he replies, "Just keep looking and if you see the beauty, go for it!" - Christina Roden
Photos: Guy Keren
---
copyright 1998 RootsWorld and Christina Roden
a version of this article first appeared in Rhythm Music Monthly