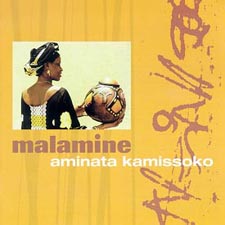 Aminata Kamissoko
Malamine
Stern's Music


Aminata Kamissoko continues a long tradition of the jalimusolu (female hereditary praise singer). She was born in the city of Kirina, in Mali, to Mandé heritage, the daughter of another woman praise singer, Kandia Diabaté. Aminata has been a professional singer since she was a child. After her marriage at age 16, she traveled to Senegal and Côte d'Ivoire (Ivory Coast), singing with various Western African groups, including Super Lanya Diazz. These days she resides in Mali, and is regularly employed as a wedding singer. On Malamine (mah-LA-mee-nay), her tobacco hewn, gritty voice is forceful and full of anguish. She sails above the layers of kora and guitar, which give her music a bluesy texture. As with her live performances, her son, Lamine Soumano, a talented kora player accompanies her on this album.
In Mali, female griottes (or jalimusolu) are greatly honored, and a number of these singers have become hugely successful, including most recently Ami Koita, Tata Bambo Kouyaté and Kandia Kouyaté. In the late 1980's, with disillusion of the government, griots began to turn away their praise songs (of government leaders), and began to include more social subjects. Meanwhile, from the southern region of the Wassoluou, a new form of music emerged by non-Jalis, its most famous star being Oumou Sangaré.
Oumou Sangaré and Aminata Kamissoko are hardly similar: their musical styles are different; one is a jali, and the other is not born into a jali family. Yet Sangaré's international popularity makes her the natural ambassador for women in western African music. Sangaré also serves as a good comparison for Aminata's music. Oumou sings about the problems of modern life for a young woman; her dislike of polygamy, the conflicts of obedience to one's family and one's husband, and life for young woman in a big city. Aminata is the older matriarch. She sings about deeply personal subjects that transcend cultural boundaries; the honor of her father, the love of her mother, the treatment of orphans and widows (in both cases, her mother), the frequent travel as an entertainer that separates her from her husband. One of Aminata's most moving pieces is a song of humble praise to her son, Lamine Soumano, from which the title track Malamine (oh! Lamine) draws its name. He accompanies her on kora throughout the album.
There's a story behind the song. Soon after her marriage, Aminata discovered she could not bear children. In Mandé society, a barren woman faces ostracism. She is seen as "not serious" about having children, being an insincere spouse and mother. Aminata was spared this ridicule, as she adopted Lamine, albeit secretly, as a baby from Aminata's sister. Such generosity is rarely discussed outside of Malian families. Yet Aminata transcends these boundaries in song, showing great humility and love towards her son. Meanwhile, Lamine's musical talent would indeed make a mother proud. - Wayne Whitwam

See also: Africa, Oumou Sangare