My first trip to Gambia was a powerful experience; dazzling and confusing, positively wonderful. I first met Alagi M'Bye, a kora-playing jali (the Mandinka word for griot) in Sweden in 1994, where he often comes to perform. He has now started West Africa's first music school for children: Maali's Music School. In January of 1999 I paid M'Bye and his students a visit in Gambia.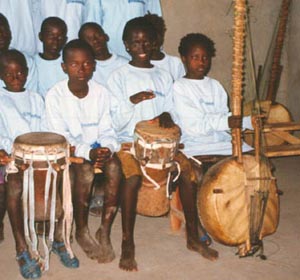 Tubab! Tubaaab! Dozens of happy and shrill children's voices follow us when we walk through the sandy, cluttered alleys towards Alagi Mbye's family compound in the village of Talliding Kunjang, near Serrekunda, Gambia's biggest town. "Tubab" is the friendly name for whites, who are not common in this village. All the children want to say hello, shake hands, walk beside us. After an endless maze of alleys and compounds with (it seemed) hundreds of children around us, we arrive at the village. A swarm of curious people welcome us: relatives, students, neighbors, women in magnificent, colorful dresses, big-eyed infants. The sheep bleat and the roosters crow. The hens collect their chickens to protect them. It feels good to sit down in the shade of a large mango tree after the walk in burning sun. As everything finally calms down, we get something to eat and drink. Time stops, our hosts pick up their instruments, and we begin a spiritual evening in candlelight, with silky songs and soft music from the kora and balafon that lasts well into the night.
Maali's Music School is in the nearby village of Nema Kunku. It is more than walking distance, but how long, is impossible to tell. The only two distances that exist here are "it's not far", and "it's far away". A ramshackle minibus drives us to the school. All traffic is maintained by worn out taxis, near falling apart that would give a fit to a western vehicle inspector. Only the corrupt upper class have private cars, everybody else uses public 2-dalasi taxis.
---
Many west African musicians leave their countries for Europe and America in search for money. Whom should the African children look up to, and learn from, if all the good musicians move abroad? Money is also the reason why many local young griots choose to play reggea, rock, rap and pop and not traditional music. The traditional music scene needs to be taken care of.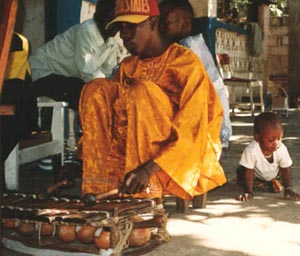 That is why Alagi M'Bye has founded West Africa's first school of traditional music for children. The students come from all kinds of families, not only the sons of jalis who have previously been the only ones allowed to seriously study music. Girls of jali families traditionally learn to sing and dance from their mothers, but here they can also learn to play instruments. Musical styles and instruments are taught by teachers from the three main ethnic groups of the country: Mandinka, Wolof and Fulani. The students come from all these groups.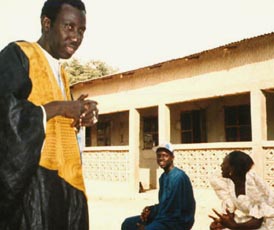 The schoolhouse is still under construction, so far only a shell of concrete containing seven rooms in a long building. It is spare by our standards; unpainted walls with no furniture, no electricity and no water, until there is more money available to to do the work. But when the children come, it is filled with life. It is obvious how important this place is and how proud everyone is of the school. It is something unique, new and promising. One group of fifteen students comes three hours before noon, the second in the afternoon. Everybody is served lunch in the middle of the day. Singing and dancing, kora and drums are taught. Because of the poor economy the school can only employ one teacher at the time. Different teachers work for a few weeks each. Workshops for building instruments take several weeks of the school year. The children can follow and take part in building koras and drums right from the beginning.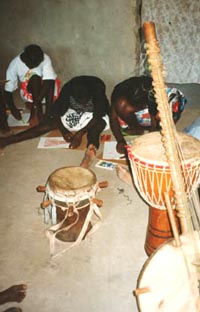 The economics of the school are difficult. Government authorities in Gambia have not shown any desire to sponsor it. The only income right now is from Alagi M'Bye's concerts and a number of private sponsors from Scandinavia. The foreign funds are sent directly to the school and are used to benefit everybody. There are no tuition fees, which enables all children to study at the school regardless of their financial situation. The children go half the day in the music school, the other half in primary school (although not all the students can afford the additional primary school fees).
The tiny country of Gambia has an atmosphere of happiness and calmness. Despite the extreme poverty here the people are friendly and try to help each other and even foreigners as much as they can. My first trip to Gambia was a powerful experience; dazzling and confusing, positively wonderful. I found people with a huge depth of culture and customs worthy of further exploration.
- Ritva Lundberg