Henri Dikongue talks with Christina Roden
Henri Dikongue does not play "World Beat".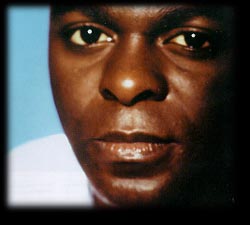 Neither does anyone else. The "World Beat" concept was originally concocted to help record companies sell non-Western music as a party groove. The term perpetuates the stereotype that melody and harmony always take a back seat to rhythm in Africa, the Caribbean and South America. In spite of countless examples to the contrary, the cliché persists, causing identity problems for artists who prefer to write lyrical and introspective music. Dikongue's own marketing is complicated by Cameroon's well-earned reputation for aggressive, fuel-injected Makossa and triple-time Bikutsi club hits. The country's thriving acoustic-based traditions have only recently reached American ears.
Nonetheless, Dikongue's work is gaining adherents among fans of the Cape Verdean diva Cesaria Evora, Angola's Kafala Brothers and other Africans who favor an intimate approach. His latest release, "C'est la Vie" (Tinder), is richly melodic, deftly arranged and full of unexpected twists. Dikongue's fluid, vulnerable tenor tells his tales in confiding tones, aided by a remarkable consort of musicians and singers. The album is dedicated to the talented and recently deceased Nigerian singer and political rabble-rouser, Fela Kuti, and to the late American actor, Robert Michum. Dikongue and his interpreter are overcome by giggles as he hastens to explain. "Fela is for me. Robert Michum is for Gil, the producer of the album - just to make people talk!"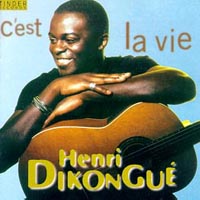 He cites the late Cameroonian composer Eboa Lotin as a major influence. "Eboa Lotin is my master - he was really the king." Dikongue says, "I also admire Francis Bebey and a lot of other names that are not as well-known . The real Makossa form is the one that used to be played in the '70s, in the '60s. There is only a little bit of Makossa on my album." A noted guitarist who came up during that period, Toto Guillaume of Black Styl fame, performed on his last album, "Wa" (Melodie import - 82903-2). Dikongue notes wryly that the Maestro was not quite on his game during the sessions. "I esteem him and he is the best guitar player there is. I got a little disappointed in his work on my album!" Dikongue mostly steers clear of the frantic Bikutsi sound. "On my album there is only the sound of Bikutsi - it's not Bikutsi itself. I used people who know to play it"
Dikongue's mature style can best be described as noticably, but not typically, Cameroonian. He also incorporates a wealth of diverse sounds from Latin, South American and Portuguese-speaking African sources. He agrees with this assessment, commenting," My influences are from all over the world. When I compose a song, I make it in different styles - Flamenco, Reggae, and Makossa. Then I regroup them and come up with the music I've got now." He feels that Cameroonian music has become too dependent on synthesizers and studio tricks and is more style than substance. "The young musicians who are playing right now are living in Paris. They only know the studio. They don't know how to sing and don't have anything to say. That's why I chose my style, because I have a story. It's about my country."
Another African musician who has forged an individual yet omnivorous style is the singer/composer/poet Pierre Akendengue. Dikongue's music is quite different from Akendengue's, but recalls his fearless intercultural foraging and vocal vibrato. Asked whether he is aware of the blind Gabonese genius' work, Dikongue breaks into a broad grin, clearly delighted by the comparison. "People say that I am the spiritual son of Pierre Akendengue!" he says, "I'm proud to see that you understood that! The first time I went to play in Cameroon, Pierre went there and said, 'There is a young Cameroonian who's coming and I want you to listen to him!' So, he was the first one to announce me!"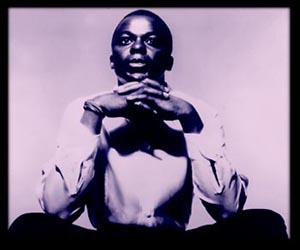 Dikongue spent time in South Africa singing in choirs and echoes of Anglican church music occur in his vocal writing. "It was only afterwards that I realized how South Africa was beneficial for me. It all pulls together!" This brings on a discussion of the composition process itself. "When I compose, I put everything together on piano or guitar. When I'm ready, I give the parts to each individual." He likes to toss in occasional references to French Chanson styles from the '50s and '60s. Dikongue is a huge fan of the Armenian-born French singer-composer, Charles Aznavour. "I love everything that is difficult!" he says, "I am very impressed by Aznavour. He is a short man, a tiny man. Everybody looked at him and said 'Where is HE going?' It was very hard for him at the beginning. Well, he wrote songs for Edith Piaf! Look at him now!"
Dikongue is delighted by the growing interest in his creamy-voiced cousin, Cathy Renoir, who has graced his last two albums. Her journey into music started relatively late - she did not begin singing seriously until she was in her '30s. "In the beginning, Cathy was into theater. She didn't go into singing for money but out of love. She worked with Ray Lema, and of course, there she had the best instructor! Music is something she does with passion." Asked about Renoir's intuitive harmony work when she sings with him, he continues, "When I work with people I usually explain to them what the song is all about. I try to make them understand - 'YOU are singing the song'! I want them to be part of it. I don't want just 'play and pay'." Asked about his violinist on "C'est La Vie", Nasser Beghdad, he recalls, "I knew that I needed somebody who had an occidental sound and that's how I picked him. I wanted that particular quaver in the music." He smiles reminiscently, "That's what makes the album so rich!"
Dikongue now lives in Paris. He keeps abreast of current affairs, especially on the road. "When I travel, I read newspapers to find out what's going on. For me, politicians are comedians! That's why I talk so much about the subject. I would like them to stop lying. This is talking about European politics," he rolls his eyes comically, " Africa is another story!" But New York is a new experience, even for an utterly urban soul like Dikongue. "New York a real mess! I'm surprised to see how people drive here and also how they cross the street! In Paris, nobody stops! They kill people but they don't stop. I thought New York would be faster. I saw this afternoon that a guy wanted a cab and it stopped in the middle of the street. Everybody was yelling!" He pauses, laughing, "It was just like Africa!"
---
Article by Christina Roden
© 1998 C. Roden
This article appeared in a different form in Rhythm Music Magazine