---
More reviews: (* include an song in Real Audio)
Many of these recordings are available at cdRoots
The Danish folk revival is finally in full swing, and promises to be every bit as interesting as what has been going on in Norway, Sweden and Finland. It has moved from the merely fused, folk-rock sound into a real exploration of old roots and new fronds, and is producing some great new bands and interesting solo excursions.
North American distribution of these recordings is extremely limited. Most of the recordings reviewed here can be found through Danish Folk Music Distribution at www.folkmusic.dk/GO2/

Below is an archive of reviews of recordings, some dating back to 1990.

These regional sections are merely a guide, are usually somewhat out-of-date, and are not the only content on the site. You will find much more by searching the site:

---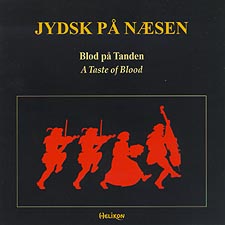 Jydsk På Næsen
Blod På Tanden (A Taste of Blood)
Helikon (Denmark, via www.folkmusic.dk/GO2/ )

Their name means "Jutland on the nose" and refers to a "Polish" song from Jutland. The music is straightforward; a quartet of violins, viola, accordion and bass playing traditional style dance tunes (most are composed by the band). The devil is in the details, and details there are, in clever turns of phase, small rhythm games and very subtle influences of modernity hiding deep in these songs. Notable tunes on the album include "Nightmen," a lovely mazurka written by accordionist Vibeke L. Kristensen, the title cut (a polka) and a wily 5/8 hopsa called "Crooked" (the audio sample we include on the web site), both composed by fiddler Michael Sommer. - CF
---
Danish Dia Delight
Live
CE Musik

Kætter Kvartet
Kætter Kvartet
Olga Musik

Sometimes, quite often in fact, in a folk music revival a band is needed that gives its audiences a damn good fun time while sneaking in a whole lot of the shapes and content of the tradition. Danish Dia Delight is just that band. It's a bunch of very able seasoned musicians, including American Café Orchestra (and Wood/Cutting accompanist) guitarist Morton Alfred Høirup, diatonic accordionist Carl Erik Lundgaard and saxist Henrik Bredholt, throwing songs and tunes around between them, with accessible energy, charm and wit, a lot of traditional skill and no sense of educationalism or pompousness.

The sound has affinities with British ceilidh-band and folk-rock, but it's definitely Danish. To quote Alan Klitgaard's notes, "In my opinion any musician in any musical genre stands a much better chance of making an international impression if he or she chooses their own tradition as their starting point". Live is what the band's about; I held off writing this review until I'd seen them, and can confirm that this is a true and faithful representation of the delights of Danish Dia (even if it isn't perhaps the most foreigner-enticing name).

A second jolt for any doubter of the Danish revival comes inside the rather uninspiring packaging of Kætter Kvartet's debut album. These days Denmark is highly multicultural, and it's natural that anyone making present-day music with Danish roots would embrace that reality. KK very naturally combines the structures of Danish, or sometimes Swedish, dance tunes, which include such pan-Nordic forms as hambo, waltz and schottish - with the lift and backbeat of other, hotter parts of the world. A prime example would be the swingy, eminently danceable Hambo.

Most of the music here is by fiddler Søren Korshøj or mandolinist, guitarist and flute-player John Bæk; the band is completed by Svend Seegert's keyboards and drummer Peter Weis-Fogh (replaced since the album by Vivi Kristensen). As with DDD there's a sense of fun coupled with excellent musicianship and bright ideas. Some European musicians struggle with the problem of whether or not to sing in their own language; KK not only sings in Danish but has invented African-sounding vocalisations that don't mean anything in any language (now there's perverse for you, or perhaps just egalitarian). Sounds like it would be silly, but it seems to work; some of these are the sort of up-tempo dancing songs that need sound, not sense, in the vocals. - Andrew Cronshaw (from Folk Roots Magazine, 1997)
---

Phønix
Udbrud
self-produced/Denmark (www.folkmusic.dk)

While this band is somewhat in the tradition of Sweden's Filarfolket and other folk-roots bands of Scandinavia, Phønix treads its own course. The band plays fiddles, bagpipes, accordions, clarinets and whistles, with a variety of percussion from around the world. They use folk tunes for the basis of their original work, adding jazz and other world-folk elements to the mix to give it an expansive feel. It can be driving, like the dark, rhythmic push of "Karavanen." They are at their best when the music is less dense, and the band has room for each instrument to work its way to the forefront. "Siker Sæk" is the prime example of this approach, with a lively combination of bagpipe and accordion, then percussion and fiddle and other combinations as the song slowly goes through the melody, first in a baroque round, and then in a jazz improv. There are lively tunes, Latin grooves over Danish polskas and serene baroque airs, each showing off the elemental quartet with little studio effect or overdubbing. - CF
Sound sample is from the album, and is used by permission
"Elle-Pelle M F Polka," uses the accordion in both rhythmic and lead capacities, joined by percussion, fiddle and flute, with bottom added by the bass clarinet.
---
Morten Alfred Høirup
Vingården (The Vineyard)
BYEP ([email protected])



(photo: Mika Putro, 1994)

This is Høirup's first solo effort of Danish folk tunes/modern arrangements but gets plenty of support from three rustic fellow countrymen, plus American violonist Ruthie Dornfeld and Finlander Tapani Varis. Traditional instrumentation features Høirup on guitar, accompanied typically by violin and double bass, and spiced further on specific tracks with overtone flute, hurdy gurdy, jews harp, nordic bagpipes and more. The recording shuffles three old Danish ballads into a set of six freshly composed melodies by Høirup himself and the lack of seams between the new and old attests to Høirup's sensitivity for his Danish heritage and its broader Scandinavian context. Though not devoted exclusively to its title, this album's music does seem to reflect the gentile atmosphere of the vineyard's rewarding labors. The presence of drumming is hardly missed as there is plenty of rhythmic energy in the dance selections but overall Vingården will probably better satisfy in your chair by the fire I should think. Excellent sound too. - Steve Taylor

We liked this record so much, we reviewed it twice! Morten Alfred Høirup is a Danish guitarist with deep roots but few boundaries. As a member of The American Café Orchestra he established a creative reputation for mixing a serious swing into traditional Danish, Swedish and Celtic folk music. Vingården is Høirup's first solo effort, and it's a charm. He gets support from fellow Cafe members, American fiddler Ruthie Dornfeld and Finnish bassist and jews harper Tapani Varis. Danish accordionist Carl Erik Lundgaard and muti-instrumentalists Paul Lendel and Keld Nørgaard, a trio called Lang Linken, add violins, bagpipes, hurdy-gurdies and all manner of sonic accents. The music sounds ancient on the surface, but underneath the folk tunes are an assortment of new ideas, unexpected twists, pushed by the solid talent of the musicians, and firmly grounded on Høirup's exceptional guitar playing. - CF


Available at cdRoots
---
DUG
Beware of Fafner
P3 Records ([email protected])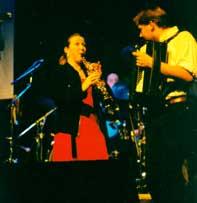 This quintet is exploring how to merge new ideas with the old songs of Denmark, and are succeeding. The band is centered around the saxophones and bass clarinet, squaring off with accordion, hurdy-gurdy and fiddle, and held together with a solid, inventive rhythm section of bass and drum kit. The tunes on Beware of Fafner are mostly traditional or a mix of trad/original, moving through slow romantic waltzes to wild and wooly dance numbers. The arrangements are assured, not too far out (maybe not far enough yet?) and full of instrumental color. The singing is rough-hewn and befits the darker, minor key songs that feature vocals. DUG is a good example of how far the Danish folk music scene has come and how far it will be able to go. - CF
---
---
To find out more about music from Denmark, vist the web site of Danish Folk Music , full of great information as well as a coop of record labels, artists and festivals.