Geno Delafose


"A change is gonna come, I know that."

The French rockin' accordionist talks with Bill Nevins

Usually a cheerful man, Geno had greeted this reporter with a warm smile and handshake. Yet it was clear something was eating at him as he prepared for a sold-out gig at Albuquerque, New Mexico's Club Rhythm and Blues.

"I really thought it was a joke when that guy told me to leave!", says Geno, recalling a very recent incident in a Cajun nightclub, "not ten miles from my home," in Eunice, Louisiana. According to Geno, it was a rare night when he was not working, so he went with some friends to enjoy some food and fun at a local dance club. "I was just having a good time," Geno says, "I've performed with the Cajun musicians that were on stage many times, and we were just there to do a little dancing ourselves!" But it seems that the white club owner objected to African-Americans dancing in his club. And so one of the prime exponents of Louisiana's musical heritage was rudely thrown out of a Louisiana music hall!

"You better believe we won't be playing that joint EVER! The only place that's ever happened to me is in Louisiana," muses Geno, "And I really don't know why that still is the way it is in Louisiana. But I do know things have GOT to change!"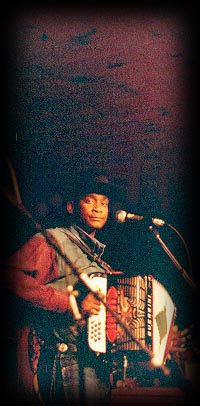 Asked if music may help to effect that change, Geno noticeably cheers up, saying, "Yes, there truly is healing in this music--and my hope is in the young people, you know. That is where the change is coming from. My own audiences are getting younger, black and white kids having a great time dancing together. That's changing the music, too. Our music is getting much more funky! And I think it's great!"

Strapping on a big zydeco piano accordion, Geno steps onto the stage. The good music starts, and the floor is filled.

Son of the late zydeco master, John Delafose, Geno Delafose is 25 years old and a 16 year veteran of professional performing. He started playing frittoir (rubboard) in his father's Eunice Playboys, later picking up drums, then accordion, and singing in Creole French and English. Geno has become a worldwide star, headlining this year's New Orleans Jazz and Heritage Festival and touring Europe and North America. He's been featured with his band, French Rockin' Boogie, in John Sayles' acclaimed film, Passion Fish, and on the soundtrack of the film, Eve's Bayou. His latest recording, That's What I'm Talkin' About! (Rounder) is netting rave reviews and hot sales.

Geno explains that he plays the single-row and triple-row diatonic button accordions for more traditional, "French-style" tunes. He switches to the powerful big piano accordion, made famous by Clifton Chenier, for zydeco house-rocking. The Delafose band is a meeting point of Cajun influences and R&B, and their stylistic range makes French Rockin' Boogie one of the most interesting groups to come out of the Louisiana musical revival.

Geno lists Canray Fontenot, Clifton Chenier, Iry LeJeune, Beausoleil, and Boozoo Chavis among his influences. "Of course, my dad was the biggest influence of all." Noting that this list covers a lot of different stylistic territory, Geno says, "We are sort of like Beausoleil, Boozoo and Clifton Chenier all rolled together. We have that old country feel, that soft swing, and then we have that loud, bluesy get-down thing going on, too. We try to mix it up, give everybody something they can dance to. It's very important to respect the elders and what they've taught us."

That said, Geno says he is excited about writing new songs, with lyrics and style reflecting the way he sees the world changing. "Our third CD will be out this summer. I think our musicianship keeps improving--the band is really great now! And we are getting into more versatility and a look at what is happening for our audiences now. This world is changing, and I think in a way it is sink or swim time. I hope people will stay with us as we change, too."

French Rockin' Boogie includes Geno's cousin Germaine Jack on drums, rhythm guitarist Charles Prudhomme, rubboard phenomenon Steven Nash, bassist Pops Espre and Bobby Brouscard on lead guitar. More than any other young zydeco band, they reflect a strong knowledge and respect for the pre-zydeco styles ranging as far back as Amedee Ardoin and the late Creole fiddler Canray Fontenot.

Noting he has felt very welcomed in Albuquerque as in Rhode Island and in France and in many far-off places he's played, Geno smiles, "A change is gonna come, I know that."
---

Photos: Cliff Furnald
Sound sample: an excerpt of "Bernadette," from the Rounder recording La Chanson Perdue
Traditional song. Public Domain

©1998, Bill Nevins and RootsWorld