Maria has no time
to even lift her eyes
to lift her eyes
broken from lack of sleep

from "Maria Lando"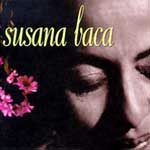 Susana Baca, the Peruvian vocalist who first won an international following with "Maria Lando," a track on the 1995 David-Byrne-produced The Soul of Black Peru, has often been compared to Cape Verde's Cesoria Evora. It's not surprising; both women have found rich material in folk traditions of their countries, and both sing songs that are steeped in the darker emotions: pain, nostalgia, longing.

But while Evoria's violin-and-accordion tinged mornas can sound monotonous after a spell, I could be convinced to live full-time in Baca's complex world of Afro-Peruvian music. Here, Andean melancholy is perfectly expressed by an intriguing blend of Spanish melody and African-rooted rhythm. On Baca's recent debut album, for example, a song that is literally about a woman's grinding pain ("Molino Molero"), loses its message to the joyous medium of traditional Afro-Peruvian percussion instruments such as the cajón, a polished wooden box on which the musician sits; the guapeo (clay pot), the quijada (made from the jawbone of a burro); the campana (a cowbell); plus congas, bongos, and bass. With the addition of urgent call-and-response vocals and a little violin, it is downright danceable.

"Maria Lando," the track from The Soul of Black Peru, is an even better example. A ballad that poetically recounts the daily suffering of a black working woman, it is almost unbearably sad both in melody and lyrics.But even while Baca's voice gives lush expression to the song's pathos, the mood is leavened by the urgent backbeat of the cajón, creating a gorgeous, tension-filled tapestry of emotion and rhythm. It's no surprise that Byrne first became interested in Afro-Peruvian music after hearing a recording of Baca singing "Maria Lando," or that the song became the most popular track on the album.

Its success was an important breakthrough, as Baca recalled in a recent interview during her Seattle stop with the Global Divas tour. "It was this poem that opened the doors of the North American market," says Baca in Spanish. She is a striking woman of 44 with cropped hair and a dancer-slim body. "The author is Cesar Calvo, and Chabuca Grande (a famous Peruvian singer) put the lyrics to a melodic line, and then we arranged it together." Since its 1995 release, Baca's international career has taken off. She's done six European tours and two US tours, including the Global Divas tour, sharing the bill with celebrated Zimbabwean mbira player Stella Chiweshe and Tex-Mex folk singer Tish Hinojosa. (The women jokingly referred to it as the "blind date tour" because they didn't meet until the first performance.)

Her self-titled debut album, released last fall, has cemented her success, winning critical acclaim both abroad and in her native Peru. For Baca, who has been a key figure in the revival of Afro-Peruvian music, this is sweet news indeed. "We are very excited by how well-received the record was in Peru," she says.

Born in Chorrillos, a black coastal barrio of Lima, Baca grew up surrounded by Afro-Peruvian music in its various forms, including the percussion-driven festejo; the melancholy, more melodic landó; and the "mother of them all," as Baca tells me, the golpe tierra. At that time Afro-Peruvian music, with its history in slave culture, went unrecorded and neglected by mainstream culture. "Before, the record companies wouldn't pay attention [to us], at least in my case they wouldn't play us on the radio, much less on television."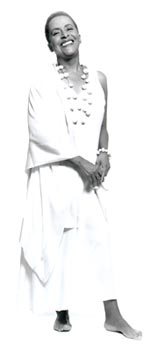 As a student, Baca became interested in researching the roots of her musical heritage, using her work as source material for her career as a professional singer. Eventually, she won grants from Peru's Institute of Modern Art and the National Institute of Peruvian Culture. More recently, she and her husband, Richard Pereira, founded the Center for Black Continuum, dedicated to promoting black music and dance.

"I've gone all over Peru," she explains, "recording in rural areas, gathering material from old singers, composers." On her debut album, several of the songs, generally the more African-sounding, percussive numbers, have centuries-old roots, including "Énciéndete Canela," "Zamba Malató," and the aforementioned "Molino Molero," which is based on a scrap of music originally discovered by an American ethnomusicologist.

"He didn't even record it," she recalls. "It was just a transcription. An elderly man sang it; he remembered hearing it sung by a woman who had been a slave. He just remembered this small piece, and from that we built the entire song." Baca smiles, and she sings a bit of it. "You note the cultural mix (mestizaje) in the song," she points out. "It has some Andean chords in it." Such musical archaelogy can also be painful, though, bringing fresh realization at how much has been lost, at how few of the old musicians are still alive. Sometimes, too, the ones who are still living prefer not to be reminded of the past, and refuse to be interviewed. "We've lost so much of these roots, because the old don't want to remember; they'd prefer to forget. 'No,' they say, 'that was from slave times.' "

Despite her emphasis on roots, Baca wants to make clear that she is not producing the equivalent of a folk music museum. She rescues, but she also reinterprets and contemporizes. "There are traditional things that we do, but our interpretation is different. There are more risks in what we do." Her album includes a number of contemporary compositions, and one can identify elements of jazz and even rap.

She has also worked with a number of contemporary poets on lyrics, of which she is justifiably proud. One example is "Heces," a spare guitar-and-vocals track on her album whose words are from a poem by celebrated Peruvian poet Cesar Vallejo. "It's about a man who is from the Andes," says Baca, "where there is always sun. He comes to Lima to live, where there is a permanent mist over the city." Vallejo's first lines are ones that this Seattle resident highly appreciates: "This afternoon it's raining like never before/And I no longer feel like living, my love."

Live, Baca gives a performance that is as much visual as aural. Her voice, actually, is a bit disappointing, as rich and expressive as you'd expect from her recordings, but less powerful live. But the sum total is still stunning. She dances, usually barefoot, as well as sings, gliding across the stage with utter self-confidence. She is backed by David Pinto on bass, Rafael Muñoz on guitar, Juan "Cotito" Medrano on the all-important cajón, and a small, fast-moving man named Hugo Bravo who does time on all the other traditional percussion instruments needed to crank out the peculiarly intriguing rhythm of Afro-Peruvian music, kin to the Afro-Cuban son's three beats against two, but usually played in 6/8 or 12/8 time.

During the Seattle concert, Bravo and his beats were in rare form during "Se Me Van Los Pies" ("My Feet Move"), an unequivocally exuberant song from her new album about the joys of movement. It was the concert finale. About halfway through, the percussion took over, the cajón, bongos, and congas rapping out a rousing hip-hop beat, and Baca adding some chant-like vocals that were as primal and improvisational as the beat of a single drum. The audience, who had been enthusiastic all night but still reluctant to break out of their confining auditorium chairs, finally got it: This music is about shaking your body. They got up. They shook it.

Melancholy and melody; rhythm and joy; cultural pride and movement. Any act of art is a defense against oblivion, somebody once said, and in a case like Baca's, giving voice and form to a rich, once-marginalized musical tradition, it's doubly so. She said as much during our interview: "I personally need to find respect for our culture," she said. "It's true that we were treated badly, and in the end, we need to exorcise this, we need to rise above it. These memories can produce bitterness, but they shouldn't. We need to rise above it. And music helps."

- Elisa Murray

Available from cdroots.com:
Susana Baca (1997)
Vestida De Vida (1997)
Del Fuego Y Del Agua (1999)
Eco de Sombras (2000)

see also: Cesaria Evora