Astor Piazzolla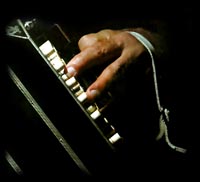 The music of Astor Piazzolla epitomized our situation in the modern world with his fusion of folkloric beauty and contemporary tension. He forged a new music that challenged the traditionalist and left the adventurous craving more. He took the music of the great tango masters like Garde, ripped it away from the velvet-walled concert hall and the soft-cushion drawing room, and slapped it down on the pavement of Buenos Aires. Reviled by the critics, shunned even by the conservative government, his music spoke to the next generation, and popular and jazz musicians and listeners all over the world eventually fell under the spell of his "nuevo tango." In recent years, Piazzolla has taken the new tango back to the concert halls, composing and performing works for chamber ensembles like Kronos Quartet, larger groups like The Orchestra of St. Luke's, even an opera company. These works brought his once radical music back into the mainstream.

But it is his work with the quintet that will be best remembered. The striking violence he could achieve in a pas de deux with violinist Paz, the beauty of his bandoneon playing off of Ziegler's piano, the fierce power of guitar strings and his reeds bouncing off a long, bowed bass line; these are the moments that made Astor Piazzolla a catalyst for new music, a creator rather than a player. To see this band play was a priceless wonder, a joy that too few took part in over the last few decades. My one and only time in a concert with Piazzolla turned my head around, made me look at all art with a different eye, and music with a more readily challenged ear.

It is a typical irony that it was in the last few years of his life that some of his bestrecordings, some of his darkest tangos, were finally re-issued in the U.S. Live In Vienna (Messidor/Rounder), Love Tanguida (Milan), and even his 1989 chamber piece Five Tango Sensations (Elektra) are all the tribute one could pay to a lifetime of musical confrontation and artistic boldness. - Cliff Furnald


Image above is from the liner notes of "The Late Masterpieces," a collection of three works on American Clavé , NYC, NY



---
Some recording reviews
ASTOR PIAZZOLLA Love Tanguedia (Tropical Storm, 4100 West Alemeda Avenue #206, Toluca Lake, CA 91505) - If this is love, beware! I'll spare you a history of this giant of the tango. This is elemental Piazzolla, performed with his Contemporary Tango Quintet, occasionally with an orchestral backing. These are raw, vibrant, often visceral pictures of romance unadorned, sexually explicit sonic portraits of life and times on the streets of Argentina. The breath of the bandoneon, the shuffling scrape of the bow on the cello, the shriek of the violin, the moan of the bass, the incessant rhythm of the piano; they speak fluently and directly of love and lust, pain and passion. "Tanguedia III" tells volumes about the sensuality of music, "Milonga Loca" about romance turning to ecstasy. This is primal tango, each instrument a character in a play, with no bit parts. Each line from each member of the quintet grabs the listener, demanding its side of the story be heard. Enchantment, heartbreak and pure unadulterated sex are played out on string and reed in a pas-de-deux of dark and light. These recordings from 1984-87 are essential Piazzolla as he achieved both artistic and critical heights. - CF
---
March 16, 1996
Two releases made in 1995-1996 from earlier material
57 Minutos Con La Realidad
Intuition Records
Luna
Hemisphere/EMI
It's coming up on four years now since this master of new music died at the age of 71. Trepidation abounded when I saw these two "new" recordings hit the mailbox. While Luna is a straight concert performance, unlikely to be altered, likely to give a romantic glimpse back at his music, 57 Minutos Con La Realidad is a "studio" recording mastered and rebuilt by Kip Hanrahan, and offered plenty of opportunity for rewriting history.
Amazingly, both recordings offer potent last looks at the music that brought "tango" into a new world of musical meaning and depth. Luna was recorded live in Amsterdam in June of 1989 with the sextet, and offers Piazzolla and his then-current band at the peak of their skills, freely mixing the romance and aggression that is at the heart of the tango, and twisting and turning it in ways only available to the creative spirit of Piazzolla.
57 Minutos is a different beast altogether. Kip Hanrahan helped shape some of Piazzolla's greatest works, and here he wanted to "finish" their last collaboration, posthumously. A risky venture, to be sure, and on the whole, one that hanrahan may have approached with a little too much care. This CD was constructed from a July 1989 BBC performance in England and a November, 1989 studio session in Germany. There were notes by Piazzolla on how he thought the sessions should be mixed, notes that hanrahan traditionally followed, and then ignored on a second mix. It was usually those second mixes that we heard, and they were powerful interpretations that led to classic works like Tango: Zero Hour. Hanrahan clearly felt some constraint to follow the masters last wishes, and this album, while still brilliant, hints at what might have been had Piazzolla lived to overdub and remix one more time.
But all this aside, both albums offer a wealth of material new and old for anyone who needs adventurous music with a razor edge. Both also share different performances of what may become one of my all time favorite works by Piazzolla, "Cero Hora." Dark, foreboding bass lines, staccato piano bursts, and ominous trills from the bandoneons slink their way to a series of searing slides and shrieks for cello. Each has its own special qualities, the slower pacing of the Amsterdam version offers a much more eerie quality, while the harder edge of the Hanrahan mix gives it a visceral appeal.
So it goes with each of the pieces here, as we revisit live the wonderful "Tanguedia" and get to hear Piazzolla's self-proclaimed epitaph, "Prelude To The Cyclical Night" one last time. Adios, Astor.
---
ASTOR PIAZZOLLA Y SU QUINTETO TANGO NUEVO
The Vienna Concert
(Messidor via Rounder)
It is no secret that I am a huge fan of Astor Piazzolla, and if none of the recordings I've recommended have made you one yet, than I offer another chance. The 1984 concert in Vienna offers a chance to hear Piazzolla and his quintet at its best; bold, brash, lush and dissonant, all the factors that make his "new tango" such a stunning art music. This is not the tango of Hernando's Hideaway and Fred Astaire movies. In the late fifties the music of Buenos Aires took a radical turn, as the youth culture of the country demanded a music more relevant to their world. Musicians responed with new tango, a music that expanded the boundaries of the primarily vocal music then popular throughout the world. It also was a return to the roots of the music, a style conceived in the bordelllos and more suited to the street than the salon. Fusing his years as a classical composer and conductor with his early life as a tanguero, Piazzolla was convinced to become a prime mover in this revolution. The concert in Vienna offers a perfect example of the power, the sexuality, and the wit that is Piazzolla's music. The quintet of Astor's bandoneon, electric guitar, bass, piano, and the phenomenal violin work of twenty year Piazzolla collaborator Fernando Suarez Paz makes a music that defies all conventionality, even years after its inception. If "Libertango," with its lush piano, its crude percussive effects and its romantic flush, doesn't make you into a believer, than you may as well go back to your grandmother's Percy Faith records.
See also: free reed, south america