Within the first few notes of "Violence," the opener of this self-titled jewel from the Ayn Trio, it's obvious we've found ourselves in music that doesn't just describe life but is life itself. Basel Zayed (oud, buzuq, vocals) shuttles his bandmates Layth Sidiq (violin) and Naseem Al-Atrash (cello) in a jagged weave of melody and history, setting the stage for a human drama. These musicians work together like the past, present, and future of a protagonist whose narrative journey from "pain and loneliness to connection and joy" makes catharsis seem like an understatement.
| | | |
| --- | --- | --- |
| | | "Violence ('Unf')" |
"This is a very important album for me," Zayed goes on to tell RootsWorld in an email interview. "Since moving both to a different geographic location and a different mental and spiritual state, I have entered a new cycle in life that makes me feel more grounded, supported, and free."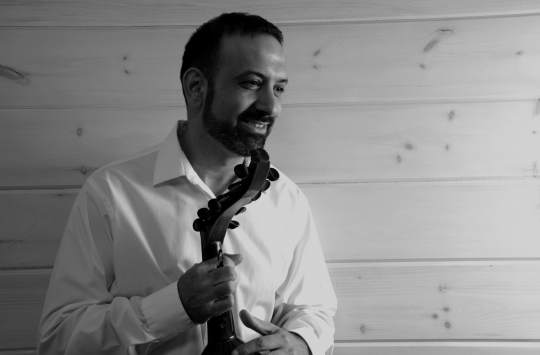 Listeners are thus invited to experience every terrain as their own, and to seek healing in the "Samaa'i Nahawand." Normally an introductory piece, here it resolves the tensions established in "Violence," linking one dreamlike flow to another in "I See in the Heavens." The poetry is by Amer Badran, whose verses constitute "an attempt to reach out to the supreme being to make a first connection and express the need for unity." Zayed's arrangement places a stethoscope over Badran's symbolic heartbeat and reveals the truth of its song.
"Samaa'i Nahawand"

"I See in the Heavens"
"City" shifts our point of view from rural to urban, yet without losing the innocence so brilliantly set by the album's beginnings. Despite its modern architecture, childhood runs along its avenues. Such passages of revelry are preciously few, as emphasized by "Checkpoint." A vital link in the album's chain, it moves with a buoyant caution than can be taken either as a literal or figurative border crossing. In light of its undeniably biographical edge, "Waiting" feels like a continuation of the story.
"City (Madina)"

"Checkpoint"

"Waiting"
The trio saves their best for last in a triptych of sorts. First is "I've Known Love," which cushions the sentiments of Sufi poets Raabi'a Al-'Adawiyya and Al-Hallaaj. "I chose Sufism," explains Zayed, "because it doesn't attribute spiritual experience to any specific ideology or religion. I wanted to express my experience without having to tap into a specific religious definition." In that spirit of open dialogue, one finds a captivating album highlight. So, too, in the precisely articulated "Of Great Importance," which draws a line from without to within from a seemingly bottomless inkwell.
"I've Known Love"

"Of Great Importance"
Last is "Farah" (Joy). By using the Maqam Hijaz scale normally associated with sadness, Zayed shows that joy "is a very subjective matter. I believe extreme joy doesn't exist and that music should highlight this balance in one way or another." His use of invigorating rhythms showcases the trio's barely noticeable lack of percussion. Drumming, in Zayed's estimation, "leads the listener to the safety of an expected, anticipated sound. The removal of percussion gives the listener a sense of ownership and sense of control."

All of which links back to Badran's philosophy of the body, wherein lies a curious contradiction: love compels us to extremes, but in order to experience those extremes we must remain conscious in our skins long enough to remember. Music such as this offers a replicable alternative in the absence of flesh. - Tyran Grillo

All music and images are ©2018 Basel Zayed and used with permission.

---
Ayn Trio
is RootsWorld's choice for
Music of the Month
for January, 2019
Buy a copy of the CD now and support RootsWorld
$21.00 includes postage, US and Canada.


Buy a copy of the CD now and support RootsWorld
$33.00 includes postage, worldwide.