T

he music on this collection- recorded during the 1970s and early 1980s, arguably Nigeria's most musically fertile and innovative period- is highlife getting a much needed makeover. Like the bigger names from eastern Igboland such as Celestine Ukwu, Chief Stephen Osita Osadebe, or Ali Chukwuma, Alhaji Waziri Oshomah and his bands de-emphasized the jazzy swing and large horn sections of highlife's outdated past, and instead, brought local rhythms to the foreground, allowing electric guitars and keyboards to drive languorous, unhurried melodies for extended grooves. Luaka Bop's latest in its 'World Spirituality Classics' series demonstrates Waziri's leisurely approach with a collection of 7 songs anywhere from 8 to 17 minutes long.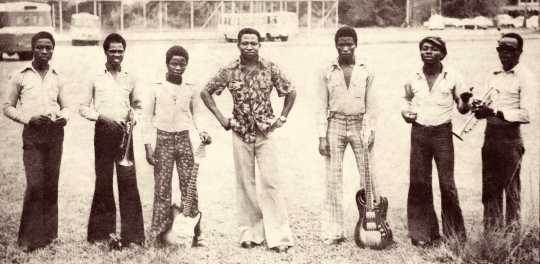 Perhaps what makes Waziri's brand of highlife trance so special comes from his home territory in Auchi, located in Northern Edo state in southern central Nigeria. Edo is a place that has found Muslims and Christians intermingling peacefully for decades, a fact that adds complexity to the typical understanding of Nigeria's Muslim north and Christian south.
| | |
| --- | --- |
| | |
Waziri was born into a devout Muslim family; however, his love of music led him to sneak into nightclubs as early as age 10, at times being called onstage to sing. His music loves were the likes of IK Dairo and Eddy Okonta, and once he got his first taste of their sounds, he never let go, much to the frustration of his parents. By the time he was twenty, he was a professional keyboard player and vocalist, and by 1970, he formed his own band. Snagging rhythms from local Etsako and Afenmei clans who had left what is now Benin centuries earlier, he sung/spoke a particular, simply philosophy based on Islam in a voice both gruff and enveloping, over his own keyboards and relentless grooves. "Okhume Ukhaduame" is one example. Waziri's voice, in harmony with his wife Madam Hassanah Waziri, slides atop a bouncing, hypnotizing jam, as wah-wah guitars cry, a muted trumpet comments on the chorus, and a keyboard drone sputters and percolates. The lyrics are a warning to anyone trying to bring him down, as he has God as a protector.
| | |
| --- | --- |
| | |
"Alhaji Yesufu Sado Managing Director" is a 17-plus minute long homage to Yesufu Sado, a local village chief in Edo State, one of many examples of Waziri's devoting lyrics to local political figures. The track is quiet, the guitars nearly a whisper, the bass a gurgle just underneath their patient patterns, as here and there, Waziri takes a keyboard solo. The brighter, "My Luck" features Hassanah Waziri and serves as a shout out to those who have helped support Waziri's music. Underneath Hassana's voice, guitars stand firm on the groove as a low, rumbling, gaseous keyboard comments.
Alhaji Waziri Oshomah still performs and his devout presence attracts young, non-Muslim fans who just want to dance. Because of Auchi's geographical location, as well as the makeup of its people, for the moment, this kind of cultural and musical intermingling can continue. It's what allowed his music to thrive for decades. It's also at the root of why this collection, at 74 and half minutes, never lets up.
Find the artist online.
Photo: Eric Welles-Nyström

This recording is RootsWorld's Music of the Month selection
October 2022
You can get a copy of the album and support RootsWorld.