W

antok Musik Vol. 3 opens with a song from Torba Province in Vanuatu, north-east of Australia. It tells of how, in the late nineteenth century, a white man arrived there bearing gifts as a way of enticing the local people to trade with him. Subsequently, having continued to raise his prices to a level they were unable to afford, he persuaded them to grant him some land, where he then set up a trading center to make the local people dependent on him.

The fact that the song, by Father Levi Sandy, is delivered unaccompanied helps to give it a timeless quality, but unfortunately that's not the case with the majority of tracks on the album which, through their arrangement and production have an overtly modern sheen to them, which actually makes them sound rather dated, already.

Wantok Musik is part of a not-for-profit foundation supporting and promoting the cultures of people from First National Australia, Melanesia and Oceania and this twenty-four track compilation showcases a wide range of material recorded by the label over a number of years. The geographical area covered is vast and the many musical traditions represented historically complex.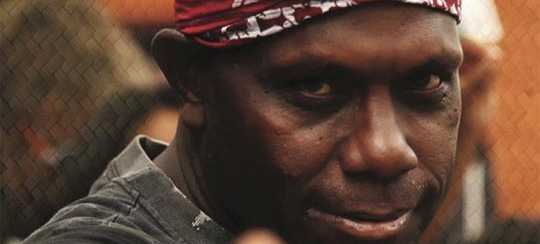 Some of the artists featured on the album, such as George Telek from Papa New Guinea (above) and Frank Yamma from Central Australia are already widely known while others are still establishing their credentials.
Kaumaakonga are a recently formed collective in the Solomon Islands who, in their debut album from which the track "Taoba" is taken, are reviving traditional chants from West Polynesia with arrangements which also reflect Melanesian musical traditions. Another track presents a quite different vocal style, this time by choral gospel singers Ol Sing Blong Plantesen from the Maskelyne Islands in Vanuat, performing "I gat wan ples I stap."
| | |
| --- | --- |
| | |
Wantok Musik Vol. 3, marking the 21st anniversary of the founding of the label is a sampler which, because of the huge diversity of musical material included might have been a difficult thing to make work as a single entity. Yet the real problem with the album ends up being a different one, in that the same diversity which could also have been a strength is masked and neutralized by label founder and producer David Bridie's trademark production values which pervade virtually all the recordings. Too often the traditional material is cosseted by mushy synths and over-used reverb so that any edges are tastefully smoothed off with the music sanitized to a point of germ-free dullness, having the effect of making the widely different artists sound as if they're singing off exactly the same hymn sheet. The cause may be noble but the end result would surely serve the artists better if a leaf had been taken out of Ian Brennan's play book and let the music speak for itself, with an absolute minimum of interference.
| | |
| --- | --- |
| | |
The only track not produced by Wantok Musik is taken from a digital re-issue of Didedikasikan, an album by Eyuser, a West Papuan Stringband, which was originally released on cassette. That album has been put out now to mark the passing of the band's founder, Ferry Marisan who, through his work and his music campaigned for the rights of West Papuan people and for their independence. In "Doa Ibu" we hear ukuleles, guitar and bass, solo singer and backing vocals, and that's it. There are no effects, no synths, just people in a room singing and playing acoustic instruments. That's all it needed and it sounds great.
Find out about these and many other artists from the region.
Further reading:
Comorian: Soubi & Mmadi with D. Alimzé
Small Island Big Song
Sounds From The Archipelago: The Lush Indonesian Tradition