Three from Palestine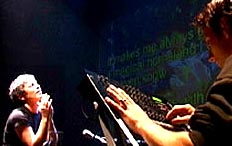 Jubran and Hassler

Photo: Jan Zappne

Kamilya Jubran and Werner Hassler
Wameedd
Unit Records

Le Trio Joubran
Randana
Fair Play

Wissam Murad
Min Ba'd
Sabreen Productions

Three recent recordings by Palestinian (plus one Swiss) musicians, each, in its own way, quite brilliant. Taken as a whole, they give a sense of the range of contemporary Palestinian music, from the rooted-in-tradition to the most avant-garde. Two of these recordings are from artists with what is probably the most important and creative contemporary Palestinian ensemble, Sabreen. Kamilya Jubran served as Sabreen's lead vocalist and qanun player for twenty years (1982-2002), while Wissam Murad remains one of Sabreen's core members. Sabreen's music has always been characterized by deep roots in the traditions of Arabic music, particularly that of the takht, the classical small ensemble known for its use of improvisation. Throughout its long recording career, Sabreen has been known for its creative ability to incorporate the rhythms and sounds of jazz, reggae, rembetika, blues, contemporary Arabic pop music, and even hip-hop, while at the same time to remain firmly grounded in the tradition. Although the members of Le Trio Joubran are not connected to Sabreen, their work too is at once innovative yet tradition-grounded.
I got a sense of Sabreen's classicist foundations in summer 1993 when I was invited to a party at Kamilya Jubran's house in Ramallah. One of Sabreen's members (it may have been Wissam Murad) was playing 'ud and singing for the 40 or so assembled guests. The rule of the night was that all the songs would have to date from before 1920. The 'udist played for two or three hours, and what I found remarkable was not just that he knew so many old songs, but that his audience, composed of university-educated and Westernized Palestinians, knew all the songs too, and sang along on each number. If I recall correctly, many of the songs were penned by the Egyptian composer and singer, Sayyid Darwish.

Of these three recordings, Kamilya Jubran and Werner Hassler's Wameedd is the most challenging, creative, and disturbing. Hassler, a Swiss composer and performer of electronic music, provides an eerie, subtle, and remarkably appropriate sound background for Jubran's voice and 'ud. Jubran's 'ud playing is mostly basic and spare, her repetitive lines and note-bending often bearing a family resemblance to that of Mississippi delta blues guitarists. The focus here is less on melody than on emotion, feeling, and the words. For Wameedd Jubran has set to music texts chosen mostly from contemporary Arab poets, like Paul Shaoul and A´cha Amaout, as well as from the celebrated Gibran Khalil Gibran and Greek poet Dimetri Analis. Jubran's expressive vocals and the instrumental atmospherics make it easy to appreciate Wameedd without understanding the lyrics, but nonetheless a key element will certainly be missed.

Here's a hair-raising sample, from the end of the song, "Nafad al-Ahwal 2": "I remembered the day I was killed, raped, cut to pieces lemon by lemon, cigarette by cigarette, was ripped and for the first time I cried for my death and for nature." These lyrics are by Lebanese poet Paul Shaoul, who frequently writes about his experiences during Lebanon's horrific civil war (1975-1990). No doubt these lines resonate somehow with the experiences of Kamilya Jubran, one of Israel's second-class Palestinian citizens, who was born in Akka (Acre), and who moved to the West Bank in the early 1980s to live under the Israeli military occupation, now in its 40th year. Jubran has lived in France, in voluntary exile, since 2002 but her music still resonates with the emotions, the trauma, and the cultural vitality, of her homeland.
Le Trio Joubran's Randana is the work of three brothers, also Palestinians with Israeli citizenship, born in Nazareth. Samir, 33, also eventually took up residence in the West Bank; more recently he too has gone into temporary exile in Europe. He has been performing and recording solo for the last several years, especially in Europe, to growing acclaim. In 2002 Samir released the album Tamaas, recorded with his younger brother Wissam, 22, an 'ud player and maker, a graduate of the Antonio Stradivari Institute in Italy. On Randana, Samir and Wissam are joined by their younger brother Adnan, 20. The inspiration for this recording, according to Samir, was the guitar trio of Al Dimeola, Paco de Lucia and John McLaughlin. Mercifully, Le Trio Joubran don't sound much like their inspiration; there's no speed picking or overblown energy. I don't hear much trio playing either, but rather solo or duo playing, and I'm unable to distinguish between the three 'udists. The instrumental compositions, by the trio, are rooted in the improvisational taqsim tradition, and are mostly contemplative, quietly rather than emotionally expressive. The 'ud playing, improvisation, and composition rank among the finest I've heard, although they don't quite achieve the level of master 'ud innovators like the Tunisian Anouar Brahem or the Iraqi Nassir Shamma. The only weak spot on the album is the group's live rendition of the Muhammad Abdul Wahhab composition, "Ahwak," made famous by the great Egyptian singer, Abdel Halim Hafiz and performed as a kind of sing-along. Samir's vocal is so inadequate to the task that I always want to stop the CD and listen to Abdel Halim's version again.
Wissam Murad's Min Ba'd is his tribute to the great Egyptian poet Bayram al-Tunisi (1893-1961), who attempted to revolutionize Arabic poetry by promoting colloquial ('ammiya) poetry addressed "to the people" and denouncing high/ classical (fusha) poetry as elitist. The album consists of four songs where Murad has composed music to accompany some of al-Tunisi's well-known verses; the other four numbers are instrumentals. Min Ba'd in many ways resembles the sounds of Sabreen's recent recordings, with its strong inventive ensemble playing in the improvisational and loose style of the takht, but with a modern sensibility, provided in particular by the bass playing of Oystein Bru Frantzen. I prefer the instrumentals on Min Ba'd to the songs. I am not overly fond of Murad's vocal style; it's a little too warbly for me. Nonetheless, this is a very fine recording, a kind of an Arabian trad-jazz style, in the best Sabreen tradition.

Although none of these albums is overtly political and none comments directly on the Palestinian condition, each emerges from the very difficult predicament that Palestinians find themselves in today. Each album represents a kind of heroic testimony to the continuing persistence and vitality of Palestinian culture, a kind of miracle of art and beauty, an oasis of hope, produced under the harsh conditions of war, resistance, and military occupation. - Ted Swedenburg

CDs available from cdRoots:
Wameedd
Randana
Min Ba'd

Web sites for more information:
Kamilya Jubran and Werner Hassler
Trio Joubran
Wissam Murad and Sabreen

© 2006 RootsWorld. No reproduction of any part of this page or its associated files is permitted without express written permission.