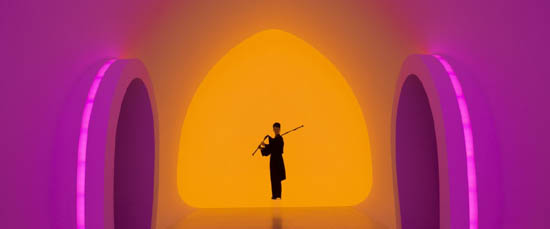 Elisabeth Vatn
The Color Beneath
Heilo
| | | |
| --- | --- | --- |
| | | "Yellowing Clouds" |
Elisabeth Vatn may be best known within her native Norway, but the music she has created for The Color Beneath taps into something beyond cultural association. Vatn is, among other things, of a breed of Scandinavian bagpipe players both preserving that tradition and pushing it into new directions. With a degree in ethnomusicology, she understands the inner nature of her instruments both in and out of context, and on this album is joined by musical partner Anders Røine, which whom she has shared a love for dying instruments over a decade of professional collaboration.

The Color Beneath features original pieces, recorded live in August and October of 2014 in Oslo, where light installations by American artist James Turrell inspired Vatn to record inside those very spaces, describing and responding to their visual associations through the language of music. Turrell's peaceful environments, pictures of which grace the album packaging, invite individual ways of seeing, and Vatn has taken this invitation to heart through personal combinations of melodies and improvisations, inviting us to listen differently in turn. "It cleared up my senses and opened my awareness," says Vatn in an e-mail interview of walking through a Turrell installation for the first time. "Like the air you breathe when walking in the mountains, being and breathing inside the installation made me good." The result is live acoustic music devoid of studio trickery, and indeed good.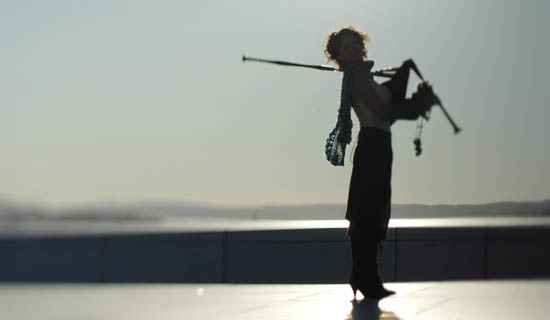 Open relationships with colors are suggested by track titles like "A Green Wave" and "Lapis Lazuli," even as the sounds themselves reveal wider spectrums. Both pieces feature Vatn simultaneously playing harmonium and Norwegian shepherd's clarinet, the latter of which sounds closer to a duduk than its European classical counterpart. Despite the earthly spaces that inspired it, the music here is decidedly aerial. Yet even from this forward-looking vantage point, Vatn keeps an ancestral flame alive. "Yellowing Clouds" likewise plies an ancient trade, adding the touch of Røine's Norwegian zither for a cinematic sound that recalls the work of Greek composer Eleni Karaindrou.
| | | |
| --- | --- | --- |
| | | "Coronal Streamers" (exceprt) |
If any feeling of tradition is to be found here, it is in the clarity of its emotions, which resound in the Jew's harp of "We Took the Dew from the Grass and Washed Our Eyes" and in the metallic bite of zither, which pairs with bellowed harmonium in an arrangement of the hymn "Here Gud ditt dyre navn og ære" ("No. 1") and with Swedish bagpipes in "Coronal Streamers," a dream of rural climes in other times. Vatn explains her hopes in creating a peaceful context for the album's imagery to unfold: "Perhaps silence and tranquility are not the first things you associate with instruments like bagpipes, fiddle, and Jew's harp, but I think there is a potential for the pure sounds of these instruments to do exactly this." To be sure, as Røine's Hardanger fiddle meshes with Vatn's harmonium in "Sky Silent Light," the singular voices of these instruments and the nakedness with which they sing are clear as day.
| | | |
| --- | --- | --- |
| | | "Sky Silent Light" (exceprt) |
To my ears, though, the album feels like one long meditation. And so, while one can point to specific titles like "Rain Shadow" and "The Resounding Light" as descriptive markers of Vatn's creative process, as part of the whole they blend into a grander, I daresay spiritual, experience that invites openness and acceptance. Through this experience, Vatn encourages us to listen for its own sake. As she herself notes, "The provocation in this project must be the silence, the patience—and the beauty. I hope the listeners can appreciate this." By looking deep within, listeners will appreciate her tendency toward contemplation, and in the process encounter a "universal" quality to the music that seeps outside its own skin and onto the radar screens of lives outside their own. - Tyran Grillo
Other works by Elisabeth Vatn reviewed in RootsWorld:
Martyred Saints & Sister Bells: Stave Church Songs
Tigerlily
Harnihomba

More audio samples and the CD The Color Beneath available from cdRoots
© 2016 RootsWorld. No reproduction of any part of this page or its associated files is permitted without express written permission.