It's about 1AM, in a small shiny modern cocktail bar in Oslo in 2007, during the folk music expo Folkelarm; an informal gathering before the showcases begin the following day. The chatter subsides as a striking, craggy-featured, long-black-haired character with a circular frame drum takes a seat in a corner, and begins a most extraordinary performance, riveting in its intensity as he emits guttural vocal sounds to the thud of beater on drum, his head close to its skin. Torgeir Vassvik is Sámi, a coastal Sámi from the village of Gamvik on mainland Norway's northernmost tip, and it's Sámi joik, but not like any I've heard before.

Given the location and time, for him that bar was hardly an ideal experience, but for me it was grippingly powerful nonetheless. I've seen him many times since, in various countries, had long conversations with him, written about him, and introduced his WOMEX 2016 showcase in Santiago de Compostela where, as at every performance, he drew total audience entrancement.

Look – my mere words aren't going to capture what he does, so before going any further, listen to the tracks linked here, which are from his most recent, third album, Gákti. Then, if you're still here, I can tell you more.

As well as the drum, his main instrument is an 1875 six-string guitar with only four strings ("Really three strings, but I have one more"), playing hypnotic gutty ostinati against his vocal. Usually he's joined by his band, that early on included innovative electric guitarist Jan Martin Smřrdal, who produced his 2009 second album Sápmi (the first, Sáivu, was produced by well-known trumpeter Arve Henriksen), and then moved to all-bowed-strings ensemble, an unusual but perfectly integrating choice. It now consists of brothers Hans P. and Rasmus Kjorstad, raised in the Gudbrandsdalen fiddle tradition, on violin and octave violin with, as an integral member since 2010, leading Norwegian sound engineer Audun Strype.

Joiks are a way of remembering people, places, animals, and also a tribute to them, evoking their essence. One doesn't perform a joik dedicated to oneself. They're not songs in the usual sense, with lines and verses, and the evocation is impressionistic and either wordless or with very few words.

Sámi culture and music has often been connected with shamanism, and indeed there were Sámi shamen, who, until the Church moved against them, used a drum covered in symbols as a sort of map across which a pointed moved when the drum, held horizontally, was struck. But in our conversations and interviews over the years Torgeir emphasises, rather than that, the concept of animism. "It's an animistic approach. And this is very alive for me, this way of thinking. Animism in the way that everything is alive and everything is connected. And I have the experience that it connects with people all over the world. For sure the core of all of these peoples around the Arctic Circle."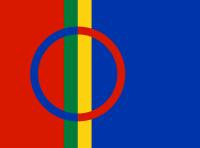 Gákti is the Sámi word for traditional costume, which varies between individuals and communities but is very identifiable, and its colours – red, blue, green and yellow – are reflected in the Sámi flag, a striking one of a blue and red circle on verticals of the four colours, which was designed by a Coast Sámi and inaugurated in 1986. Torgeir himself, though he has a strong visual identity in his attire, doesn't wear gákti. "In a way I want to brand this word, but also look at it in a bigger perspective. It's protecting the identity. I say it's like the ice that covers Greenland, for example, that's starting to disappear; and that can have a very bad consequence, especially at the coast. In Gamvik nowadays it's not winter before the end of January."
The destruction left by retreating German troops in World War II was the last straw for much Sámi culture. By the time people came back to find their burnt-out homes, "everything was gone, and you started anew. And so they could say 'OK, now we can fulfil what they say, we are Norwegians'." So there was a lost generation, or two, for the culture. Torgeir's parents were open to the traditional culture and, as coastal Sámi and not reindeer herders, had good relations with the reindeer herders from inland in their seasonal migrations with the herds, but didn't speak a Sámi language (which in that area, Finnmark, is Northern Sámi), and so neither does Torgeir.
When I observe that there seems to be a resurgence among the present generation for their culture, Torgeir agrees. "My daughter for example studies Sámi and goes deep into it. I haven't pushed her in this direction; it's come from herself, to search for these things, and she goes much deeper into it than I do!" But, he says, "still there is a lot of shame, among people in my generation and older, in the coast."
So, the CD opens with, in "Dudunka," an almost African, gutty pattern on guitar, joined by that voice in a wordless tormented moan. The guitar pattern slips into a steady rhythm, joined by the fiddles that slither and squeak as the guitar rhythm continues inexorably with keening, nasal/glottal vocals as the riff gets ever more emphatic.
In "Beaver In The Red Wood" his snarly vocal is over a shifting sound environment of synth drones and a chorus of wolf or husky-like barking and squealing. A person-joik, to Geir Tore Holm, is a surging free-rhythm thing of voice, fiddles and drum.
There are six of what he calls "interlude pieces" that he recorded himself without the band, using sound textures and igil, the Tuvan bowed lute. Indeed the music of Tuva, which he's visited several times, with its guttural throat-singing and horse-rhythms, has long been an influence, and he's visited several times. It particularly comes out vocally in his deep, grainy groaning under random string sounds "Orca Angel Dust." There are hints, too of North American indigenous music. But these all feed into something that is not only uniquely Sámi, it's uniquely Vassvik.
Downloads and streaming encourage picking and jumping between tracks, but the best way to get the measure of an artist's work is to listen to a whole CD from beginning to end. And doing that with Gákti takes you into a sound-world far from anything else, even from other Sámi music. Then, right at the end, comes the plaintive call of a characteristic bird of the Arctic, the Golden Plover. That short clip, which has graced the end of every Heilo record since Hallvard Kvĺle (d. 2006) started the label, evokes a vision of the wide, treeless northern tundra and the Finnmark coast. A perfect coda to a remarkable, enveloping record by a truly bold musician. - Andrew Cronshaw