Gianluigi Trovesi and Gianni Coscia
In Cerca Di Cibo
ECM (www.ecmrecords.com)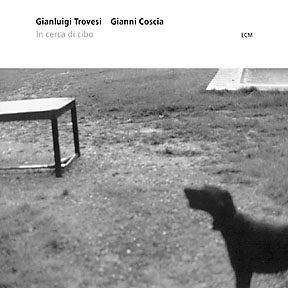 In the virtuoso hands of Italian jazz mainstays Gianluigi Trovesi and Gianni Coscia, a sweet-tempered pairing of clarinet and accordion lays claim to our acoustic awareness with smoldering, insistent revelation. Coscia's down-to-earth harmonic tonalities on accordion grant subtle underpinning to Trovesi's poignant, swooping, soaring musical vision, in a collaboration whose lingering, playful intelligence taps the lyrically sublime.

Trovesi and Coscia are musical flâneurs. Chaplin-like, they stroll around, pausing here and there to observe, comment, joke, tweak the listener's ear, conjure up an aural space that was always there, were we but attending. There is an episodic, digressive, elliptical character to their work, an instructive fascination with the superficially trivial, the commonplace, the allegedly unremarkable. A mischievous loitering outlook slyly reveals a depth to ordinary experience that resides just the other side of conscious awareness. Their music invites us to lounge about, it instigates, provokes, wryly interrupts a linear way of listening conditioned ("ear-washed," one could say) by today's instantaneous, 24/7, all-digital onslaught.

The album's fifteen diverse tracks offer rich illustration, far more than one can do justice to here; a handful of examples will have to suffice. Listeners who saw Il Postino (The Postman) will recognize the leisurely rendering of the Luis Bacalov composition that headed his scoring of the 1994 film. They may also know Carpi's sprightly theme from soundtrack of Luigi Comencini's Le Avventure Di Pinocchio (1972), based on the Carlo Collodi story (a far cry from Disneylandia), as Trovesi and Coscia suggest in discoursing on "Gepetto," "Lucignolo," "In Cerca Di Cibo" and "Pinocchio" (the latter rendered both forte and piano).

"Celebre Mazurka Alterata," a Trovesi-Coscia composition, lurches into motion with some quirky waltz figures, quotes "Won't You Come Home, Bill Bailey," slides into a decidedly Gershwin-like swell and a bluesy vamp on into Dixieland territory, before an unhurried meander on the sidewalk of a sad-eyed Fellini film. No untutored pastiche, it all coheres, somehow. Similarly, they elevate to high technique a sense of deferral, interruption and the weird juxtapositions of everyday modern life, its grievous injustice. And so they turn John Lewis's "Django" inside out, inserting a tender grafting of the Yiddish song "Dos Kelbl" or "Dona, Dona" (the familiar song protesting the Russian Jewish pogroms, by composer Sholom Secunda). An additional, unexpected treat is the conversational reflection on the artists by Italian iconoclast Umberto Eco.

Trovesi and Coscia's musical disposition, spare, reedy, evocative, haunting, is joyously vigorous, generative in a spacious, layering approach to composition and arrangement. A seemingly unsystematic, disordered, contradictory deliberation lends their music a knowing, arch neo-surrealist slant. Their conversational tone intends to disrupt our awareness by disclosing the veiled inscriptions of everyday social life, bringing into sharp focus the melancholy wisdom born of a rootless cosmopolitan wandering, peppered with the sashaying ruses, prohibitions and unauthorized knowledge of contemporary existence. Every so often we encounter music that moves us to ask, "Why haven't I ever heard this before?" Sometimes, to listen is to know. - Michael Stone

Audio file (p)©2000 ECM Records, Germany and used with the express permission of the label and publisher. No other use may be made of this audio file without contacting the artist for permission.