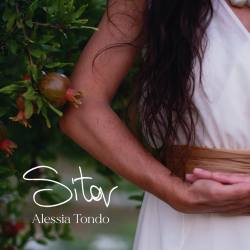 It is hard to believe that this solo album from the singer with a such high-profile band as Italy's Canzionere Grecanico Salentino should vanish under the radar, but that seems to be the case for this 2021 release. Intended, she says, as a healing album, this very personal collection of songs is wondrously intimate. Tondo possesses a siren voice and uses it to full effect, a soft lulling call that crosses all manner of barriers, demonstrating its beauty as she layers tracks and harmonizes with herself on the lush opener "A Pucunderia."

Curiously, her long background in reggae bands doesn't raise its head, but "Me Putia Basta'" offers a warm nod to Brazil in its rhythm and her guitar playing (plus a brief violin part by CGS bandmate Mauro Durante). But throughout, it's the voice that matters, often in a surprising manner, like the vocal konnokol Indian percussion that forms the foundation of "Aria."

Throughout, Tondo feels like she's confiding secrets. No wonder, perhaps, since she readily admits that the late Nick Drake is one of her idols. But this isn't a trip to the singer-songwriter confessional. Musically it's far more subtly involved, thanks to some clever looping that let her gives full rein to her vision; witness the very effective counter melodies that cascade through "Pacenzia."
| | | |
| --- | --- | --- |
| | | "A Pucundria Rimedio" |
Tondo's native Southern Italy does come to the fore on "A Pucundria Rimedio" but it's a softer version than she displays with CGS. Redi Hasa's cello fills out "Sta Notte," a quiet, heartfelt outpouring of emotion.
| | | |
| --- | --- | --- |
| | | "Sta Notte" (excerpt) |
It's not a disc to hit you over the head, but play it a few times and you might find it insinuating its way into your life.
Photo: Vincenso de Pinto. courtesy of the artist