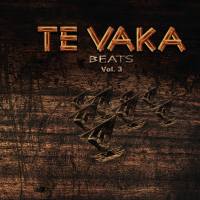 T

he New Zealand band Te Vaka was founded by singer and songwriter Opetaia Foa'i in 1994. Since then the group of musicians and dancers, some of whom have Polynesian backgrounds in Samoa, Tokelau and Tuvalu, have travelled the world presenting their contemporary take on Pacific music. Te Vaka have appeared at key festivals, prestigious venues, major international sporting events including the Beijing and London Olympics and they also contributed to the soundtrack of the 2016 Walt Disney film Moana.
| | | |
| --- | --- | --- |
| | | "Telegehe" (excerpt) |
This new release from Te Vaka serves to dispel any suspicions that their commercial success might have led them to lose sight of their musical origins. This is essentially an album of percussion - log drums, skin drums and shakers - which retains the raw excitement of the Polynesian traditions of music and dance for which the group have become ambassadors. There are lively vocal interjections from the group, intermittent lines sung in unison along with animated yelps and cries, but these feel of secondary importance to the unstoppable drive of the music itself. Only once does a non-percussive instrument make an appearance and that's when a single note is played on some kind of horn at the beginning of "Vakaloa." But don't let that put you off. The music may be short on melody but there's plenty going on tonally and rhythmically to sustain interest and the further you get into the sound world it inhabits the more it takes a hold.
| | | |
| --- | --- | --- |
| | | "Vakaloa" (excerpt) |
The sixteen tracks of Te Vaka Beats Vol.3 are original compositions representing regional music with a long tradition, but this in no way makes it impossibly esoteric. Coming to it afresh, being swept along by the rhythmic language on display here serves as a reminder that even though we may be missing some of the cultural nuances, there is something universal about the ability of such music to connect. On some level the repetition, the syncopation, the cross rhythms, the changes of tempo, combine to communicate directly, sharing variations on the sound of the heartbeat that sustains each of us. An exhilarating listen.
A live session from a decade back