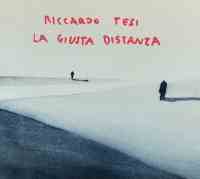 T
he lack of opportunities to play live in public, or even in person with one another, during the Covid pandemic meant many musicians turned to the more solitary activities of practising and composing.
One such is Riccardo Tesi, a leading Italian virtuoso of the diatonic accordion (the push-pull button squeezebox known in English as a melodeon, in Italian as organetto), composer, soloist, leader of Banditaliana and player in diverse other collaborations including the Bella Ciao ensemble, Accordion Samurai, Trans Europe Diatonique, with mandolinist Patrick Vaillant, Madagascar's Justin Vali and many more, and a composer of major commissioned orchestral pieces.
During the pandemic he composed most of the twelve pieces on La Giusta Distanza, where he's joined by a core unit of guitarist Viera Sturlini and percussionist Francesco Savoretti, forming the Elastic Trio, augmented by a cast of other instrumentalists and, on three tracks, singers.
"Sotto La Cenere"
(excerpt)
"Ballata Di Una Madre"
(excerpt)
Here are some impressions. On the leisurely, winding "Valser d'Aprile," the trio is joined by cello, piano and double bass. There is the chunky swing of "Sotto La Cenere" with singer, and writer of the lyrics, Massimo Donno. The insistent pattering pulse of "Couscous e Fasol" is led by Ziad Tablesi's oud until the accordion takes up the melody. "La Bella Stagione," a co-composition with pianist Daniele Bagini, has the feel of travelling across a cinematic landscape. Ginevra Di Marco's gentle voice floats in Eugenia Bannato's "Ballata Di Una Madre."
"Tindari"
(excerpt)
The restless pulse and roll of the tarantella "Tindari" opens with buzzing Jew's-harp and the cry of a fruit-seller that Tesi was so struck by that he followed the man and recorded him. "Cicciabomba" is a joyful bounce featuring hurdy-gurdy, Greek tsouras lute and French musette bagpipe. "Mex Moon," sung and with lyrics by Maria Pierantoni Giua, has, as its title suggests, something of a South American feel. "Bucarest" features marimba and Marco Ambrosini's nyckelharpa.
"Tema de Cristina"
(excerpt)
Tesi's home city of Pistoia in Tuscany has the good fortune to be twinned with the very musical Galician city of Santiago de Compostela, and both share as patron saint St.James; thus the album opener "Santiago," which features jazz clarinettist Nico Gori. The closer, "Tema de Cristina," is a reflective duet between accordion and its co-writer Daniele Biagini's piano in memory of Tesi's friend Cristina Pezzoli.
Tesi's enlightening explanatory notes about the tracks, their background and inspiration are on the label's website, titled "Guida all'ascolto" (Listening Guide) but they don't appear, nor are even linked to, in the CD booklet. That's an unfortunate omission as these notes deepen the understanding of Tesi and his music. (You can read them, in Italian, here.)