Tal National
Kaani
FatCat Records (www.fatcat-usa.com)
If you find yourself at an all night party in Niamey, chances are Tal National will be there. Famous for intense, five-hour sets, Tal National is currently the most copied ensemble in Niger. When they release a song, other bands in the area record a version and claim it as their own. The group is in such high demand, they have a rotating cast of musicians to sustain their lengthy shows. A member can fill in while another takes a rest without the band skipping a beat. The leader of the group, Hamadal Issoufou Moumine (aka Almeida), works as a judge during the day and teaches music and drama at the SOS orphanage in Niamey before working into the early morning playing music. While a lot of people in the U.S. are unfamiliar with Tal National, their third disc and first internationally released album Kaani should gain the group plenty of notoriety worldwide.
Tal National was formed in 2000 and spent six years perfecting their sound before they recorded an album. Their exciting mix of vocals, electric guitars, electric bass, keyboards, talking drum and drum kit is infectious. Calculated, rolling 12/8 rhythms drive original compositions and arrangements of West African folk songs. The traditions of the Songhai, Fulani, Hausa and Tuareg populations are well represented in the musicians of the band. They call their thrilling version of West African guitar music "Trad-Moderne" and they sing about love, tolerance, peace and a woman's beauty with passion and flair.
Kaani grabs a hold of your collar from the opening track and refuses to let go throughout its entirety. Most of this is due to the boundless energy of Tal National, but credit should also go to Jamie Carter who previously recorded the group in 2008. The sessions took place in an abandoned recording studio in a government music complex in Niamey. The gear was covered in dust, worn out and half functional. Bringing along a laptop, recording interface and any equipment he could stuff into the plane's overhead bin, Carter gets the most out of the band working with a barebones setup. The full, hard-hitting sound of this record blasts through the speakers with purpose. May this be a lesson to all of the expensive, overly produced albums recorded in big studios which end up sounding flat. Tal National is incredibly accomplished considering they cannot buy instruments in Niger and have to distribute their music themselves on street corners as the country lacks a distribution system. Despite these hurdles Tal National has put together one of the finest releases of the year. - Alex Brown
© 2013 RootsWorld. No reproduction of any part of this page or its associated files is permitted without express written permission.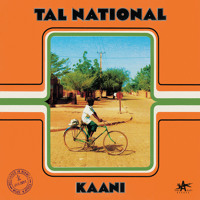 Listen