Best Kept Secrets: 2002
Michael Stone takes another look at some music from Central America & Southern Mexico
Until fairly recently, one had to hunt for roots music from southern Mexico and Central America, but the diverse titles surveyed here signal the region's registry on the world-music radar screen. For starters, The Rough Guide to Central America presents 13 artists, 17 tracks and a range of contemporary styles from Belize, Guatemala, Honduras, Nicaragua and Costa Rica. With some minor oversights, the sampler highlights "Latin America's best-kept secret," as the album notes call the region's varied styles.

The album notes call the Afro-Amerindian Garifuna the makers of "some of the region's most dynamic music," a view that demands consideration. Garifuna history presents a case study in the genesis of hybrid cultures out of the displacement and violence of the New World colonial adventure. In 1635, Spanish ships carrying kidnapped Africans for sale into West Indian plantation slave labor wrecked in the eastern Caribbean near the island of St. Vincent. Survivors swam ashore and took refuge among the indigenous Carib people, who absorbed the escapees. The cultural amalgam that resulted, the Garifuna or Black Carib, produced a musical tradition combining powerful vocals with a dense percussive base. Defeated in the British takeover of St. Vincent in 1797, the Garifuna were exiled to the Caribbean coast of Central America, settling from Nicaragua to Belize.
As a population never enslaved, the Garifuna maintained palpable West African elements in their music, which builds around a three-drum ensemble clearly aligned with African percussive traditions on both sides of the Atlantic. The Garifuna garaón drum ensemble includes the lead primera or heart drum, the counter-rhythmic segunda or shadow drum, and (usually) the steady bass-line tercera. Additional instruments include turtle-shell percussion, claves, bottle percussion and a variety of shakers and scrapers drawn from the Amerindian music of St. Vincent. Garifuna musicians have expanded their instrumental array with European additions, while also incorporating English, Jamaican, French, Haitian, Spanish and Latin American folk elements.
The Rough Guide to Central America dedicates six of 17 tracks to Garifuna music of Guatemala, Honduras and Belize. Andy Palacio is probably Belize's foremost Garifuna performer, an early innovator of punta rock, a popular amplified dance style built upon the traditional punta rhythm; included are two tracks from Keimoun, an influential release on Belize's pioneering Stonetree label. Also heard is Titiman Flores, an energetic Belizean punta rocker who favors a somewhat heavier percussive undertone. Guatemalan éminence grise Jursino Cayetano reworks the acoustic paranda ballad style with some amplification, but perpetuates the vocal intensity and percussive roots of Garifuna style.
The sampler also presents two noted traditional Garifuna percussion groups from Belize, Lincoln Lewis & the Original Turtle Shell Band and Lugua & the Larubeya Drummers. Raised in Honduras but relocated to Belize City's rough-and-tumble Yarborough neighborhood in the mid-1980s, Lugua (Evangelisto Centeno Pitio) is recognized as master of traditional Garifuna percussion (he is also heard on Paranda Africa in Central America, noted below). Singing in the Spanish and Garifuna languages, Lugua possesses a voice that resonates mightily with the spirit world the music traditionally seeks to invoke. On Bumari, Lugua's Stonetree release, there is a haunting insistence to the ensemble's musical presence, which sustains a masterful balance between the lead vocal, call-and-response chorus, and percussion battery of primera, segunda, conch shell trumpet, turtle shells and shakers. (Notably, all the instruments are hand-made on Lugua's home turf.) If you choose only one recording of traditional Garifuna percussion, Bumari should be it.
The Original Turtle Shell Band is inspired by the vision of legendary Garifuna musician and artist Pen Cayetano, who fused age-old Garifuna vocals, rhythms and instrumentation with the spiritual message of Rastafari. His Turtle Band began playing around Belize in 1980 to popular acclaim, breaking down local prejudices of the dominant Creole population against the Garifuna. Cayetano's creative energies inspired the prototype of Belizean punta rock that would eventually dominate dance floors throughout Caribbean Central America. The group issued a cassette in the late 1980s that is now a collector's item, which fact makes Serewe, the first release by the band's second generation, especially notable. Comprising a talented trio of Cayetano's relatives and protégés, the band includes Lincoln Lewis (lead and backing vocals, Garifuna drums, conch shells), Cecil Caliz (lead and backing vocals, Garifuna drums, maracas), and Herbert "Ras Ibo" Bernardez (lead and backing vocals, turtle shell percussion). They sing in a mix of Garifuna and Belize Creole English, in a vocal style that is more suave and laid back than that of Lugua. Paying tribute to the Garifuna ancestors, various Garifuna leaders, and Nelson Mandela, inspired by the conscious politics of Rastafari spirituality, in its meditative quality the group's music invites comparison with the Nyabinghi drumming that energized the Rasta genesis in Jamaica. (Read more about Pan Cayetano and The Turtle Shell Band)

Garifuna emigration to the United States has seen the emergence of a younger transnational cadre influenced equally by its Central American roots and its insertion into the troubled racial formation of urban North American. Aziatic is a youthful Belizean Garifuna singer, musician and composer originally from the fishing village of Hopkins, transplanted to Los Angeles and very much at home in two worlds. Indeed, he combines traditional Garifuna percussion with rock and electronic instrumentation, sampling and compression techniques in his brand of punta rock. A disciple of cultural pastiche, Aziatic favors hip-hop fashion, cites Michael Jackson and R&B as his two biggest non-Garifuna musical influences, describes his own music as "punta pop," and aspires to break in on Black Entertainment Television. He is immensely popular with a fan base linking Belize, California, Chicago, New York, Miami and Japan, all places where he has performed. Punta rock is characterized by a driving uptempo triple-time Garifuna drumming that dancers of salsa and merengue will find rhythmically confusing, at least at first. Add to that the mélange of influences heard on Aziatic's two Stonetree releases, Most Wanted and Crazy Fi We, and you have a recipe for one of the best-selling Central American dance artists ever.
Punta rock also finds enthusiastic audiences down the Caribbean coast in Guatemala, Honduras and Nicaragua. A number of compilations have appeared since the Banda Blanca (from Honduras) scored a major hit with Sopa de Caracol, whose Garifuna-flavored title track leapt to the top of the Latin dance charts in 1991. Other popular Honduran Garifuna performers include Chico Ramos, Grupo Ebano, Los Gatos Bravos, Los Roland, Los Silver Star and (unimaginatively) Sopa, all heard (along with Banda Blanca) on Punta Rhythm Garifuna Celebration. Like most dance genres, the formula can go stale after awhile, but what distinguishes punta rock is its continued connection with the indigenous choral and rhythmic forms that condition its distinctive sound.
More traditionalist groups also thrive in Honduras, such as Lita Ariran, whose Songs of the Garifuna, first released in 1994 on JVC in connection with the group's tour of Japan, has been reissued on WEA-Sire-Discovery-Antone's. Singer-guitarist Aurelio Martinez grew up in a small Garifuna fishing village and began playing Garifuna sacred music in dugú spirit-possession ceremonies at age seven. He moved at age 19 to the port of La Ceiba, where he formed Lita Ariran in 1989. The ensemble includes a pair of superb drummers, turtle shell percussion, maracas, conch shell trumpet, and two potent female backing vocalists, but Martinez's voice remains front and center. Lita Ariran perform a mix of punta, paranda and other traditional Garifuna song forms, plus four Martinez compositions, including his moving roots reflection, "Africa." Martinez reprises the latter and contributes two other songs on Stonetree's critically acclaimed Paranda Africa in Central America, a showcase of the best Garifuna singers from Belize, Guatemala and Honduras. Martinez, who only recently turned 30, is one of the youngest paranderos around, and if traditional Garifuna song is to survive, his evocative, bittersweet singing style will lead the way as its most incisive new voice.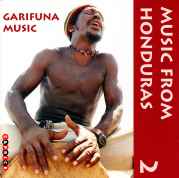 Music from Honduras 2: Garifuna Music comprises recent, high-quality field recordings of four diverse Garifuna groups. Cuadro de Danzas Garifuna Baruda is a traditionalist, six-person vocal and percussion ensemble formed in the capital, Tegucigalpa. Seeking to recover and preserve traditional Garifuna music, song and dance, they sustain a taut but explosive call-and-response tension between male and female singers, against a pair of garaón drums, turtle-shell percussion and conch-shell trumpet. Also in a roots vein, Grupo Lanigi Mua favor the paranda vocal form, in a mixed ensemble of acoustic guitar, three booming garaón drums, turtle shell percussion, maracas, and an especially ethereal conch shell trumpet. Their "Madalun" gives exquisite expression to the characteristic longing and melancholy of the paranda form.
The musically spare palette of the Farm Boys, who hail from Roatán, in the Bay Islands off the Caribbean coast, reflects the influence of the English-speaking population that still dominates the islands, which belong to otherwise Spanish-speaking Honduras. This Garifuna male quartet accompanies its Creole English vocal harmonies with guitar, banjo and scrapers, performing the Caribbean chestnuts "Brown Skin Girl" and "Monkey Song." Calling attention to the fact that no music develops in a cultural vacuum, the Farm Boys are closer in sound and attitude to the picaresque accordion and string-band genre known as brukdown, once popular among Belizean Creoles, Jamaican mento (as performed by The Jolly Boys, for example), or early calypso. The Rough Guide overview offers a single brukdown sample for comparison; the genre's sole surviving proponent is Mr. Peters Boom and Chime, led by accordionist-singer Wilifred Peters (the groups has two albums on Stonetree, and another on Fire Ant, not reviewed here).
Rounding out the diversity of Music from Honduras 2: Garifuna Music are punta rockers Fuerza Garifuna ("Garifuna Force"), eight young men from the port of Trujillo who combine vocals, keyboards, electric bass, drum kit and congas with garaón drums, turtle shells and various hand percussion. Despite an amplified pop and dance orientation, their music never disconnects from its roots in Garifuna percussion and the spiritual undercurrents that inspire it.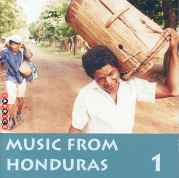 Music from Honduras 1 offers a telling change of pace from the Garifuna onslaught, initiating the listener into the delightful multiplicity of Honduran folk music. It surveys the musical richness of the dynamic cultural encounter along the Caribbean coast, where indigenous groups including the Maya, Miskito, Lenca, Guaymí, and Kuna, along with liberated Africans, Garifuna, English, Spanish, Jamaican and other West Indian peoples, achieved a shifting accommodation with one another. In many ways, among all titles reviewed here, this volume's richness offers especially compelling testimony to the historical process underlying Caribbean Central America's singular cultural character. Included are two superb but quite distinctive marimba orchestras affiliated with the Ministry of Culture. Cuadro Nacional de Danzas Folklóricas, formed in 1956, comprise three marimbas, two guitars and double bass. Its repertoire draws from the Ministry's field work to collect, preserve and propagate the Honduran folk heritage; included are a polka, son and guapango. Marimba Alma de Honduras combines two large marimbas (one with four players, the other with three), double bass, maracas and congas; formed in 1976, its members are folk musical ambassadors to the outside world. Apart from traditional Honduran fare, they perform their own compositions and cover other popular Latin American genres. Their use of congas invokes a more tropical feel, as romantically manifest in the bolero "Jessica Dolores."
Music from Honduras 1 also presents several groups with indigenous roots. The Caramberos de Nueva Celilac hail from the capital of western Honduras, Santa Rosa de Copan, not far from the famous Maya ruins of the same name. They represent the indigenous Lenca people, the largest ethnic groups of Honduras at the time of Spanish conquest, and thought to be related to the ancient Maya. They deploy a unique instrumental array, fronted by two carambas, massive two-meter wooden musical bows with calabash resonators, played by striking the single string with a stick and altering the tone by hand-cupping the resonator's opening. The caramba shows clear affinity with the Brazilian berimbau, and as with the marimba, illustrates once more the widespread musical interchange between indigenous and African peoples in the New World. They also employ two sacabuches or friction drums (another widely found percussion form), guitars, maracas and güiro.
Grupo Laka is a Miskito Indian vocal and drum ensemble; they perform a shaman's healing chant, a female song of mourning, a children's ditty, and a musical warning to a flirtatious girl. Grupo Yakal Siksa reprises the latter tune in a popular Miskito dance setting, with ringing vocals, guitar, synthesizer and scrapers. The Miskito ensemble Grupo Yumpa combines vocals, acoustic guitar, requinto and bass to produce a suave, lyrical sound. Their boom-chukka rhythm and relaxed vocals are oddly reminiscent of Jimmy Cliff's "Sitting in Limbo" and the Maytals' "Sweet and Dandy," a kinship less strange than it may first sound, given the constant circulation of people and popular culture between Jamaica and Caribbean Central America. In a similar vein is The Rough Guide compilation's only sampling of Amerindian music A leading interpreter of the infectious reggae- and calypso-tinged Miskito Indian-Creole music of Nicaragua's Atlantic coast is Philip Montalvan, formerly of the Soul Vibrations, a popular Afro-Nicaraguan group that carried the expressive spirit of the Sandinista revolution to world audiences (the latter's 1991 Black History/Black Culture is a collector's item).
Music from Honduras 1 also presents music of the Spanish-speaking majority. Conjunto Típico Yuscarán, an amateur folkloric group, contributes a sonically haunting tale of unrequited love whose passionate vocals, accordion, marimba, violin duo, 10 guitars, double bass and assorted hand percussion produce a rumbling envelope of sound. Voces Copanecas, another talented amateur ensemble, favor música criolla, a genre that combines diverse Latin influences including bolero and traditional cumbia.
South of Honduras, The Rough Guide sampler presents Carlos Mejia Godoy, a signal voice during the Nicaraguan revolution and still the country's leading proponent of Nueva Canción (New Song), inspired by the Cuban trova and son. Mejia Godoy offers a lyrical tribute to revolutionary El Salvador, and the well-known Sandinista anthem, "Nicaragua Nicaragüita." Also in the trova vein (albeit in a less overtly political form) is Amsterdam-based Costa Rican singer-songwriter and guitarist Guadalupe Urbina, who studied composition at the National University before going on to a transatlantic career. Among Urbina's credits are the 1988 Amnesty International "Human Rights Now" tour with Peter Gabriel, Youssou N'Dour, Tracy Chapman, Sting and Bruce Springsteen.
Urbina has a new release, Trópico Azul de Lluvia, on Culture Records, a Belgian-Dutch world-music label. From it The Rough Guide draws "Agosto Azul," the singer's bittersweet reflection upon her distant tropical homeland, gazing out a train window at the monotonous Dutch landscape, "this land of plains and water." Urbina is backed by a Dutch quartet whose eloquent feeling for her style carries the music without ever overpowering Urbina's evocative vocals. The ensemble includes Tineke Langedjik (vocals, chorus, shekere), Thea van der Meer (guitar, acoustic bass), Koos Koopmans (violin, mandolin) and Andre Groen (marimba, bongos, conga, claves and guiro). Listeners who miss the exquisite poetry and visionary yearning of revolutionary Central American trova will welcome this subtle recording.
The Rough Guide to Central America also includes music of Caribbean Costa Rica. From the banana port of Puerto Limón, New Revelation and Afro Caribe, play the laid-back local calypso, which functions as an irreverent form of political street commentary. In a more polished Latin dance vein, Costa Rican singer-composer Rómulo Castro presents a driving salsa number; in similar fashion, Honduran singer-songwriter Guillermo Anderson favors a vocal style that echoes the influence of Panamanian political salsero Ruben Blades. Overlooked in The Rough Guide survey, however, perhaps due to licensing obstacles, are standout Costa Rican artists Editus-Blades's backing trio on his 1999 Epic release, Tiempos - and the well-known acoustic guitar duo Strunz & Farah.
Inexplicably, while The Rough Guide to Central America album notes invoke the region's Maya history, there is no Maya music to be heard here. The harp, flutes, whistles and drums of contemporary Maya music remain close to its pre-Columbian roots, augmented by Maya adaptation of the West African-inspired marimba and variations on European instruments. It may be that indigenous Maya music resides too far from western conceptions of "world music," wherein popularity generally reflects the music's perceived dance value. (For confirmation, just scan the world music charts to see what's popular.)
Numerous Maya recordings do exist, however. Among them is the ambitious Anthology of Central and South American Indian Music, a 1975 Folkways field recording. From Chiapas, Mexico, it includes Maya Tzotzil vocal, harp and guitar music, and Maya Chol flute music. From Guatemala it offers Maya Ixil fiddle and guitar, and the ethereal sound of the chirimía (a double-reed instrument reminiscent of the oboe), percussion, and vocal festival music of the Maya Chuj.
Music of Guatemala, a two-volume Folkways release of Maya and Ladino music, presents several more chirimía tracks, and is the original source of the chirimía tune heard on the preceding anthology. Volume One (recorded 1964, released 1969) also offers numerous Maya marimba tunes, including two melodies with the unusual combination of marimba and clarinet. Most interesting from a sociological perspective are two examples of Maya singers parodying Ladino songs for a Ladino audience heard coaxing the singers in the background. Volume Two (recorded 1964, released 1973), is almost all Maya music of the Central Highlands. It documents chirimía, whistle, drum and marimba tunes, intermixed with ambient sounds such as Maya women praying in church, religious processional music, street and cantina musicians, and (with an everyday reality check) a drunken bar customer's singing. These important Folkways field recordings, all originally released on vinyl, are now available via the Smithsonian Folkways Custom CD service (for world-music collectors, the original Folkways catalog comprises nearly 2,200 unique titles from around the world; see accompanying link).
From southern Belize, Florencio Mess is a K'ekchi' Maya harpist joined in a typical harp combo by Leonard Acal (violin) and Juan Cucul (guitar) on Maya K'ekchi' Strings. The repertoire consists of tunes without vocals and lacking recognized authors, attributed by legend to the Maya deities who are said to have created and named them after animals, material objects and natural phenomena. Mess, now in his fifties, is among a handful of contemporary Maya harp tradition bearers, a man who apprenticed with the old players, and using traditional tools, learned to fashion his own instruments from Belizean hardwoods, stringing them with nylon fishing line. Typically played on religious holidays and at community festivals, exclusively by men, the music is unadorned, but it possesses a certain hypnotic quality that seems well suited to the mixed circle dancing it usually accompanies.
The Maya harp plainly found resonance with the baroque introductions of the Spanish conquerors, reinforced by the overlay of Catholic belief and practice upon indigenous tradition. As a Jesuit priest wrote in 1925 from southern Belize, "The people filed into the church and wonderful for the Bishop! there was a harp solo for his entry. The player plucked the strings very skillfully and his management of the instrument was excellent. Even that there should be a harp in Aguacate should be a surprise; but that there should be so skilled a player was still more of a surprise." At a nearby village the padre observed, "The sweet-toned marimbas exerted charms that soothed and delighted a breast that was not at all savage quite the other way about, a breast that is easily 'charmed with a concord of sweet sounds.' There was nothing of 'jazz' about the playing of the Indians with the marimbas. Their music fitted in admirably with the spirit of the tranquil moonlight night among the San Antonio hills." A romantically tinged expression of admiration for Maya musicianship, to be sure, but this and prior 19th-century descriptions suggest the persistence of a certain aesthetically conservative core in traditional Maya music and dance.

If there is any truth to the preceding observation, this is not the place to analyze the reasons. But are there any signs that Maya or other Mesoamerican indigenous peoples, facing unprecedented cultural challenges, are finding new avenues of expression (as seen with Garifuna music)? She is not Maya, but Lila Downs, born to a Mixtec Indian woman from Oaxaca who married a North American academic, grew up in southern Mexico listening to Indian music and such legendary ranchera singers as Lucha Reyes and Lola Beltrán. From her father Downs expanded her musical tastes, ranging from Billie Holiday to Woody Guthrie (on her new album, she interprets Guthrie with an authority and power not heard since Dylan's early tributes). Downs mounts all these influences upon her own exacting artistic loom, infusing her work with a dynamic creative tension, interweaving indigenous Mexican and Latin American traditions with Tex-Mex conjunto, folk, C&W, rock, jazz, funk and hip-hop strands. She has a vivid sense for vocal improvisation, and an intuitive feel for the expressive traditions of greater Latin America. Downs' astonishing voice, riveting mimetic genius, poignant coloration and soaring range (in Spanish, English, and indigenous Mexican idioms) reflect operatic and classical voice training, and a firm grounding in jazz. And her backing ensemble is superb in its own right.
Border-La Linea, Downs's third album, is an extended essay on the paradoxical presence and meaning of the U.S.-Mexico border in the lives of Mexicans and North Americans alike. In "Sale Sobrando" (Good for Nothin') she pulls no punches "...the narcs and the border patrol catch you, and then give you their blessing in Chiapas... those people who've been sacrificed... all march to 'Mexico Lindo'" (a pointed reference to a popular patriotic tune titled "Beautiful Mexico," a thorny message bolstered by an artfully inserted musical quotation). Similarly, she criticizes the Mexican Army's notorious slaughter in the indigenous Chiapas village of Acteal, in the song of the same name. In "La Niña" (The Girl) Downs reflects unsentimentally on the dreary work conditions in the border assembly plants known as maquiladoras, which specialize in hiring young, impressionable, single female workers fresh from the interior of Mexico.
Her politics are sharply edged, but Downs is not without a sense of humor. "El Bracero Fracasado" (The Failed Farm Worker) relates the down-and-out tale of a hapless country boy who crosses the border at Tijuana and gets pulled off a freight train by the authorities in Salinas; sung in classic conjunto style, the tune includes an ironic musical quote from "The Star Spangled Banner." Demonstrating the breadth of her musical sensibilities, Downs even throws in a popular Maya cumbia, "Hanal Weech," sung in its native tongue. And her inspired reworking of Guthrie's "Pastures of Plenty-This Land Is Your Land" is completely unexpected, indeed overwhelming, invoking the powerful spirit of the author himself, reborn as a rootless cosmopolitan transnational. There are other marvels here, and Border-La Linea confirms a passionately articulate vocal artistry and deeply expressive sense of composition, in a continuously maturing voice whose capacity to provoke and surprise demands far wider audition. - Michael Stone
---
RELATED LINKS
Pen Cayetano and The Garifuna Sound
More music from Central America
Música Negra en las Americas
Lila Downs, Tree of Life
Lila Downs, La Sandunga Lila Downs web site
RECORDINGS REFERENCED