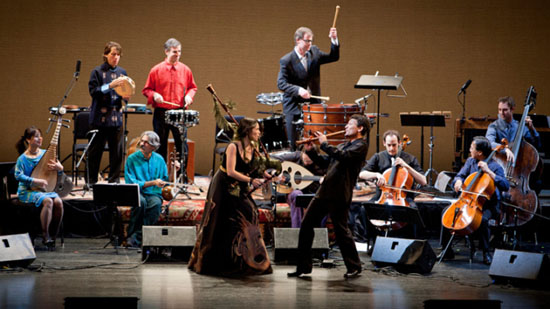 Yo Yo Ma and the Silk Road Ensemble
Sing Me Home
Sony Music Masterworks (www.sonymusicmasterworks.com)

Since its inception in 1998, the Silk Road Ensemble (SRE) has closely contended with musical universals. The Harvard-affiliated group led by world-renowned cellist Yo-Yo Ma is a sprawling cast of master musicians and composers from around the world that, according to its website, seeks to "connect the world through the arts." Sing Me Home makes a strong case for SRE's mission as the featured artists and the pieces they bring to the table originate from geographical sources on and beyond the ancient Silk Road trade route, including Macedonia, China, Galician Spain, Mali, Punjabi India, Syria, and the US. The album's liner notes, written by performers or composers of the songs, seek to personalize the creation and reception of the music, filling in gaps left by anticipated language and cultural barriers. Lyrics and English translations are provided where relevant.

It is immediately apparent that Sing Me Home touches on several tropes of many multicultural musical projects based in the US. There is extensive exhibition of connections made through familiar elements such as pentatonic scales, similar instrument types (especially strings and flutes), and unconventional collaborations on songs that are considered ubiquitous parts of American roots repertoire. For example, "O'Neill's Cavalry March" reflects this common intersection of the familiar and the foreign, where Martin Hayes' Irish fiddle work dips in and out almost seamlessly with the Iranian kamancheh of Kayhan Kalhor. Additionally, the free-reed sheng playing of Wu Tong and plucked-string pipa of Wu Man bring a distinctly pastoral feeling to Sarah Jarosz's old-time vocals on "Little Birdie," bridging idioms while retaining the song's rural and communal context.

As a flute player, I was especially drawn to the shakuhachi playing of Kojiro Umezaki and the bawu playing of Wu Tong, which dip in and out of idioms closely related to Japanese and Chinese settings ("Shingashi Song"), and also enter into the soundworlds of someone completely different. In the Soviet Macedonian choral piece "Sadila Jana" featuring US vocal group Black Sea Hotel, Umezaki enters space usually taken by the Southeastern European kaval, and embraces Tin Pan Alley lyricism in "Heart and Soul."

Foremost among the instrumentalists on a rollicking version of "St. James Infirmary Blues" is Raylon Yount, whose yangqin (a Chinese hammered dulcimer) evokes the Eastern European cimbalom, combining with Michael Ward-Bergeman's accordion to create a distinctly Romani soundscape beneath the high-powered blues vocals of Rhiannon Giddens.

Yet, it is the string ensemble's highly versatile accompaniment ties most of the pieces together, seeking to complement each song with sensitivity of space without masking their personal strengths. The lyrical pentatonicism and sustained harmonies in Malian Tuareg tune "Ichichila" works well with both the percussive calabash and balafon timbres and Toumani Daibaté's cascading kora runs, evoking the rhythmic plunging of fabric into basins of indigo. Most memorably, the frenetic bowing and understated pizzicato on "Shingashi Song" artfully emphasize the taiko drum strikes of Kaoru Watanabe and propulsive tabla of Sandeep Das.

The expansive range of sound ideals between pieces is quite apparent, yet somehow is never jarring. Yet within them, elements converge in surprisingly organic ways. Even the trans-cultural cacophony of Wu Man's "Green (Vincent's Tune)," which features vocal group Roomful of Teeth utilizing Tuvan throat-singing and Arabic maqam melodies made sense compositional unit. Ultimately, the nuanced interactions between the core members of SRE and the featured artists contribute much to this effect, as they help unify what might otherwise be a run-on stream of haphazard collaborations. - Dylan McDonnell

Learn more about the Silk Road Project

© 2016 RootsWorld. No reproduction of any part of this page or its associated files is permitted without express written permission.