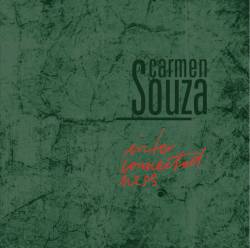 P

ortuguese is an airy, sonorous language that lends itself especially well to music, whether expressed in the mother tongue, or inflected with Brazil's multi culture, or fused with the Africanisms of the former Portuguese colonies. Cape Verdean Carmen Souza embodies that affinity; her music, vocals and lyrics are a feast of sensuality, intelligence, rhythm, and the unexpected.

Souza's voice, and how she invents and reinvents it in each tune, is one of her several musical gifts, which include composing, arranging, and as a guitarist and percussionist. Her beat is mostly jazz standards infused with the more traditional sounds of Africa; her tones are as mellifluous as they are contemporary, and her renditions so intimate that her songs seem as if an extension of her very self.

Her vocals plumb deep, gritty reaches of sound, inhabit mid-ranges that cavort, cajole, and cackle, and ascend towards a peach-fuzzy, sweetened falsetto. She writes stunning lyrics that reveal her humanity and she co-fashions, with band member, Theo Pascal, intelligent arrangements to augment her vocals, drawing on inspiration from the physical world and the human condition.

Carmen Souza has just released Interconnectedness, her 10th album. As with many artists who experienced COVID lockdown, she went inward, coming to grips with the unspeakable loss, while examining her values and gaining insight into her ultimate vulnerability. Isolation presented new musical challenges, and new directions in which to travel. The sense of and search for interconnectedness and community among people infuse the songs profoundly.

Sprinkled with snippets of German, Spanish, French, and English, "Kuadru Pintadu" speaks very much to the album's embrace of inclusiveness, suggesting that we don't need a shared language in order to connect with one another. The opening high, dry rat-a-tat of bongos delivers us to a straight ahead jazz groove, with Theo Pascal's electric 1-2 bass line giving the song just the suggestion of a parade. There are no crashing dynamics on the album, just solid and sophisticated jazz standard interpretations, embroidered with tradition and imagination; temperate and energetic at the same time. Souza's trademark coquettishness is infectious in "Kuadru Pintadu." She sings in contentment, yet without extra sweetener, while celebrating how we share our essence with each other.

Every one of us tells a story
As on a painting,
An elaborated canvas,
Where each brushstroke expresses who we are
A testament of our culture, of conquest,
Of love, of tradition
"Interconnectedness," sung in English, also hews to a straight-ahead jazz foundation laid down mostly by the piano, acoustic and electric, offset by African percussion, with the added pleasure of some easy reggae passages; the sensual, quiet conviction of Souza's vocal brings to mind Abbey Lincoln. Her message is one of community, a connected, always searching humanity whether cursed or blessed, across both space and time. Her lyrics are as poignant as they are thought-provoking.
What binds us together
The fear of being alone
Her interpretation gives substance and true heart to the cutesy "My Baby Just Cares for Me," more so than do other versions, even of mega musicians Nina Simone and Mel Tormé. (Simone's stunning piano dominates her otherwise penetrating vocal, while Tormé commands the lyrics to serve his croon with such obeisance that the sentiment inevitably falls hostage to his velvet fog.)
Souza turns the clever trinket into a confession of love, embroidered by tempered whistles, echoes, chants, rock guitar arpeggios. She's a true stylist, like a fashion designer creating wearable art, cutting, tucking, measuring and adding or subtracting color, stitching it all together into something unique and irresistibly appealing. With charm, musical breadth and sophistication she gives new luster to a pleasing but hitherto facile memento.
| | |
| --- | --- |
| | |
Souza's eulogy to her mother was written four years after her passing, and she still feels her loss deeply. "Maman's" arrangement is spare, guided by a dreamy yet sober soprano sax with piano, guitar, and percussion invoking with a gentle kick the breeze of their island nation. Sung wistfully in their native Criolo, one feels the artist's connection to her homeland, and the "saudade," or longing for home felt by so many in the former Portuguese colony diaspora. Born shortly after her parents emigrated to Portugal, her mother visited the islands with her, in 1991, when she was still young, in order to properly connect her daughter with her roots.
With warmth, honesty and longing, she addresses her mother directly in both recitative and song. So affecting was "Maman," that I determined to speak to the song's creator. Souza talked about the indelibility of her mother's legacy, "her way of being a woman, the smile on her face," and of the "Christian values" that her daughter subscribes to to this day. "Just her way of being," Souza recalls, imprinted her so strongly. Her passing has signaled a third episode of Souza's life: after childhood and adulthood, there is now life without her mother. Still reviewing her grief, Souza obliquely referred to an indubitable mother's bequest that signifies her music: "Our lives keep going and inspiration keeps coming to experiment with different things."
One must be thankful, not only for the luxuriant music of Interconnectedness, but that Souza has given so much of herself as well.
Further reading
Carmen Souza - The Silver Messengers
Ann O'aro - Rage and Hope in Reunion Legendary Pop Music of Cape Verde
Léve Léve: Sao Tomé & Principe Sounds 70s-80s