Sidestepper Supernatural Love

Real World Records (www.realworldrecords.com)

This is indeed a sizable sidestep for Sidestepper. For 20 years they've been rightly singled out as the pioneers of electro-cumbia, combining Afro-Colombian rhythms with electronica and filling many dance floors the world over in the process. Their story began in the mid-90s when Richard Blair, at the time a recording engineer for Real World Records, went from the U.K. to Colombia to work with iconic singer Totó La Momposina. Enamored by the local music, he opted to stay. After some like-minded collaborators were found and the proper blend of tradition and modern studio tweaking was achieved, Sidestepper came to be.

It now seems quite fitting that the band should return to the deeper, distinctly African roots of the music that captivated Blair in the first place. On Supernatural Love (which was recorded deep in the Colombian countryside), it's the acoustic instruments that lead the way, with hand drums and percussion out front, flutes, kalimba and guitar providing melodic color that's seldom more than subtle, call-and-response vocals echoing joyously and an earthy vibe sure to heal any ailments that too much techno can cause. Electronics are not ditched entirely; an analog synthesizer is used to lay out the bass lines and occasional flourishes, and some looping is apparent. Plus there's the dub element that Sidestepper has always featured, albeit downplayed. Lowering the electronic wall means the music has room to breathe and work its magic, and that it does. Although drums are dominant, they're more soothing than thunderous, taking nothing away from the album's seemingly intimate intentions. The title track is divinely inspired in its caressing vocal, "Come See Us Play," is an invitation not to be declined, and it soon becomes evident via songs like "Celestial," "Fuego Que Te Llama" and "Song For The Sinner" that matters of the spirit are the cause of celebration here.

Sidestepper has beautifully found the supernatural by embracing the natural, but don't get hung up on irony. Just get this CD (it's also appropriately available on vinyl) and bask in the bliss of what will likely be hailed as one of 2016's best releases. - Tom Orr

© 2016 RootsWorld. No reproduction of any part of this page or its associated files is permitted without express written permission.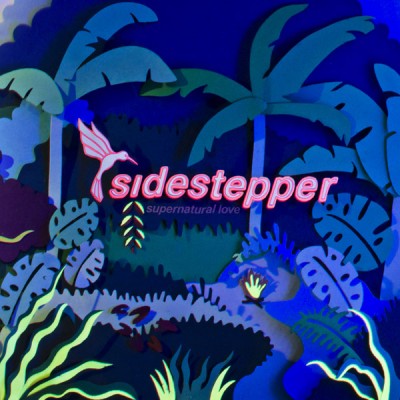 Support RootsWorld when you
buy this CD