Shtreiml
Eastern Hora
Shtreiml ( www.shtreiml.com )
Shtreiml's exciting blend of Jewish roots and Turkish blues music has captivated audiences for over a decade. Led by harmonica and keyboard player Jason Rosenblatt, Montreal-based Shtreiml bridges the gap between traditional and modern instrumental music, mixing fragments of old melodies with fresh ideas. Rosenblatt was mentored by Howard Levy, one of the few harmonica players who can play a diatonic harmonica chromatically. This gives Rosenblatt an incredible range which compliments Ismail Fencioglu's quicksilver oud playing and Rachel Lemisch's brilliant trombone runs. Together with Thierry Arsenault on drums and Joel Kerr on bass, Shtreiml writes new Jewish music with a progressive, eastern twist. A potent mixture of rock, funk and jazz fuel their calculated yet unencumbered compositions.
Eastern Hora, Shtreiml's fourth album, finds the band in terrific form. With Fencioglu now a full-fledged member of the group, Shtreiml offers plenty of variety in their approach. "Grand Theft Stutinki" kicks things off with a pulsing bassline and scorching harmonica, oud and trombone riffs. The harmonies shared and swapped between instruments are thrilling. The driving grandeur continues on "Chassidil pour les Bâtards," which reveals a klezmer and Balkan funk balanced with the right amount of tension and release. Joined by Avi Fox-Rosen on electric guitar, this track allows Rosenblatt and Fencioglu to demonstrate their mastery without stepping on any toes. The pace of "Çifteltelli" moves from fast to reflective to breakneck speed within moments, all the while remaining engaging. "Rayrus Speilt" brings the trombone into focus with Lemisch's playful and mysterious melody.
By "A Saturday Evening Blues," Eastern Hora begins to slow down, but not without a few surprises. "The Old Mill" and "Lullaby for Halleli" are both beautiful solo piano pieces performed by Rosenblatt which offer a nice contrast to the rocking sound of the band. "Eastern Hora" is reminiscent of a jazz funeral march with the somber, longing trombone, joined by Craig Pedersen on trumpet, and Tevet Sela on sax. Brass and woodwind wail as the song reaches it's climax. The album wraps up with the enthusiastic "After Party Freilach," which features the full band with trumpet and sax again as well as an unexpected guitar solo. From start to finish, Eastern Hora draws on countless influences, changing gears frequently but with great purpose. This is innovative instrumental music which refuses to be pigeonholed by simple categorization, from a band that continues to impress. - Alex Brown
© 2014 RootsWorld. No reproduction of any part of this page or its associated files is permitted without express written permission.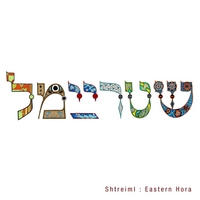 Listen