"I would like the listeners to have the freedom to imagine the story themselves."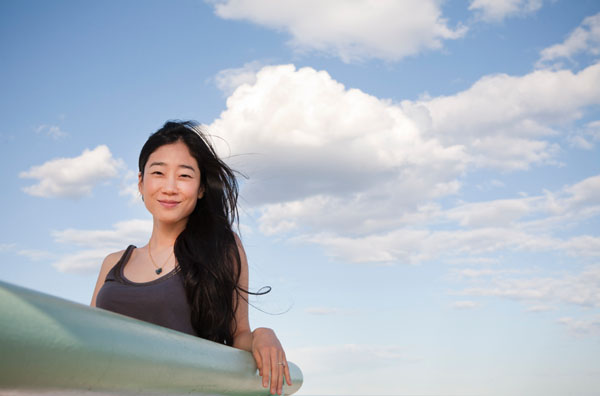 Yeahwon Shin talks with RootsWorld's Tyran Grillo about her recreation of Korean lullabies.

If we can believe poet Federico García Lorca, who in a 1928 lecture entitled "On Lullabies" claimed that "Spain uses its saddest melodies and most melancholy texts to darken the first sleep of her children," then we can also believe in a culture where lullabies nourish the growing soul.

Of the latter persuasion are those offered by Yeahwon Shin on Lua ya (ECM Records). Shin's selections give voice to transitions of darkness to light, spirit to flesh, dependence to independence, and all with a grace of expression that pretends nothing. Although best known as a Brazilian music specialist (her 2010 self-titled debut was nominated for a Latin Grammy), the singer rejoins accordionist Rob Curto and, for the first time, pianist Aaron Parks, in an enchanting survey of Korean children's songs.

"The album's theme is the remembrance of childhood," Shin told me in a recent interview. "I would like the listeners to have the freedom to imagine the story themselves."

In light of this invitation, we may still feel the need to tread lightly, for each song is of such fragile constitution that it would seem to crumble at the slightest mishandling. Then again, the music blossoms with such strength—a strength born of unconditional love—that it also feels impervious to misunderstanding. As in the opening improvisation, called simply "Lullaby," it crafts a world of tracings and starlight. Parks's pianism introduces the landscape across which Shin's voice emerges as a maternal whisper, carrying with it the histories of countless mothers before, and the countless more to follow, in life's eternal cycle.
"Lullaby"
Shin grew up enchanted by the music of Egberto Gismonti, who along with the iconic Tom Jobim spun the tapestry of her appreciation for Brazilian music. She looks back even further to Chopin and Bach, composers who informed her first love—the piano—as fundamental inspirations in her development as an artist.
"I like Korean traditional music, as well," she says. "I am strongly bonded to Korea's rhythmic patterns. I still want to discover more about this music."
Lua ya is a new step in precisely this direction. It is also a return to origins. For Shin, what seems most important in life is that which imparts it.
"My parents are very important figures in my life. I respect my father's wisdom, my mother's unlimited love and spirit of self-sacrifice. They are not musicians, but the way they express themselves by singing shows a pure love for music. I have always wanted to feel that way in music."
To be sure, Shin's filial respect echoes in the songs passed down from her own mother, whose voice is forever preserved in memories of a family that was always singing. Of those songs directly passed down, "Island Child" is among the album's most emblematic. Syllables roll off the tongue from both singer and instrumentalists until language ceases to matter. Indeed, Shin is at her most powerful when singing wordlessly (as she does here, and in "Moving Clouds"), as one needs not struggle against the elastic of linguistic barriers. "The Orchard Road" is another descendent of personal experience and shows the trio at its densest. Shin's breathy storytelling develops over a rustic backdrop, as affecting as it is brief.
"Island Child"
If Lua ya feels less like a cycle and more like one continuous song, it's because it was, at the behest of producer (and Shin's husband) Sun Chung, conceived and realized as a concert, played from start to finish with no edits. Chung acted as both audience and director when the performance was being recorded in Mechanics Hall in Worcester, Massachusetts. His presence is palpable in the album's dynamic flow. Also present are Shin's attentive accompanists, both of whom take her voice as a compass takes magnetism.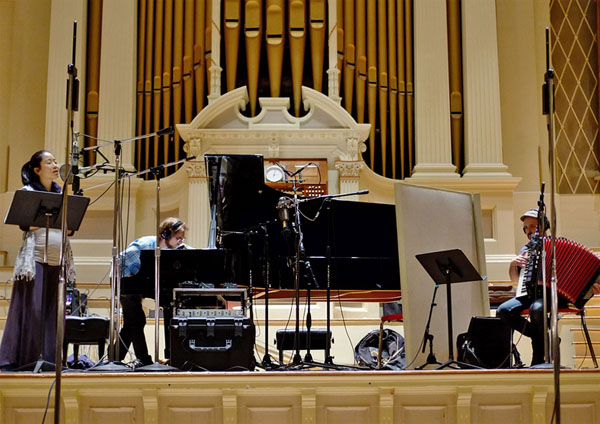 Recording session: Yeahwon Shin, Aaron Parks, Rob Curto
Despite the fact that she is singing with Parks for the first time, Shin's connection to the pianist's opening chords is as natural as the first words from her lips: "When a mother goes to sea, a baby sleeps peacefully at home, lulled by the song of the waves." The musicians seem to lull themselves, by the rhythms of their own waves in a handful of duets. The lightly dancing pianism of "A Morning Song," for one, sends Shin's voice skyward like dandelion fluff. We even hear Parks humming along, creating a suspension effect. "Sunrise"ends the album with a string of jewels. The image lends further sanctity to the music as it shifts from dreams to waking.
"The Moonwatcher and The Child"
If Parks draws the threads, then Curto is the dye that shades them. His colors breathe life into cinematic departures like "Moving Clouds" and "Beads Of Rain," and take life in turn from "The Moonwatcher And The Child," a traditional song that becomes something else entirely. Curto's waltzing baseline and percussive touches provide ample outlines for Shin's stitchery, while the duo track "Remembrance" finds him moving like a shadow in her light. Shin sings as easily as breathing, cradling every word as if it were a newborn.
"Remembrance"
At 41 minutes and with two songs ("Beads Of Rain" and "The Orchard Road") repeated by way of variation, Lua ya may be a modest album in duration. Spatially, however, it is as vast as the listener's mind. In this spirit, the album bears a dedication to "mothers and children everywhere," even if it bears the mark of Shin's love for one child in particular: her daughter Lua, after whom the album was named ("ya" is an exclamatory particle in Korean that functions like a calling out of the name that precedes it).
On this point, Shin says, "I personally consider this music as a gift to my own child, as well as to other children and mothers, of sharing the beautiful childhood memories that have always been a solid foundation of my life." And now, she passes those lessons on further to a new world of potential listeners. - Tyran Grillo
Find out more about the artist on her web site: www.yeahwonshin.com
Photos:
Top portrait: © John Soares
Trio: courtesy of Yeahwon Shin
© 2014 RootsWorld. No reproduction of any part of this page or its associated files is permitted without express written permission.