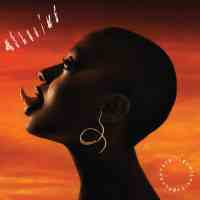 J
azz fans may have seen Cecilé McLorin Salvant lounging at the bar at Dizzy's Club Coca-Cola, staring out at the car lights buzzing around Columbus Circle, or at a gig with Aaron Diehl where she performs a Big Bill Broonzy tune, or at the Newport Jazz Festival with her contemporary jazz ensemble, or for a performance of her own 2020 opera, the fairytale-like story of
Ogresse
.
At the age of 33, Salvant has already begun to define her legacy. She has an innate understanding of jazz that allows her to improvise, scat, interpret and mix genres effortlessly. This makes listening to her sing a time loop experience, where you are both in the past and present with the future looming ahead.
Salvant's ability to sing in multiple languages is, in part, due to her being the child of a French mother and Haitian father. She began classical piano studies at 5, sang in a children's choir at 8, and started classical voice lessons as a teenager. She emerged with a vocal range and talent that one might expect from a performer with significantly more life experience. Yet this old soul, who generally surrounds herself with performers in their 30s, brings a layered depth to her music that comes from historical research and an ability to unearth forgotten songs and make them her own.
The story of Mélusine has a common theme of imagining women as witches, mermaids and other transformative creatures from Greek mythology. It conjures a European folklore legend sung in French, Occitan and Haitian Creole, with her own compositions, and selections dating from the 12th Century. She uses these songs and stories in part to convey a character she often plays in her work - an intelligent coquette who is more interested in playing with men's affection than seeking it out.
We begin with Mélusine asking "Est-ce Ainsi Que Les Hommes Vivent?" (Is This How Men Live?), bringing in the work of the 20th Century surrealist poet Louis Aragon. Aaron Diehl elegantly uses the piano to make the mood more indigo, more mysterious and to coax the song toward a richer experience.
The story tells of her soon-to-be lover Raymondin, who is wandering in the forest after he accidentally kills his uncle while hunting. He meets and falls in love with Mélusine, as told in the 14th Century song, "Dites Moi Que Je Suis Belle" (Tell Me I'm Beautiful).
Mélusine's only demand is that Raymondin never visit her on the day she bathes, which of course, over the telling of this tale, he fails to do. They live happily, and he honors her wish until one day, he spies on her in the bath and discovers that on this one day she is part woman, part snake. In the African/Brazilian inspired "Fenestra," she turns into a dragon and flies out the window.
This often lighthearted album also dips deeply into magic and spirituality. (For instance, "Wedo" references a black serpent creator in Haitian voodoo and the greater African diaspora.) Salvant's subject matter is informed by her childhood in Miami, growing up in a Haitian/French household, a world where dual language, ethnic traditions and musical influences set her apart from her peers.
The artist and Nonesuch Records have generously donated copies of the album.
Make a donation to RootsWorld and get a copy of the CD for yourself.