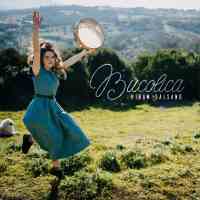 The wild boldness of Italy's Hiram Salsano's singing, her deep knowledge and understanding of her tradition, and the originality of the arrangements on this, her debut album, while very different in nation and material, put me in mind of Galicia's Mercedes Peón, particularly in the period of the latter's marvelous 2000 debut album,  Isué.
Salsano's focus is the traditional music of southern Italy, in particular that of her home region, the mountain areas of Cilento in Campania, to the south and east of Naples in western Italy.

Internationally, the best-known southern Italian traditional musics are probably pizzica and taranta, whose heartland is the Apulia region on the other side of Italy from Campania, but their popularity has long spread beyond that, and their compelling rhythms and sense of moving between two chords are certainly present in Bucolica. Indeed it starts with one such, "Otreviva," whose opening bird-song sounds and animal-calling lead into drones made by Salsano's looped vocal, then morphing to pizzica's characteristic deep thud of tamburo a cornice (literally 'frame drum,' in this case the traditional big tambourine with or without jingles).
But this isn't a taranta/pizzica album. Salsano's sources and music are much more varied. "Angiolina" starts with airy crooning over a slow tamburo triple-time pulse, soon joined, as the lyrics begin, by her musical partner Catello Gargiulo's accordion, the vocal soaring and taking on a passionate vibrato.
Salsano's singing is wonderful; liberatingly gutsy and uninhibited while very much in control. She makes smart use of vocal looping to create rhythms and drones, but they support rather than dominate her main vocal, and it's all about bringing out the strength, essence and character of these traditional songs.
Most of the instrumental sounds are made by the duo of Salsano and Gargiulo. In "Tarantá" his marranzano (deep-pitched Sicilian-style jew's-harp) gives a rhythmic continuo, with tamburo, under her fast-patter lyrics, with flourishes of harmonic whistle. "Padrone" opens with a breath-pulse, and accordion that, after long, vibrato'd notes, bursts into chunky chording topped by the shrilling of Campania's traditional shawm, ciaramella, played by Gianluca Zammarelli. In "Cicci" Salsano sings over her own layered vocal rhythm before the song transforms over the thump and jingle of tambourine and busy buzz of marranzano.
Peppe Frana's oud brings a contrast of texture to "Mare E Arena." in which a slow soaring vocal opening moves to a pick-up of rhythm featuring the accordion, then another transition to double-tempo, led by Salsano's vocal which finally coasts above the intensifying pace. "Tradere" begins with echo-repeats of her speaking, shifts into high-energy marranzano and rickity-tickity tamburo jingle, and Gargiulo's voice joins Salsano's in harmonising and counterpointing melismatic vocals.
In "Vulesse" an accordion phrase sneaks under her vocal before expanding to a full fast chittering swirling accompaniment, and the rich, plummy honk of Zammarelli's zampogna (the big Italian double-chanter bagpipe) pitches in too, the two instruments creating an intricate blend as the vocal melody and rhythm progress and change; morphing and transition are key features of the arrangements throughout the album.
"Nonna Nonna" has an almost ecclesiastical sound at first, a reverberating vocal over a vocal drone, that leads into an improvising break on multi-instrumentalist Zammarelli's gutty chitarra battente (traditional guitar, usually with five pairs of strings) before changing almost entirely in rhythm and melody, here echoing the beginning of the album by moving back to pizzica.
The songs are in Campania's Cilentano and Napoletano dialects. The lyrics are in the booklet with translations to standard Italian, but musically it speaks for itself and the traditions of Campania. Bucolica is a splendid album from a very significant musician.

Bucolica
is a
Music of the Month
selection for June, 2023
Subscribe now
and you will receive this digital album, and then CDs and digital releases throughout the year.