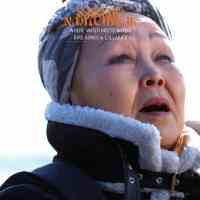 A

new release from producer Ian Brennan generally manages to defy expectations, but what you can be sure of is that it will be music that means something to him, that has succeeded in moving him in some way. Brennan is fully aware that music has a cultural context, but ultimately it's not musical provenance which interests him but the capturing of extraordinary music being performed at a particular moment in time.

The new album from Tuvan singer Sainkho Namtchylak, recorded by Brennan, exemplifies this perfectly. Namtchylak learned the technique of throat singing from her grandmother (it was normally considered a male preserve) and this, along with other vocal styles she grew up with, informs her work, though it does not define it. She has had a long career exploring new approaches to singing through experimentation and working alongside artists from different backgrounds. Improvisation is at the heart of much of what she does and that is, by definition, music made in the moment. One surprise here is that whilst we have become accustomed to Ian Brennan's releases taking us to far-flung and seldom celebrated corners of the earth, Where water meets water: Bird songs & lullabies was recorded on his home turf, on the abandoned islands of the waters around Venice, where he has lived for the last decade.
"Rising Tides"
(excerpt)
Sainkho Namtchylak and Ian Brennan have already worked together. On the album Like a Bird or Spirit, Not a Face, produced by Brennan, she joined up with two members of the band Tinariwen whose Grammy award-winning album Tassili he also produced. The matching of these artists from different continents and musical backgrounds (Namtchylak from Tuva, close to the border of Mongolia, Tinariwen from the desert region of Mali) was a great success musically, but this is something very different again. Much of the album has a hushed intimacy about it which becomes increasingly compelling the more you listen. The lullabies promised in the album title are not lilting waltzes sung to lull an infant into sleep, they are improvised wordless vocalizations that convey an image of a mother, or perhaps a grandmother, gently and spontaneously serenading the child in her arms, conveyed beautifully in "Rising Tides." Only on the final track, "Singing to the Sea," does she fully employ her more strident throat singing.
"Inside The Asylum"
(excerpt)
The opening track, "Inside the Asylum," is no lullaby and altogether more fraught than what is to follow. Recorded in a building which was formerly an asylum, Namtchylak's vocals have a troubled edginess to them. The location lays claim to not only being the most haunted island in Venice but the most haunted place in the world with a sorry history which includes numerous suicides resulting from psychological experiments. The implication is that this knowledge was the trigger for the piece, Namtchylak's voice echoing off the walls.
"At Pier's Edge"
(excerpt)
A trademark of much of Ian Brennan's work, a sense of place, with incidental sounds allowed to remain in the mix, is very much to the fore here. The main accompaniment on the album, we are told, is the sound of water, though it's in evidence more at some times than others. On "At Pier's Edge" and "Singing to the Sea" the water is to be heard gently lapping in the background while on "Migration Trails" the ambient sound is provided by some unidentified birds. The only traditionally instrumental accompaniment on the album is provided by Ian Brennan himself, playing unspecified stringed instruments and percussion, always minimal and typically consisting of simple two-note riffs.
Listening to Where water meets water put me in mind of Sami joiking in that whilst Sainkho Namtchylak's singing techniques and style are hardly the same as that, she nevertheless chooses not to sing about nature, but to address it in what can feel like a form of praise to the natural world. This album may be at the experimental end of roots music, but that doesn't stop it from being full of tenderness, humanity and musical subtlety.

Where water meets water
is our selection for
Music of the Month
for April, 2023.