It is hard to believe that the Rheingans Sisters were ever anything as straightforward as a folk duo. Over the course of four albums they've developed into a duo with strong roots and influences in folk tradition, who compose and play music that's far more amorphous and beyond easy definition.

It's a natural organic evolution that's apparent on the first track, a Rowan Rheingans piece called "The Yellow Of The Flowers." It begins with a breathless stutter of violin before gradually opening into a gradual exhale. There's no easy, lush beauty about the track, yet it draws in the listener, awkwardly seductive and setting the mood for the rest of the album with its kind of otherworldly atmosphere.

And as the sisters admit: "We have a strong sense of the atmosphere we want to create in our music - the colours, textures, the feel of each track being of equal importance to us as lyrics, melody, arrangement…We're also quite influenced by musical styles where this is apparent - the trance like qualities of some traditional dance music has always attracted us as well as the pattern making repetition of classical minimalism." That trance, the sense of transport, seeps through on much of the disc, most strongly on Anna Rhiengans' "Insomnia," where a clutter of jagged, sleepless fragments gradually becomes a whole melody.
| | |
| --- | --- |
| | |
Although the pair grew up in the England's Peak District and had part of their musical foundation at festivals and ceilidhs, there's very little of the English tradition left in what they do; their hearts seem to lie elsewhere, especially the Nordic countries and France. But even those have become building blocks for their own creativity. Even when they take apart and rebuild the 1935 recording of a hardanger fiddle recording of a traditional piece by Norwegian Jørgen Tjønnstaul (which Anna did over three years), the result is past and present swirling together to create something that owes most of its content to their imagination and skill. As they admit, they've "studied, loved, learned and continue to explore many different traditional musics - and we'll never run out! For sure, all of these learnings inform our own musical expressions and compositions hugely." The tradition has become a tool.
| | |
| --- | --- |
| | |
Southern France casts its long, sunny shadow on several pieces, including "Orogen" and "From Up Here." Ultimately, though, it's the chemistry of the two together that gives wings to the album. Between them, on Receiver they're playing more instruments that before, with sparing use of Hammond organ and electric guitar (used so subtly and well on "Salt Of The Earth"), as well as alto sax player Rachael Cohen, whose pops up on a couple of tracks, her sound sometimes like a ghost of the sisters' violins.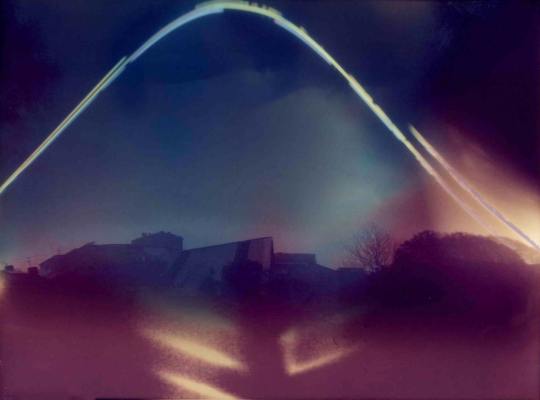 Receiver is a very textured album. It can be very beautiful at times, rough and ready at others. It's most definitely not polished to glossy perfection. Instead, it feels very much alive and wears its skin with pride. That sense of texture and exploration extends to the presentation, the solargraphy (essentially pinhole camera art) by Pierre-Oliver Boulant, images taken over long periods from his balcony, and they become an integral part of the disc, it's visual element, if you will, seeing the world through image as the Rheingans see it through sound.
"…we enjoy that the collaboration with Pierre-Olivier Boulant is more than just album photography, he is almost like another musician on the album, offering a whole other angle on the themes of the tracks…the physical CD now simply has to do more than it did before for it to be worth people having it. Receiver feels its fullest form in the physical copy." 
They're right. In pretty much every way, and certainly in the best way, they're making art. -Chris Nickson