Adrian Raso and Fanfare Ciocarlia
Devil's Tale
Asphalt Tango Records ( www.asphalt-tango.de )
I'm sure I'm not the only one who would waver between Fanfare Ciocarlia and the Boban Markovic Orchestra if asked to name the best Balkan brass band. Even the 2011 collaboration album featuring both of them was something of an intentional draw. Markovic and his outfit recently added guitar, drumset and accordion to their lineup to expand the sound, with good results. So Fanfare Ciocarlia are now showing fresh versatility by hooking up with Canadian guitarist Adrian Raso, a devotee of Django Reinhardt's Gypsy jazz as well as being fluent in other styles.
So can a driving, blaring Romanian big brass band and the nuances of jazz guitar complement each other in a way that's musically enjoyable? It sounds like it could.
Recorded in Canada, Mexico, Germany and Romania, Devil's Tale is no devil's bargain. It is a fully realized mashup that gives each side of the equation the means to both shine and give support to the other. Raso's guitar, banjo and bass tend to heat up when the brass cools down and vice versa, though there's more to it than that.
The tracks, all Raso's original compositions and arrangements, have elements of swing, klezmer, funk, Latin, New Orleans and Paris cabaret that keep each and every participant on their toes and playing with an intensity that's seamlessly tight at their end and reaches your ears in the form of pure joy, never falling prey to campiness or gimmickry (both of which are the devil's work, for sure). Even when "Hava Nagila" and "In the Hall of the Mountain King" are referenced in the closing tribute "Django," it sounds more from the heart than the funny bone. The entirety of Devil's Tale is a treat with no lapses, thanks to the skill and commitment of all involved. - Tom Orr
© 2014 RootsWorld. No reproduction of any part of this page or its associated files is permitted without express written permission.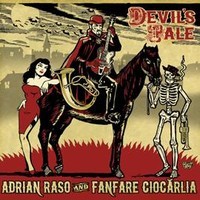 Listen