From Poland's burgeoning folk roots scene come two new, and distinct, bands. Both are trios, yet each group earmarks their locale. Kapela Maliszów is a family band from a small village in the Lower Beskids mountain range, located in southeast Poland, bearing towards Slovakia. WoWaKin are from the Mazovia region, an area that includes Warsaw, in the northeast of Poland. Each group creates thick clouds of trance-inducing sound built on traditional rhythms from the Polish countryside.

Kapela Maliszów ('Father's Notes') is comprised of Jan Malisz and his two children, Zuzanna (age 14) and Kacper (age 18). Jan Malisz anchors the group with his basolia, a Polish instrument reminiscent of the cello; he also contributes hurdy-gurdy, violin, accordion, and vocals. Zuzanna sings and accompanies on percussion, her self-taught drumming driving the group into its dizzying fantasies. Kacper plays both violin and nyckelharpa, and his instrumental prowess ranges across the album with an intricate delicacy that is more than a match for the group's various dance styles.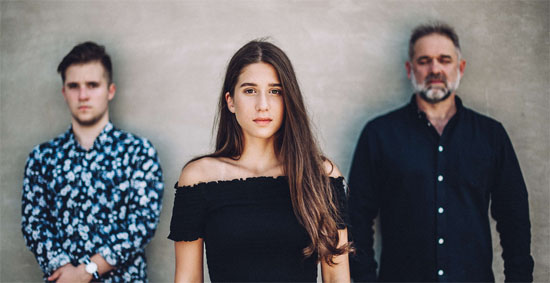 Jan Malisz grew up being surrounded by the music of the countryside, where family members would sing amidst the daily rigor of work. Music was one of the communal bonds, and village musicians were necessary for the local dances and celebrations. However, the modern world has since intruded on village life, and many traditions have begun to fade with the older generations. Jan Malisz believed that the music of southeast Poland should be passed on; rather than lie dormant or die out, the traditions could be updated to be relevant in a contemporary context. The music of Kapela Maliszów becomes a bulwark against mass culture; a way of recalling the past to live richly in the present. And yet, while deeply rooted in the soundworld of their region, Kapela Maliszów have an 'open borders' approach to their music: Father Malisz has taught Zuzanna and Kacper the diversity of the Carpathians, so that Romanian, Ukrainian, Slovakian, and Jewish influences ornament their playing.
Kapela Maliszów deliberately mix the old and the new; on Wiejski Dżez (Village Jazz), the trio plays traditional tunes, but much of the music uses folk music as the basis for experimentation and new compositions. Further, the band leaves space for improvisation. Listen to the tender, Eastern-inflected playing of Kacper Malisz's violin on "Chodzony bez celu" ("Aimlessly Walking Dance").
Kapela Maliszów also dig deep into mazurkas, and the double set of "Z gorki na mazurka" ("Down the Mazurkas") and "Wiązanka mazurków 2" ("Set of Mazurkas 2") – the first written by Jan, the second by Kacper – emit breathtaking virtuosity that does not sacrifice the soulfulness of the tunes. And then, there is the youngest member, Zuzanna: her voice is gorgeous on the opening "Zawiślocek" ("The River Laddie") and closing "Chmiel" ("Hop Vine"). Both songs – especially "Zawiślocek" – brought to mind comparisons to the English folk-rock band The Pentangle. "The River Laddie," about a young man who drowns, begins with the spacy combination of the thrumming of Jan Malisz's basolia and the plucking of fiddles. Zuzanna floats within the mix, and with a rapid progression of her drumming and a cry, the tune accelerates. The same kind of slow advance to rapid attack is present on "Chmiel," which closes out this daring album with its swaying melody.
*
WoWaKin are also possessed by, and respectful of, the rhythms of their region. The trio offers an array of foxtrots, tangos, polkas, oberkas, and more on their debut album. WoWaKin are comprised of Paula Kinaszewska (violin, vocals); Mateusz Wachowiak (accordion); and Bartlomiej Wozniak (drums and sound design). Their repertoire borrows from the Polish areas of Kielce, Radom, and Sanniki. Wozniak has a background in theater; Wachowiak has classical training; and Kinaszewska has honed her violin playing under the tutelage of master folk musicians, who have passed on their mazurkas to her.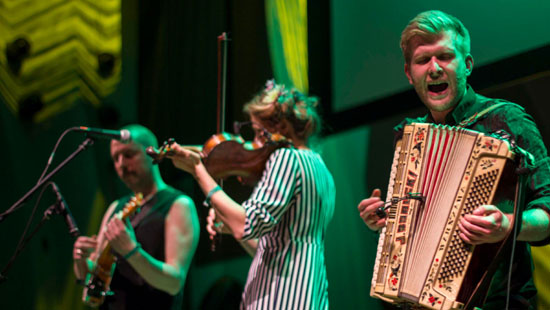 WoWaKin provides a wide variety of musical styles that are also open the group's improvisational style. A standout example of WoWaKin's exploratory side is "Wieniawy," an oberek that is fleshed out with trumpet playing. The tune is playful and cinematic, and the addition of brass kicks the Polish countryside into spaghetti western territory. In addition to the traditional songs and dances, WoWaKin have something of the experimental cabaret about them. On "Jaźwiec," Wachowiak's accordion pumps away; Kinaszewska's violin runs echoing lines that seem to lurch slightly off-kilter, and then Wozniak introduces clopping percussion and dulcimer. It's a spicy, thick mix that despite its wildness remains just under control.
The band has chosen songs that veer between the sadness of lost love, and the leering fug of desire. Lyrically, the songs often juxtapose images and details of life in the countryside with blunt emotions. The polka "W nocy o połnocy" ("In the night at midnight") presents us with a lover demanding that his interest, Kate, come visit and turn "your right side to me." Kate will not do so, however, owing to her having a headache; she has given her maidenhead away. The man crassly excoriates Kate; following this, she makes the jarring demand: "I'll order that all the chairs on which you sat to be thrown out." Indiscretion is a wedge to domestic harmony, and, apparently, to furniture. WoWaKin also include a lullaby, "Kolysanka," which starts off sing-song-y sweetly; but, the discord of the taraban playing underneath lends a tone of unease. "Rock-a-by rock-a-by little cradle alone/Cause your mommy is serving the landlord" seems to bristle with entendre. On WoWaKin's Kraj za miastem, the traditional ways often yield the unexpected.
Kapela Maliszów and WoWaKin both manage to sound much larger than their trio arrangements. The dance rhythms explored by both groups can be unfamiliar enough to unmoor time, but they are still tethered to Polish traditions. These are fiercely rural albums that shake out old pathways for modern sensibilities. Percussion crashes, band members whoop in delight: the Polish roots scene bears closer watching as these new, essential folk stars explore new galaxies. – Lee Blackstone
Find the artists online
WoWaKin
Kapela Maliszów
Michal Shapiro was at WOMEX 2017, held in Katowice, Poland, and filmed each of these excellent ensembles.
Watch them perform here.