Antonio Paolo Pizzimenti
Atlante
Dunya (www.felmay.it)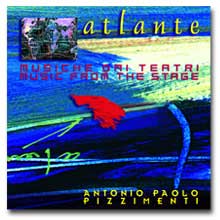 It's the year 2101: long gone are the days when people were giving music titles and putting it into little boxes in order to comprehend its power. Nowadays, in this One World, music is also unitary; suffice it to say that the Top Ten artists include such bands as the Cuban-African-Punk-Classical outfit Uno Mundo. Another album in the Top Ten is a recent re-discovery of a historical recording which has stirred a lot of enthusiasm for its amazing ability to sound so contemporary, even though it's a hundred years old: Antonio Paolo Pizzimenti's Atlante - Music for the Stage.
This record is a welcome and unexpected discovery, the first time around as well. Pizzimenti, a sound engineer for a number of Italian and foreign artists, has created with this record, featuring music mostly for the Settimo Theatre production Codice Atlantico, a unified piece of work which combines a dozen or so different musical specimens and still manages to sound infinitely enjoyable.
"Shaba," the opener, is very Arabic in its essence. "Atlante" is a mix of Ry Cooder style guitar-plucking and irrelevant synthesizer sounds in a game of acquaintance between digital and acoustic music. "Lentoguitar" is exactly that: a slow guitar piece. "Bruciafesta" burns, a feast of sounds reminiscent of artists like Yann Tiersen or RenÚ Aubry. "Marcia," is a festive march, a parade of children. "Arciflute" sounds remotely like a more thinking version of Deep Forest with a difficult to define jazz tint and romantic undertones, akin to crossing the Atlantic by boat. Interarpa is harp music. "Chimera" reminded me of a futuristic gothic rock band I used to listen to a long time ago, Clan of Xymox, instilled with a shot of Brian Eno. "Kalimbavox" offers a tribal scat-rap, while the drum heavy "Aikiwar" is expansive, a bit aggressive and as exciting as landing on an island you have just discovered. "Canone in Re" recreates Pachebel's "Canon in D" in a version that sounds close to the original (and who would want to veer away from it?) but through the clever use of tribal samples it becomes an optimistic, global theme for discovery and adventure. The final piece of the CD, "Mendidi mendý," has a distinctively South African air, conjuring images of infinite open spaces, yellow deserts and blue skies before giving way to a more celebratory middle piece of rhythmical vocals and to a final piece of all those sounds together, plus what sounds like a sampled sitar.
In this time of turmoil and renewed attempts to re-erect barriers among people, this music in all its enthusiasm and optimism and sheer abandon in a future that considers the present (a future in which people don't spend all their energy worrying about the beliefs of the others) is a necessary companion.
Cut off from the production it was meant to accompany, the music no longer plays the role of commentator, but it retains its power to create images in the mind. An indispensable item for armchair travelers and accidental tourists. - Nondas Kitsos
More audio and CD available at cdRoots