I'm reviewing these two albums together, because though they're different in sound - one by a fiddler, the other by a pianist - both are highly developed, beautiful music drawing deeply and understandingly on Scottish and Scottish Gaelic traditions, and both in different way are the result of those traditions' diaspora across the globe.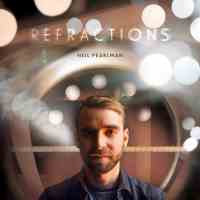 New England pianist Neil Pearlman's parents were both involved in Scottish and Cape Breton music and dance. Refractions takes Scottish and Gaelic song airs as the basis for his solo piano improvisational development. The airs are varied, non-obvious and well-chosen, from a large variety of sources that show his extensive familiarity with the repertoires and compositions of present-day musicians and with the most interesting of the printed collections. These melodies are modal, often with a pentatonic feel, and Scottish music has over the last couple of centuries or so suffered quite a few clichéd, heavy-handed harmonisations, but not so here. While his developments are wide-ranging they never lose sight of the essence of the song, and he states the melodies clearly and sensitively before he explores the paths they lead him into.
"John MacDonald of Coll View"
(excerpt)
So "Cumha Iain Garbh" is liquid, thoughtful, reflective, retaining its spirit of lament while drifting through a sequence of modulations before a calm resolution. His version of Mary Ann Kennedy's "John MacDonald of Coll View" has all the skip, bounce, and grace-noting of the 6/8 march. Generally his improvisation isn't overtly jazz, but "Oran a'Chairo," one of two from Anne Lorne Gillies' excellent book The Songs of Gaelic Scotland, does move into that territory after its initial statement. He does his homework, to find a version of a song he likes, and in "Saoil an Till Mi Chaoidh" combines three versions of the same song, one from an album by Margaret Stewart's and two from the Tobair an Dulchais online archive, plus an interpretation of his own.
"Saoil an Till Mi Chaoidh"
(excerpt)
All solo piano, yes, but never samey; if the word improvisation evokes fear of noodling, fear not, it's rich with melody and structure.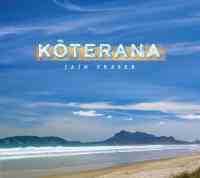 Much of Scottish fiddler Iain Fraser's album Kōterana is of his own composition, but like Neil Pearlman, he draws on a discriminating choice of traditional Gaelic vocal and instrumental material from the past and present. Its title is the Māori word for Scotland, and it commemorates and evokes the globe-spanning journey by the Reverend Norman McLeod and his congregation, that began with him leaving Assynt in the West Highlands and culminated, via Cape Breton and Australia, with a Gaelic-speaking settlement in New Zealand. But even without any knowledge of the story it's an album full of life and strong tunes.
McLeod, a man of strong beliefs, clearly redoubtable and quite a dominant character – he was described as having something of the clan chief about his personality – became disaffected with the Church of Scotland and so in 1817 he and others left his native Assynt for Nova Scotia, setting off from Ullapool, a frequent port of departure for emigrant Highlanders.
After crossing the wild North Atlantic they arrived in Pictou, and after three years moved to St Ann's where over the next 30 years McLeod built a substantial congregation. But he grew disappointed by 'liberal tendencies' moving into the area, and heard that Australia or New Zealand might be the place for him and his congregation, so in 1851 off they set in six ships. 164 days at sea later they arrived in Australia in the height of the gold rush, and had to live in tents in a part of prospector-crowded Melbourne known as Canvas Town, a place presumably not exactly highly religiously observant. So after two years they set off across the sea again, to Waipu in New Zealand, where they finally settled.
And it was in Waipu, where Gaelic had been spoken until the late 1950s, that Iain Fraser came across the story. He created the piece "Kōterana," a mix of his own composition and traditional material, first performing it in Waipu in 2016 with the Auckland Scottish Fiddle Club. The album is an extended version of that work, and involves musicians from Scotland, Canada and New Zealand: a substantial ensemble of fiddles and other strings, plus pipes, piano, guitar, flutes, bass, percussion, and on one track a Gaelic singer.
Of course, with instrumental musical story-telling it's not always obvious what is in the mind of the composer. But in the opening track (described by Fraser as "inspired by the stunning landscapes of Assynt") there are three melodies composed by him but very definitely Scottish in character – "Lochinver No More," "Suilven" and "Achmelvich Beach." It's possible to imagine a sense of the regret of leaving, of the challenge of the sea, but also a certain optimism of adventure.
There follows a delicate arrangement of "Chagair, Chagair, Chagair a' Ghruagach" from the trove of Rev. Patrick MacDonald's 1784 Collection of Highland Vocal Airs with solo violin and then cello leading over rhythms from the other strings. "McLeod's Sextant" commemorates the fact that the prudent McLeod carried his own sextant and was able to convince the ship's captain not to turn towards Ireland to escape a storm, and its opening melody has the jubilant, slightly Baroque feel of a planxty by Irish harpist Carolan. Fraser's regular, stately "The Sunday Gathering" is a classic Scottish, rather than typically Gaelic, melody. "Sandy Cameron & My Brother's Letter" are a pair of sprightly reels learnt from archive recordings of Cape Breton fiddlers, played on fiddles and guitar, then on fiddle and typical springy Cape Breton style piano.
"From Capes Breton to Good Hope" marks the long southerly voyage with winding fiddle and piano lines over an underlying wave-motion, and with the jubilant "The Gazelle" the ships reach Australia. In "Canvas Town" a dark churning of bowed cello and bass under fiddles and flute in a lumbering tune reflects the despair of being unable to find accommodation in Melbourne and so having to live in the tent city. "Litir bho Iain MacGillÌosa á New Zealand" is Fraser's setting, sung by Calum Alex MacMillan, of a Gaelic poem written by John Gillies who emigrated from Skye to New Zealand in 1857. Final settlement in New Zealand is evoked by a pipe tune and a reel capturing the wave-skipping of flying fish in the Tasman Sea, and the album ends with a set of tunes with an overall feeling of the happy life in a community far from, but still with strong links to, the homeland: a strathspey, a tune inspired by a traditional Māori song, two pipe tunes from a 1930s New Zealand bagpipe collection, and Shetland fiddler Willie Hunter's "Kiwi Reel."
Find the artists online:
Iain Fraser
Neil Pearlman