Quintetto Nigra (Polifonie dal Piemonte)
Sonno Fortunato
Felmay (www.felmay.it / [email protected])
It seems there is a trend in the choral or vocal music recordings to produce albums in a church, or perhaps large cathedral. Though the natural echo and reverb provided by such locations yields ambience, these conditions run the risk of undermining both the skills of the vocalists, and the clarity of the arrangement's organization. Beautiful works by the Bulgarian Pirin Singers, the Celtic choir Anúna, and works of the Scandinavian composer Knut Nystedt have all compromised musical clarity for the sake of atmosphere. Sonno Fortunato by Italy's Quintetto Nigra is not a recording in such spatial conditions, and this aural intimacy affords the listener a front-row seat to their excellence in execution, arrangement, and musicality.
The work's subject is the traditional folk songs of the northwestern Piedmontese region of Italy, on the border with France. As such, the tunes are inherently full of the essence of the people's lives, both lyrically and musically: "Më séu chatà 'n marì," features some tonal sighing and even culminates into a brief span of laughter at one point, and the first verse of, "Vous voulez me faire chanter," is performed folk-style by the local singer from whom they acquired the song. The arrangements are highly ambitious but cohesive, and the quintet's skills match these ambitions: at times, an uncannily accurate deep bass tone or dense tetrachord can seem to stifle a listener's cognizance. Their voices are perfected instruments, and it shows in moments where the harmony is dense, in how they emulate instrumentation by singing onomatopoetically, and in their use of surges in volume for rhythmic accentuation.
What better way to remember the stories and sensibilities of your peoples' yesterdays than to breathe new life into older tunes? Quintetto Nigro succeeds in making a most memorable recording. - Seth Premo
© 2013 RootsWorld. No reproduction of any part of this page or its associated files is permitted without express written permission.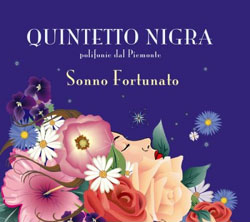 Listen