Nidi D'Arac
Tarantulae
CNI (www.cnimusic.it)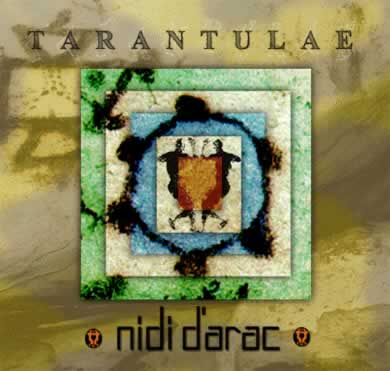 Nidi D'Arac's previous album, Ronde Noe, ended with the sound of static, as if a record had run its course. The first track on Tarantulae, "Trainieri," begins with similar static, lead singer Alessandro Coppola coyly singing beneath the scratchy vinyl before the song explodes into its clean, funky groove. For Nidi D'Arac, Tarantulae literally picks up where Ronde Noe left off, and the band is anxious to demonstrate their new, focused sound.
Even though they have scaled themselves back to a quartet for this release, Nidi D'Arac remain fully intent on fusing their folk roots and club culture. The re-occurring theme here is that of the traditional percussive trance music that accompanies the dancing to drive out the illness of the tarantula bite; and in fact, the combination of Coppola's tambourine playing, with the electronic beats and Mauro Gregori's percussion, is nothing short of revolutionary ("Nella Rete" being a superb example).
Working from that traditional base, it appears that Nidi D'Arac imagine themselves as a tarantula: taking a bite out of the past, and seeking to make people move ecstatically on the dance floor. Few other bands create a collision of past and future that is so satisfying. Even when Nidi D'Arac throws together ragga and techno, as on "L'acqua de li chianti," the addition of harp, strings, and Caterina Quaranta's considerable talent on flute creates both wild abandonment and melancholia. At other moments, samples of human breath draw across the music, sending shivers down the spine. This is an explosive mixture, and Nidi D'Arac ply its sexiness for all it's worth. Coppola and company urge you to come out of the shadows and dance, but you never leave those shadows far behind. With Tarantulae, Nidi D'Arac are now one of the premier, cutting-edge roots acts in Europe. - Lee Blackstone
Available from cdRoots