We music reviewers may use spellcheck-defying adjectives and concoct multi-level metaphorical constructions, but in the heart-thumping breast of each of us resides that eyes-wide 15-year-old bursting into his friends' lives with music that they just have to listen to.

Which brings us to Songs of Our Native Daughters, which you just have to listen to.

The project is the result of four singular artists coming together to, in a sense, create music that re-creates musical history. These musical Avengers were called to assemble by MacArthur "Genius Grant" winner Rhiannon Giddens, who first came to public attention as part of the Carolina Chocolate Drops, which brought to light the pre-bluegrass, African-American music of the Piedmont region of North Carolina.

For the Songs of Our Native Daughters project, Giddens called in three other black female musicians who were interested in black string music, which lost its identity as such after the music crossed over to white musicians playing what became commonly thought of as bluegrass or "country music." The opera-trained Giddens has gotten critical acclaim for her own music and is the best known of the four singers, and certainly turns in some gorgeous and stirring vocal performances, but she also shares leads with her compatriots here.

The resulting album is both a powerful examination of slavery and a celebration of the resiliency of those subjected to decades of oppression, particularly black women. While several of the songs are stinging indictments of the cruelty and heartbreaking human toll of slavery, the foursome also manage to create some beautifully uplifting songs as well, highlighting the grit and spirit that has helped African-Americans to individually and collectively make progress.

It's been said that to be black in America is to continuously live with both joy and rage; here is an album that embodies that tense equilibrium. The album's embrace of rustic instruments such as the banjo and fiddle seem to make it an unlikely messenger for the story of blacks in America, but while these instruments are usually thought of today as those of Southern, white music, the Songs of Our Native Daughters album paints expressionistically and in pointed detail the story of racism that blacks have experienced in America during and after slavery.
| | |
| --- | --- |
| | |
Each of the varied songs shows a different facet of the black experience. And each singer embodies the story in their own personal way. The album opens with a stinging electric blues guitar and the powerful deep voice of Amythyst Kiah singing "Black Myself." Kiah's defiant singing alternates between anger at discrimination and a declaration of pride in her identity. At one point, she sings: "You better lock your doors when I walk by/'Cause I'm black myself/You look in my eyes, but you don't see me," but soon adds: "I don't creep around, I stand proud and free/'Cause I'm black myself/I can go anywhere that I want to go/'Cause I'm black myself."
The album turns to the more acoustic "Moon Meets the Sun," where the singers evoke an aching resilience. "You steal our children, but we're dancing," Giddens sings, "You make us hate our very skin, but we're dancing."
The rolling guitar and mandolin picking set a beautiful backdrop for Leyla McCalla's singing on "I Knew I Could Fly."
The lively banjo tune of "Polly Ann's Hammer" reinvents the old American legend of the steel-driving John Henry, shifting the focus to his wife, who picks up his hammer when he falls ill and "drives steel like a man." Polly Ann raises their child and wisely advises: "This is the hammer killed your daddy/Throw it down and we'll be free."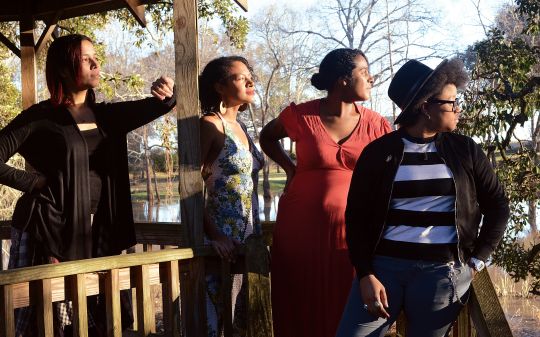 "Mama's Cryin' Long" is one of the album's masterpieces of musical storytelling. To claps and a chorus, Giddens sings from the perspective of a young slave child whose mother is raped and eventually hung from a tree. The child's innocent perspective and imagination makes the story even more emotionally devastating. "Mama's in a tree/and she won't come down/mama's flyin' free/and she can't come down."
Giddens takes the lead vocal for the dark humor of "Better Git Yer Learnin'" where she adds lyrics to an old minstrel show tune. The narrator tells her story about the importance of getting an education and how she was repeatedly denied the opportunity through a series of sometimes violent mishaps. "The year was 1863/A paper said that I was free/But no one read it to my ears/And so I slaved for two more years."
On "Lavi Difisil," Leyla McCalla sings a lovely retro tune what swings with tenor banjo, fiddle and a clarinet, starting in Haitian Creole before transitioning into English. The lively, danceable tune sparkles with the palpable expression of the steadfastness of love in the face of the deprivation of poverty. "Ain't got no money/Ain't got no job/but I have your love/and I got your heart…I don't have much/but I wanna give you the world."
"Music and Joy" with its steady kick of drumbeats and joyous melody melds minstrel banjo with the driving rhythms of modern African soukous with simple lyrics that call down ancestral spirits – not coincidentally a primary function of some traditional African music.
The album ends with the heart-piercing beauty of "You're Not Alone." Allison Russell takes the lead vocals on a song she wrote after becoming a new mother. The narrator's sweet voice – tremulous with love and fear - addresses her beloved child, telling her of the spirits of their forebears: "In the cradle of the circle/All the ones who came before you/Their strength is yours now/You're not alone." In the chorus she sings "We have love," a mother half-praying half-willing the strength to reassure her child and herself that love will, in the end, conquer all.
The informative and stirring liner notes by Giddens and producer Dirk Powell explain the imperative behind and process of this singular album and the bonds that formed when these four women came together to bring rise to something awe-inspiring. Using folk instruments as a base and adding whatever they felt would get them to the sound they envisioned, these gifted musicians made a folk music album that isn't bound by folk tradition – a fitting instrumental testament to the self-determination they limn through their songs.
The group did a short tour this summer, but this seems to be a one-time project. Their accomplishment of re-inventing American folk music to revelatory effect makes this a more than sufficient legacy, even if listeners would understandably want to hear more. - Marty Lipp