A

mélia Muge first appeared on my radar in a 1998 recording of romanciero, a style of narrative poem that was popular on the Iberian peninsula in the 15th and 16th centuries. Novas Vos Trago (Tradisom) featured a group I had already come to love, the energetic percussion, bagpipe and vocal group Gaiteiros de Lisboa, and she appeared on two tracks with them. The album featured other important names in Portuguese music, including João Afonso, Brigada Victor Jara and Sérgio Godinho, so she stood in good company. She published her first solo work, Todos os Dias (1994, Mercury), which I discovered as I went down the rabbit hole, having already previously found the later A Monte (1998, Vachier).

While she is often promoted as a fado singer, and sometimes fits well into the category, it is her unyielding interest in the ancient and how it can inform the new that has made her essential listening for me over the last two decades. She has flirted with pop music and some purist fado in that time, but Amélias brings her fully into her own, in an album completely focused on the voice and the lyric.
| | | |
| --- | --- | --- |
| | | "Se a vida e´ pintura" |
The album opens with a highly punctuated a capella "Se a vida e´ pintura." Its layers of voices and raw percussion hearken to that first encounter with the Gaiteiros de Lisboa, a stripped down description of the world, wondering "If life is a painting." She starts with the warm sun of a Van Gogh, and moves through the day with Miró and Chagall, then comes to:
The night intertwines / Her shadow strokes
And lights in the dark / Are almost twilight
Are gestures of gestures / In a hasty celerity
Looks like a Pollock / Dreaming of the morning
| | | |
| --- | --- | --- |
| | | "Versão condensada..." |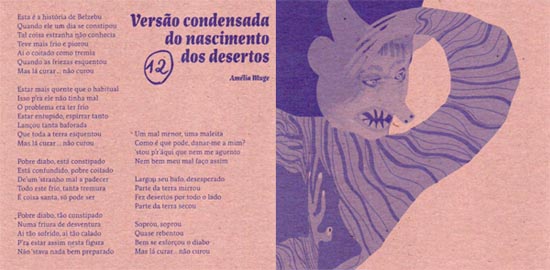 There is the story of "Versão condensada do nascimento dos desertos" where she describes the creation of the desert by the devil:
This is the story of Beelzebub
When one day he got a cold
He never felt such a strange thing
Shivering more and more, getting worse
Oh, poor creature, how he trembled
When he tried to warm himself while freezing.
But to cure himself... no way
Again, she paints a picture of the demon as he creates the sandy wilderness, hoping for escape, for the cure that never comes. "No way," she sings at the end of each verse. Again, it's all voices with subtle strokes of percussion and noise to draw you in.
| | | |
| --- | --- | --- |
| | | "A prenda dos amantes" |
It is not all a capella. "A prenda dos amantes" features chimes (possibly electronic, possibly not), and subtle touches of synthesizer and vocal processing. There are subtle moments of strings, unrecognizable vocal swoops and synthesized landscapes, but the voice is always front and center, in ancient modes and modern experiments, in tracks like the appropriately named "Diferente" with its multiple voicings and glances of Indian and Indonesian sounds, and lyrics by painter Wassily Kandinsky.
| | | |
| --- | --- | --- |
| | | "Diferente" |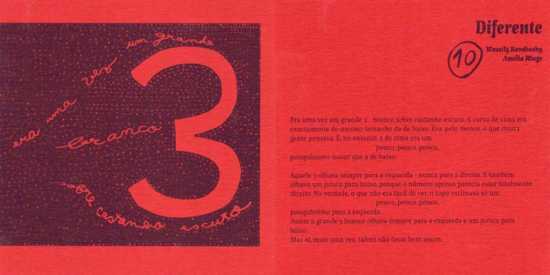 The lyrics all paint vivid sonic and visual pictures and this is reinforced by the beautiful package the album comes in, featuring colorful cards on heavy art paper, depicting each song and on the reverse, the lyrics, all painted by Muge.
Amélias is a remarkable exploration of the human voice, rooted in the totality of human history rather than a specific culture or place, and a collusion of physical and aural art. If you do not know her, it is also an irresistible introduction to Amélia Muge.