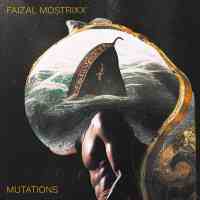 Choreographer, dancer, DJ, and musician Faizal Mostrixx's three releases, of which Mutations is his third, comes at a moment when radical electronic and dance music from Eastern Africa is getting crucial global exposure. Thanks largely to Kampala, Uganda's Nyege Nyege tapes label, experimenters such as Otim Alpha, Ocen James, and Nihiloxica- all from Uganda- have altered centuries-old rhythms and instrumentation from various parts of the country, sculpting them into dance-floor ready shapes as well as abstract make-overs. Mostrixx, also a Uganda native, produces music that would be a perfect fit for the label. In fact, between his and Nyege Nyege's output, as well as their yearly festival showcasing the most cutting edge pan-African musical artists, those of us in the west have the opportunity to see Uganda as something other than a place where fundamentalist Christianity, instilled and reinforced by missionaries, has made life horrendous for queer Ugandans.
Mutations follows the sonic trajectory of 2022's Transitions EP, in as much as it fuses field recordings with sometimes frantic synths and pads, at times coming off as a cousin to Chicago's long-evolving footwork scene. Mostrixx' mother was a dancer, and he grew up hearing imported pop sounds from nearby Congo and other neighboring countries. And because of the dominance western sounds still hold over the globe, his music naturally makes use of elements found in house, dub, down-tempo, and hip hop. "Muzukulu", for example, has a mid-tempo grounding, perfect for repeated flute samples, a jagged guitar scratch, thick bass key rumbles, and distant synth. "Onions and Love" features the vocals of an Ethiopian woman named Kebenesh who Mostrixx met in Addis Ababa and who sang of a lost love while chopping onions in the restaurant where she works. A snatch of her vocal melody becomes fuel for a repeated riff, which is buoyed by relentless electronic percussion.
"Tunes of the Jungle" comes closest to footwork, as dizzyingly repetitive vocal snatches swat at synthesized beats that, like much footwork, never seem to quite settle and instead challenger dancers without ever letting up. Elsewhere, Mostrixx visits Kadodi dance in Eastern Uganda as well as the sounds of the Acholi tribe on the border with South Sudan for certain tracks' roots. Mutations, along with Nyege Nyege, demonstrates how Africa in general and Uganda in particular are at the forefront of rhythm-based experimentation.