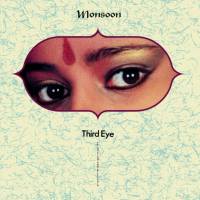 A

t this distance, it's hard to imagine the musical landscape of 40 years ago. Plenty of synths, crash, New Romantics and elaborate hair. MTV was still a novelty. World music hadn't acquired its awkward name yet. Such as it was, global sounds comprised ethnological releases, classical music from different cultures, and Bollywood soundtracks that didn't reach beyond the Asian population (and in America were essentially unknown – all of this is very much a tale of two continents). Rock bands had added a sitar here and there in the 1960s, but there was no real cross-cultural invention. Then came Monsoon and the world shifted.

The single "Ever So Lonely" was initially self-released in 1981, recorded in a 16-track studio on London's Carnaby Street, and resurfaced a year later, re-recorded at Rockfield Studios, a far more sophisticated version for a larger label, appearing as a 12-inch single. Both appear here, of course. The brainchild of musician and producer Steve Coe and multi-instrumentalist Martin Smith, it was the ur-text of so much of what we take for granted today. All those fusions, the Asian Underground, so many of the albums in your collection - they all were born out of this. They also gave singer Sheila Chandra her first platform and taste of stardom. It's impossible to overstate the importance of "Every So Lonely," or the album Third Eye. They were chart hits in a time when that didn't happen to music like this. But there'd never been music like this before. A brief burst of glory, then Monsoon split and Chandra began her solo career with Coe. But that's another story.

This two-CD set collects Monsoon's recorded output and adds some tracks that never made it to the album, along with a March 1982 session for Capital Radio. Inevitably, there are multiple versions of that song, 10 in all, an indication of its importance. Sadly, the label couldn't license the 2002 reworking by Jakatta, with Chandra returning as singer, and revisiting the charts 20 years on. And her solo reworking of the song on one of her Real World albums is also MIA.
| | | |
| --- | --- | --- |
| | | "Tomorrow Never Knows" |
These were the first steps towards a real East-West fusion, proud but more a toe in the water. The concept isn't there in every track. Several are very much of their time and place in the sound and production, like "You Can't Take Me With You" and "Watchers Of The Night." "Man Who Makes Time" is a trip into psychedelia, but without the success of their cover of the Beatles' "Tomorrow Never Knows."
"Shout 'Til You're Heard"
(Capital Radio)
The four tracks of the radio session make it abundantly clear that Monsoon could cut it as a live act, with everything just that bit more powerful and fiery then the studio takes. "Shakti (The Meaning Of Within)" is a particular standout.
"Ever So Lonely"
(Dub Mix)
The second disc is the completists paradise, with enough edits and versions to satisfy the heartiest appetite. But then, this is a set that promises everything – and delivers. The joy, though, is being able to revisit the moment when modern global music really came alive, at least for a British audience. And it was superb.