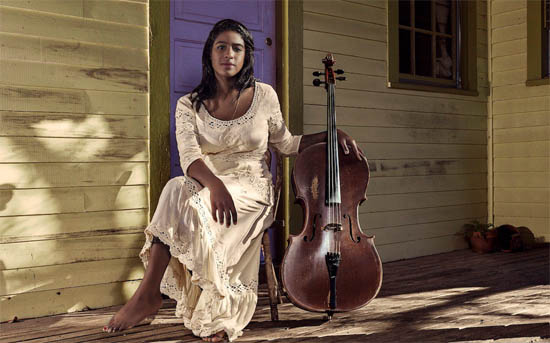 Leyla McCalla
A Day For The Hunter, A Day For The Prey
(Jazz Village, 2016)
| | | |
| --- | --- | --- |
| | | "Peze Café" |
Haitian-American cellist Leyla McCalla's latest release, A Day for the Hunter, A Day for the Prey refers to a Haitian proverb that suggests the unavoidable balance that we all must embrace in all parts of experience. This concept is reflected in the very creation of the album: it was recorded in New Orleans (McCalla's adopted home since 2011) and Maurice, Louisiana with a corps of musicians on guitar, banjos, vocals, ti fer (triangle), and sousaphone. Of these, many are artists local to Louisiana and others hail from across the great American musical beyond. Likely best known as a founding member of African American string band Carolina Chocolate Drops, McCalla explores ideas familiar to her past work as well as a number of other channels branching off from what we might think of as "roots music." The pieces here emphasize original songs, Louisiana Creole and Cajun fiddle-based tunes, and Haitian songs with both known and unknown composers, all of which encompass aspects of McCalla's musical and family heritage.
Though the refrain of the album's title track derives from Haitian philosophy and worldview, the gradual layering of driving strings and subtle harmonic movement reference string band textures centered in the rural southeastern US. The mournful pulse of "Little Sparrow," a song by folk musician and children's music pioneer Ella Jenkins, implores the young bird to settle safely and find its space in the world before it is too late, augmented by yearning interplay between McCalla's cello and Free Feral's viola.
| | | |
| --- | --- | --- |
| | | "Vietnam" |
"Vietnam," by late bluesman Abram Jay and featuring McCalla's sister Sabine on vocals, is a tale of anticipated bereavement framed as a love letter from the battlefield rife with tragic hope: "I'll be back in late late Spring/And I hope you will be looking the same." The undercurrent of resignation as a form of liberation comes out as a prominent theme of the album, also found on "Let it Fall," in which the very resolution of cadences reflects an inevitable return home, no matter the point of departure. Although conventional American folk instrumentation and song forms dominate these songs, McCalla steps out in Louis Armstrong Hot Five fashion on "Far From Your Web," a defiant celebration of freedom from a poisonous lover, presumably, with New Orleans-based clarinetist Aurora Nealand swinging and growling with little discernible restraint.
| | | |
| --- | --- | --- |
| | | "Far From Your Web" |
Along with original and adapted English-language songs, McCalla brings attention to her interests in Louisiana Creole and Cajun music with Conray Fontenot's "Les Plats Sont Tous Mis Sur la Table" (The Dishes Are All On the Table), a mournful and somewhat humorous waltz highlighting the fiddle playing of Louis Michot of the Lost Bayou Ramblers. "Salangadou" finds McCalla and Sarah Quintana narrating the plight of a lost child, potentially due to the familial fissures prompted by slavery. In "Bluerunner" the triangle, fiddle, and voice sound in embellished unison, highlighting the accessible and participatory intentions of Cajun music. While her voice is somewhat understated against the backdrop of the strong instrumental arrangements, McCalla's cello work is what makes this record flow.
| | | |
| --- | --- | --- |
| | | "Fey-O" |
Some of the strongest moments of A Day for the Hunter are McCalla's vivid and personal renditions of Haitian songs here make contributions not often experienced in the Nonesuch industrial complex. She reclaims "Fey-O" or "Feuilles-O," familiar to many as a track from Simon & Garfunkel's Bridge Over Troubled Water, assuming the role of a woman desperately hoping a vodou priest (gangan) will save her child. With long-time colleague Rhiannon Giddens, she sings "Manman" by Manno Charlemagne, an outspoken Haitian folk musician-activist-former politician, touching on the will to advance struggles for social justice across generations. Along these lines, the clave-driven "Peze Café" chronicles the ire of a boy who is sent to buy coffee and is wrongfully arrested by police upon arriving. Such use of imagery of the abuse of power by McCalla, reinforced by Marc Ribot's dancing-yet-sinister guitar work, is quite apropos, considering the current climate of visible police brutality and resulting attitudes towards law enforcement in the US. In contrast to the isolating despair present in these songs, the finale, "Minis Azaka," pays tribute to the Haitian vodou spirit of agriculture and makes reference to places in Louisiana, accentuating connections between Creole diaspora communities.

Arguably the principal elements that make roots musics rooted are their significations of local soundways, lifeways, and language with the possibility of more universal implications. In many ways, Leyla McCalla's latest release touches on all of these facets with the promise to renew discussions of her and others' history through song across a wide spectrum of geographical and emotional territory, never losing sight of the balance between struggle and ecstasy. - Dylan McDonnell

Audio & photos ©2016 Leyla McCalla and Jazz Village
Used by permission.

© 2016 RootsWorld. No reproduction of any part of this page or its associated files is permitted without express written permission.