O

rchestre Massako is an EP length 4-song collection that pays homage to late, prolific vocalist and songwriter, Jean-Christian Mboumba Mackaya aka Mack-Joss, a Gabonese musician who spearheaded this band from the late 1970s until their mid-1990s demise. Mack-Joss started writing songs as a teenager and had his first hit in 1966 with "Le Boucher," a track that swept sub-Saharan Africa and led to the attention of Congolese guitarist Franco, whose music was part of a continent-wide frenzy for all things Congolese rhumba. In fact, Orchestre Massako was formed with Francoís encouragement.

Massako, which was formed by members of Gabonís National Gendarmerie, eventually became Gabonís national orchestra and starting making records in Paris, where they were pressed and sold in Gabon. The band also came to include Amara Toure, a singer who had found fame in Senegal before moving first to Cameroun and then Gabon, where he joined Massako (you can hear him on two of this albumís tracks).

Musically, the sound here is polished but not slick, and like many West African bands of the time, owes some of its sound to music coming in from Cuba and elsewhere in the Caribbean African diaspora. What it might lack in length (it contains 25 minutes of music), it makes up in consistency. This is music packed with intertwining guitars, staccato horn blasts, deeply rooted bass and drumming, and vocals that soar without drawing attention away from the groove.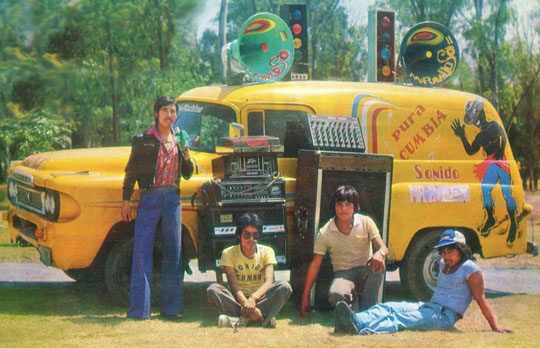 Saturno 2000 is the oddest release in AAís bulging catalogue. For one, it comes not from Africa or the continentís Coastal South American diaspora, but from Mexico City. Well, sort of. Essentially, this compilation is indirectly the result of the Pereas and Ortegas brothersí mid-1970sí travels to South America for records, which they would sell to sonideros- block party DJs in Mexico City. The art of Mexican DJ culture runs along a timeline roughly the same as the earliest hip hop parties in the Bronx or the heavy, dub-drenched toasting of sound system DJs in Jamaica such as U-Roy or Big Youth. What they all had in common was creativity based on economic decisions where money was tight. Whereas hip-hopís origins or Jamaicaís toasters rapped over manipulated vinyl, Mexican block parties thrived due to the invention of turntables with pitch control, meaning DJs could slow records down from 33 to 20 RPMs, a concept that came to be called rebajada, or "to lower or reduce."
| | |
| --- | --- |
| | |
Yet, this collectionís real inspiration comes from an accident at a Monterrey block party when a local sonideroís turntable connection overheated, causing the records to slow down. The next day he started receiving requests for mix tapes of the tracks at the slower speed and a movement was born as more and more people wanted recordings. So, while the music here is largely from Colombia, Peru, Ecuador, and Venezuela, it comes via purposeful and accidental tweaking much farther north. And itís astounding stuff, meant for a slow, hot summer day and a joint. Arguably, slowing the tracks down allows a listener to get inside the music. Truly, except on rare occasions where vocals appear, one would never know this music had been manipulated unless they were familiar with the original recording.
| | |
| --- | --- |
| | |
There are examples here of cumbia slowed down just enough to turn the sometimes-kitschy into a something heavy, driven by some seriously stoned-out organ playing or percussionists seemingly on the verge of nodding out mid track. "La Danza del Mono" from Colombiaís Lucho Galvilanes is one stunning example. More bent still is one of the few tracks on Saturno 2000 actually released in Mexico, Conjunto Tipico Contrerasí "Capricho Egipcio," which is slowed to a crawl, causing what was certainly a celebratory accordion line to become a dirge. One track after another reveals itself as a dark, sometimes disturbingly murky groove that, in many places, would drive dancers off the floor, while dancers in Mexico City, accustomed to the slower tempos of danzon, ate it up. Iím not sure Iíll ever be able to hear this music at the correct pitch again, so infectious is this collection.