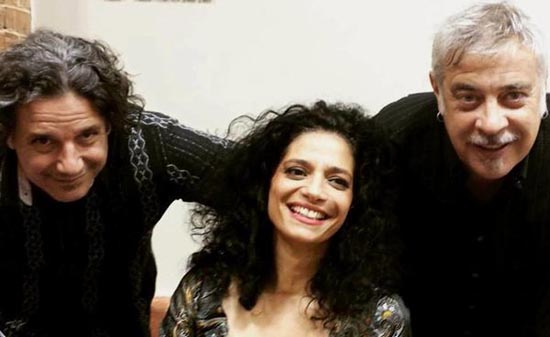 Terra Sangue Mare
(Michael Delia, Michela Musolino, and Fabio Turchetti)
Terra Sangue Mare
artist release
Review by George de Stefano
| | | |
| --- | --- | --- |
| | | "Angelica" |
"Artisanal" has become a marketing cliché used to sell everything from mason jars to $10 chocolate bars to fancy mayonnaise made in cute Brooklyn shops. But in Italy, artiginale connotes high-quality, handcrafted goods made in small quantities, rather than mass produced. By that definition, the debut album by Terra Sangue Mare, a trio led by the Sicilian-American vocalist Michela Musolino, qualifies as artisanal, from its production to its distinctive take on Sicilian music to the CD package design, with an origami paper cutout that holds the disk.

The New Jersey-based Musolino previously released Songs of Trinacria, a collection of traditional Sicilian pieces that she recorded in New York and Rome. On that album, she was backed by guitarist and arranger Wilson Montuori, a New Yorker, and the Sicilian percussionist and folk singer Alfio Antico. The CD got airplay in the US and abroad, on the BBC's Global Jukebox; NPR's All Songs Considered; Crossing Continents on KDVS; and on Radio Voce Spazio in Italy. Songs of Trinacria also won her some devoted fans who raved over Musolino's powerful and entrancing vocals. The PEN America prize-winning poet Peter Covino, for example, wrote that she combined "the wild soulfulness of Tina Turner and the earthy yet ethereal voice of Neapolitan songstress Teresa De Sio."

Musolino promoted the record in the US, appearing in clubs, folk festivals, and special events, while also performing in Sicily, her parents' homeland, with artists like the folk singers Moffo Schimmenti and Pippo Pollina (Musolino joined Pollina on stage when he made his US concert debut in Salt Lake City), and the Palermo Art Ensemble. With the Sicilian-born, Amsterdam-based vocalist and percussionist Vincenzo Castellana, Musolino co-authored "Sempri amMari," a theatrical presentation of Sicilian folk songs that toured several northeastern states in 2012 and 2013.

In 2013, she met the multi-instrumentalist Michael Delia, and guitarist, organetto player, and composer Fabio Turchetti. The following year the trio began playing and touring as Terra Sangue Mare (Earth, Blood and Sea), presenting a repertoire of traditional and contemporary Sicilian songs performed with a mix of traditional and nontraditional instrumentation. Their debut album, recorded in Prague during Terra Sangue Mare's 2015 European tour, comprises 13 songs from the Sicilian tradition. Musolino sings them in the Sicilian language (which indeed is a language, not a dialect of Italian), but the arrangements and instrumentation don't strive for that elusive and dubious quality called "authenticity." She, her bandmates, and two guest artists (Agnes Kutas and Petr Nikl) play Sicilian and southern Italian instruments — tamburri and other frame drums, mandola, accordion — but also some from other musical traditions — the South American bandoneon; dumbeck, a Middle Eastern hand drum; the Zimbabwean mbira; bouzouki; and waterphone, a percussion instrument invented by Richard Waters, who modeled it on Tibetan water drums.
| | | |
| --- | --- | --- |
| | | "Tiritera di Bagheria" |
The combination of Musolino's rich, sensual voice and the unorthodox instrumentation has yielded an album that artfully links Sicilian folk idioms to different traditions while never falling into mere eclecticism. Musolino is too grounded in Sicilian musical culture for that; she grew up in a household where Sicilian was spoken, and she fell in love with the language. Her familial exposure to sicilianità — language, music, culture — led her to research and collect traditional Sicilian songs. On trips to Sicily with her father, they would search through tape bins to find recordings. When Musolino embarked on a career as a performer, she was surprised and thrilled to discover that her paternal grandmother played frame drums and that her great-grandmother was known for her drumming and dancing. Being so well-versed in Sicilian music, she can take liberties with it while remaining faithful to its traditions.
| | | |
| --- | --- | --- |
| | | "Rove Ngoma/Palumedda" (excerpt) |
Terra Sangue Mare is an atmospheric, often haunting work, ethereal and earthy. "Fammi Ristari" (Let Me Stay), with Musolino backed only by guitar and the chiming tones of the mbira, boasts a beautiful melody and romantic lyrics by Luciano Maio of the Sicilian neo-folk band Taberna Mylaensis. The up-tempo, percussion-driven "U Sceccu" (The Donkey) takes its lyrics from a poem published in Palermo in 1848, the year of a socialist revolt by Sicilian popular classes against their oppressive Bourbon rulers. "Rove Ngoma/Palumedda" deftly fuses a Zimbabwean melody and lyrics from a Sicilian love song.
| | | |
| --- | --- | --- |
| | | "Bonagia" (excerpt) |
For "Bonagia," based on an anonymous poem about the pirate attacks that centuries ago menaced Sicilian coastal towns, Musolino and her collaborators craft an evocative soundscape, her somber vocal backed by a mandola ostinato, spare frame drum beats, bandoneon, bowed bouzouki, and the sound of crashing waves. "Cantu a Timuni," another traditional maritime-themed track, recounts the attributes of various Sicilian locales ("In Mazzara, they salt good sardines") from the perspective of a helmsman who has seen all the island's leading ports.
Along with maritime, work, and other folk songs, there are some affecting love ballads on Terra Sangue Mare, none more so than "Angelica," written by Fabio Turchetti for a folk operetta based on the Romantic epics performed in the Teatro dei Pupi, Palermo's renowned marionette theater. The lyrics are in the voice of the eponymous character, a princess enamored of a Saracen soldier, and Musolino renders them with a yearning tenderness that makes "Angelica" one of the album's highlights. - George de Stefano
© 2016 RootsWorld. No reproduction of any part of this page or its associated files is permitted without express written permission.