Habib and KarKar
Guitars, balafons and cinema: Michael Stone takes in two of Mali's celebrated guitarists, on stage, on screen and on record.
Much has been made of the affinity between North American blues and the instrumental and vocal styles of Mali. Alan Lomax was among the first to take note; more recently, Martin Scorsese's PBS series, The Blues, comes to mind, along with artists such as Habib Koité, Djelimady Tounkara, Ali Farka Touré, Boubacar Traoré, Rokia Traoré, Ry Cooder, Olu Dara, Taj Mahal and Keb Mo'.
This claim's finer points can be left to ethnomusicologists, but western audiences do respond to contemporary fusions of blues, R&B and West African guitar, vocal and dance styles. Indeed, the influences run both ways, such that the likes of James Brown and Jimi Hendrix have long been household names among pop music fans in West Africa.
Habib Koité is one contemporary artist whose work assimilates these influences without ever being derivative. From a long line of Malian griots, Koité is also classically trained. He was a professor of music at the National Institute of Arts in Bamako when his performances first captured the imagination of music fans in France and Belgium more than a decade ago. Since then, he's developed a fierce following in western Europe and, more recently, in North America.
The reason is palpable to anyone who's seen Koité on stage, and his newest release, comes as close as a recording can to capturing the energy and excitement of a live Koité performance. Fôly (Contre-Jour/World Village), a two-disc set recorded at concerts in Holland, Germany, Switzerland and Italy on Koité's 2001-2002 tour, comprises two-and-a-half hours of high-energy sound with his best-known tunes, including extended versions of "Muso Ko," "Ma Ya," "Kunfeta" and "Cigarette Abana."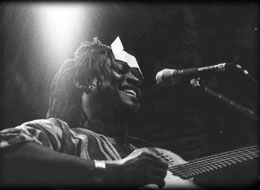 At a February 10, 2004 concert at the McCarter Theater in Princeton, NJ, following an opening set by Morroccan Hassan Hakmoun and his band, Koité appeared, nylon-string guitar in hand, with his long established ensemble: Boubacar Sidibé (guitar, harmonica, vocals), Kélétigui Diabaté (balafon, violin), Abdoul Wahab Berthé (bass, vocals, kamala n'goni, a kora-like stringed instrument), Souleymane Ann (drums, calebasse, vocals) and Mahamadou Koné (percussion, talking drum). They played nine tunes and a three-part encore, complemented by a trio of Malian female dancers who periodically jumped onstage to dance and paste U.S. greenbacks to Koité's sweaty forehead (a Malian custom).
With fifteen years under its belt, this is a band that cooks even in its sleep. They range from the Latin-inflected clave of "Batoumambe" to an over-the-top "Kunfeta," with a Diabaté balafon solo quoting in turn "La Macarena" and "Summertime" (Diabaté once recorded with Lionel Hampton), or the hip-hop allusions, swelling harmonies, talking drums, and strutting choreography of "Bitile," which brought the crowd to its dancing feet. For those unfamiliar with Koité, or those unlucky enough never to have seen him perform, Fôly conveys the onstage excitement that he generates, from his good-natured multilingual bantering with the crowd, to his smooth guitar lines and compelling vocal delivery. Fôly is thus an essential Koité title.
Representing an earlier generation of popular Malian guitarists, Boubacar Traoré is a musician whose non-griot origins mattered little in the heady days of the early-1960s Malian independence movement. Traoré's idealistic songs praising the national project animated young people to pitch in to a movement with parallels throughout post-colonial Africa.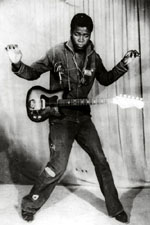 Paradoxically, this generation was comprised of diehard fans of rock-and-roll, Hollywood films and other manifestations of U.S. mass culture, which ideology countered competing socialist appeals to the hearts and minds of the newly minted Third World. Known at home as "the Malian Elvis Presley," Traoré enjoyed a brief burst of popularity before independence lost its shine, as politics-as-usual locked Mali into an all-too-familiar pattern of dependency, social inequality and deprivation.
Traoré soon put down his guitar, consumed in the struggle to feed his family, fading from public view. After his wife died unexpectedly, Traoré left for France, where he worked in construction and entertained the expatriate Malian community of Paris. An English world-music producer tracked down the guitarist and introduced him to a new following in western Europe, even as rumors circulated in Mali that Traoré was dead.
Je Chanterai pour Toi (I'll Sing For You), a film by French director Jacques Sarasin, shadows Traoré's triumphant return to Mali, a leisurely journey via train and riverboat to his home town of Kayes, and on to Timbuktu. The filmmaker's approach is impressionistic, mixing black-and-white footage and photographs from the heroic early independence era with present-day talking heads who narrate the singer-guitarist's life story, interspersed with Traoré performing in a variety of striking local settings. His encounters with family and friends include jamming with fellow guitarist Ali Farka Touré, kora master Ballaké Sissoko and percussionist Madieye Niang. I'll Sing For You thus constitutes a wistful musical portrait of a popular musician whose early blaze of glory remains prominent in the reminiscence of the artist and his contemporaries alike.
Nothing much happens in this documentary, whose signal effect is to aestheticize its subject, moving through a painterly cinematic backdrop of local color and the ubiquitous poverty of rural Mali. Viewers learn little of the Malian people (who in the filmmaker's portrayal mainly gaze mutely into the camera as Traoré performs), Mali's political history, or the global forces that have sent successive post-independence generations abroad to endure the separation, social hardship, economic exploitation and systemic racism of urban metropolitan France. A kind of imperialist nostalgia (mourning that which western dominion itself has destroyed) suffuses this portrait of a musician whose youthful idealism, the dream of an entire generation, has proven chimerical.
I'll Sing For You will have its U.S. premier in June 2004 at the Cinema Village, 22 East 12th Street, Manhattan, and will eventually be released on video. The soundtrack (released on Indigo, France), with guests Ali Farka Touré and Kélétigui Diabaté, includes contemporary recordings and rare 1963 versions of Traoré's wildly popular "Mali Twist" and "Kayes Ba." Blues or something less easily encapsulated, the power of Traoré's artistic gift is never in doubt, making the film an important snapshot of a species of west African popular music new to most western audiences. - Michael Stone
---
Resources:
More information about Habib Koite
Release information, a trailer and schedules for I'll Sing For You
CDs are available at cdRoots
MP3 downloads at Calabash:
Habib Koite
Boubacar Traore
Editor's Note: This article was amended on April 14, 2004 to correct some factual errors. My apologies - CF