When is a jazz band not a jazz band? When it is being a jazz band - stretching the boundaries of the music it is performing as the Town Hall Ensemble did at a one-time-only show in New York City on May 4, 2019 with Senegalese star Baaba Maal.
The concept was to revisit songs from Maal's long career and rearrange them for the Ensemble and three members of Maal's band. While Maal is firmly rooted in traditional African music, he has always played in contemporary contexts, both with his band Daande Lenol and various partnerships with pop musicians. In fact, he reached larger audiences than ever when his singing was used as part of the title theme for the Black Panther soundtrack last year.
Prior to the show, Maal said, "I love re-discovering my older songs and often change how I perform them…It's not going to be strictly jazz. It's my music, African music, performed with these jazz musicians."
Interviewed in the days leading up to the show, the Ensemble's music director, Steven Bernstein, said that though the members were all top-flight musicians from the jazz world, "This is not a jazz ensemble, it is a music ensemble."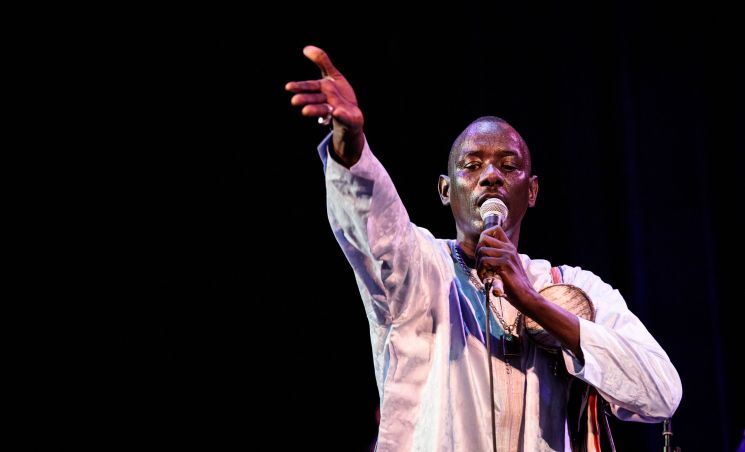 "We are improvisors and that is the key to this," Bernstein continued. "Our horn players can be anything. We can be a djembe, we can be a woman's voice, we can be the wind, we can be the sound of a rock going down a hill."
The process began with Maal picking 16 songs that they might collaborate on and Bernstein focusing on eight to create arrangements for the 12-piece Ensemble. Then Maal came to New York City for three days of rehearsing and fine-tuning the songs with the Ensemble.
Bernstein said he was looking forward to that phase of the collaboration. "How do we get in there and react to him?....Do all the calls-and-responses and get to the next section. That will be the magic of it….We can really dig into it….His songs are so beautiful. I just love his music so much."
"So many of Baaba Maal's records have been done with European producers," said Bernstein. "That's what I used as my archetype, that's what I used as my base line….You need to have something that is a little concrete and then once you have your concrete, then you destroy it."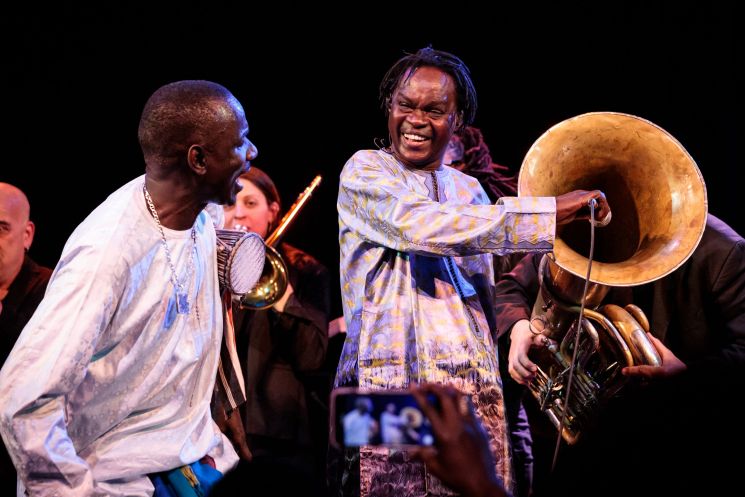 Maal first came to international attention with the album, Djam Leeli, a live recording of him playing acoustically with his long-time friend and mentor, Mansour Seck. On subsequent tours with the big, electric band Daande Lenol, he became known for the explosively energetic shows, playing monster groove and monster groove.
Asked about the state of music, Maal said there had been both good and bad changes within the music industry, "but music will always be in people's lives and the good thing about these days is that you can find it on your phone or computer right away!" Talking about traditional music, he said, "Music is the pulse of Senegal, and, I might say, of West Africa. There's always a lot of music."
While the Town Hall show was generally less rocked-out loud than his earlier tours, each song built up momentum and always maintained a gripping rhythmic undertow.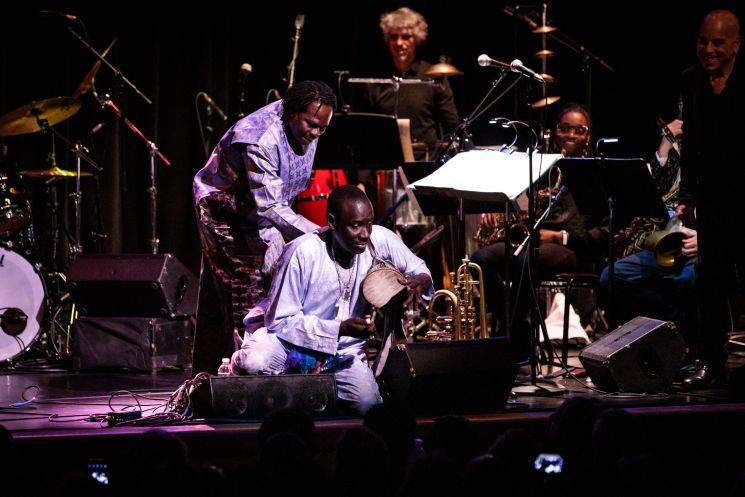 The show began with Maal seated with an acoustic guitar saying, "This is going to be a journey into music." He started with the quietly hypnotic "Tindo Quando" and then "Mbaye Mbaye," with talking drum master Massamba Diop sliding into focus, beginning his ongoing seduction of the audience throughout the night.
"I've been missing New York a lot," Maal said, noting he had not played in the city for eight years.
"Leydima" with Marc Cary on keyboards and Brazil's Mauro Refresco on percussion had a blues-like vamp as it built up steam beneath Maal's piercing tenor. On the fourth tune, "Bamba Bodian," Maal was joined by Christina Courtin on violin and Marika Hughes on cello, adding layers of sound along with Cheikh Ndoye's powerful bass ngoni playing.
The Ensemble's great brass section then came out, turning up the energy level a couple of notches as the night's program built up. The Ensemble was clearly having as much fun as the audience, with several players dancing along in their seats as they played or listened to their on-stage partners.
By the time the band got to "African Woman," all the musicians were up and taking solos that pushed out the songs to ever-increasing intensity. Rising alto sax player Lakecia Benjamin was in a virtuous cycle with the audience members, clearly feeding off their enthusiasm and urging them on as she led her instrument through an ecstatic solo. Scott Robinson made his bass sax fly across the cross rhythms as well. Though standing off to the side and back, electric guitarist Nels Cline coaxed out splashes of color and textures throughout the complex arrangements.
Launching into Maal's stomping "Gorel" from his album Firin' in Fouta, the bandmembers were getting out of their seats to trade solos, urging each other on and turned the stage into a dance party, pulling audience members up for some impromptu body flailing and writhing.
Bringing the show to a rousing crescendo, there seemed little to say but "wow." The entire group came out for one last number, leaving a pleasant memory – and hopes for a repeat or a recording of the performance – on everyone's mind.
The ephemeral nature of the show made it seem that much more memorable. Audience members carried the lingering joy with them as they filed into the Saturday night bustle of Times Square, fortified with smiling remembrances of the shared sense of joy and discovery that the collaboration conjured up for a singular night of boundary-breaking music. - Marty Lipp
Photos: Sachyn Mital, courtesy of Town Hall NYC
Amatuer video shot from the audience