T

he music crafted by this duo of Sierra Leonean kondi master Sorie Kondi and DJ/producer Boima Tucker- aka Chief Boima- has a crucial backstory. Sorie Konoma, who later took the surname of his instrument, known elsewhere in Africa as a likembe or mbira, was born blind and missed an opportunity to release his music commercially in the late 90s, just as Sierra Leone was plunged into a brutal civil war. Abandoned for several days in his home, as the city around him was destroyed, he emerged and started busking, changing his last name in the process. A chance encounter with an American recording engineer in Lungi led to Kondi's first album, Without Money, No Family, released in 2007.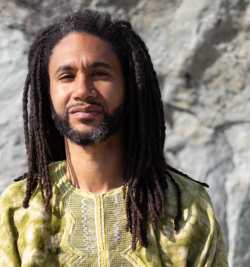 Boima, now living in Rio de Janeiro, was born in the American Midwest to Sierra Leonean immigrants and eventually moved to San Francisco, where he took up DJ residency in a Senegalese-owned bar before moving to New York City a few years later. It's around this time that he began to make the connection between the music his parents played for him as a child and his own identity as someone who was more than simply African American. He began using technology as a way to re-connect with his roots and push the music forward at the same time. At some point he saw the video to the title track from Sorie Kondi's first album. His remix of the track caught Sorie's ears and soon after, the two connected and US touring plans were made.
We Famous, the duo's second effort continues the process of taking Sorie's songs, vocals, and kondi rhythms and pushing them into the realm of the club. Boima drops in dive-bombing bass runs, dub effects such as echo and suddenly disappearing percussion, splashes of synth, and electronic drum thwacks. The end result is deep, infectious, and heavy. What they achieve shows how music often chases its own tail as it clears a path for forward-thinking innovation. "It's God's World (So Don't Do Bad)" is a case in point. Here, Sorie's blunt, simple lyrics and kondi melody belong to a long tradition of songs as advice-giving platforms. With Boima's additions, the kondi melody is underpinned by straight-up dancefloor pulse and a sampled guitar line. Toward the end, all of that falls away to leave Sorie alone. In fact, much of this record builds in layers. "Fatou" begins as "It's God World" ends, before sneaking in maracas, a thickly distorted likembe sample, and a minimal, repeated bass line. Suddenly, it takes off with kick drum thump and a penetrating 3-note keyboard line.
Connecting Sorie and Boima is gumbe, a Sierra Leonean rhythm that gave the country's music, often made up of influences from the US, the Caribbean, and other parts of West Africa, its own identity. No matter how much international club scenes or electronics enhance the Kondi Band's sound, gumbe remains at its core. In this way, the duo are always connected to Sorie's homeland and Boima's family's ancestry. But whether or not anyone can detect gumbe in this music may not matter. By releasing this music Strut has connected itself spiritually with Uganda's Nyege Nyege tapes label, the radical DIY electronics of bands such as Congo's Kasai Allstars or Haitian/Belgian collaborations such as Chouk Bwa & The Angstromers. - Bruce Miller
Top photo: Taliesin Gilkes-Bower
Photos courtesy Strut, 2021